Just four questions this week, but they're good ones. Remember to use the Submit A Tip box in the sidebar to send us your questions throughout the week. A word of advice: I tend to write these things Thursday evening, so get your question in before then if you want me to answer it that week.
Nostradamus asks: I like the idea of Justin Masterson in pinstripes with his ground ball tendencies. If he can pitch close to his 2011 numbers he'd be a great pick-up. What would it take to get him? Maybe we can get Shin-Soo Choo in a package deal?
Masterson, 27, was awesome last year (3.21 ERA and 3.28 FIP) and kinda crappy this year (4.93 ERA and 4.16 FIP). In fact, if you look at his last four seasons, 2011 is the outlier, not 2012 — he pitched to a 4.63 ERA and 3.98 FIP from 2009-2010. The success last year came from a drop in walk rate (2.71 BB/9 and 7.2 BB%) and a big drop in HR/FB (6.3%). Those two rates bounced right back up to his career norms — 3.58 BB/9 (9.2 BB%) and 9.9% HR/FB — this year, hence the 2009-2010-esque performance.
I think there's a disconnect between what people think Masterson is and what he really is, but he's still on the right side of 30 and has been pretty durable in recent years. His sinker is ridiculous (career 56.0% grounders), but he doesn't have a changeup and lefties tend to hit him pretty hard (career .351 wOBA against). I can't think of many pitchers like Masterson who have been traded two years prior to free agency, but he's not someone I think the Yankees should go out of their way to acquire. I think the price will be inflated relative to his actual production. Add Choo on top of that and I'm not even sure the Yankees have to pieces to get it done. The Indians want pitching, pitching, and more pitching, and the Yankees don't have enough to spare.
Jeff asks: With Ichiro Suzuki interested in coming back next year and the Yanks seemingly interested in Torii Hunter, could you see both on the Yanks next year? Hunter could play RF with Ichiro as the righty-hitting DH (like Raul Ibanez). Or would you rather see a DH who's a infielder?
Well, in that case I would recommend playing Brett Gardner in center, Hunter in right, Ichiro in left, and Curtis Granderson at DH. I don't think the Yankees would sign both guys though unless Ichiro came really cheap, like true fourth outfielder money. A million bucks or two, that's it. Even then it would still be tough to squeeze all four of these guys into the lineup since Alex Rodriguez and Derek Jeter need semi-regular reps at DH. I'm not sure how Ichiro or Hunter would adjust to part-time work like that, so I'd prefer signing a DH who is used to being platoon bat and sitting on the bench for a while. It's not an easy adjustment. Infielder or outfielder depends on whether or not Eric Chavez returns, really.
Patrick asks: So its been reported to Joakim Soria would be willing to set up his idol Mariano Rivera. Awesomeness. How much would you be willing to spend and are you overly concerned that he's had to have TJ twice?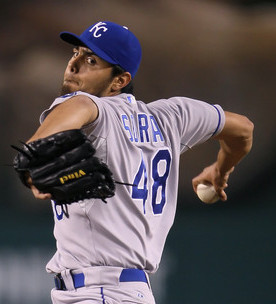 Yes, the second Tommy John surgery is a big concern. Tons of guys have it and the procedure is relatively routine, but only the first time around. The second time is much different. We culled together some data on two-time TJS guys at FanGraphs over the summer, and only pitchers we dug up who threw at least 300 innings after the second surgery were Doug Brocail, Chris Capuano, Hong-Chih Kuo, and Jason Frasor. Many other two-time TJS guys had more arm problems afterward, likely because there was something wrong (bad genes? bad mechanics?) that caused them to need the two elbow reconstructions in the first place. It's also worth noting that a bunch of guys had the second procedure near the end of their careers, so they weren't going to reach that 300-inning level anyway.
That said, Soria is a special pitcher because his track record is elite and he's only 28 years old. He's reportedly seeking a multi-year contract and that's no surprise, but I don't want to see the Yankees go more than one guaranteed year with him, especially if they're serious about the 2014 payroll plan. A one-year deal ($4-6M?) with a club or even vesting option (based on appearances) would be ideal since it gives the club some protection in case he gets hurt again or just doesn't pitch well. You can make the argument that it should be preferable for Soria since he'd be able to rebuild value and go back out on the market in search of a big contract next winter. If they guarantee him like $8M (salary plus buyout) and keep the deal to one guaranteed year, that would be perfect. Anything more would make me nervous.
Travis asks: So if A-Rod winds up having to DH a lot sooner than expected, is David Adams a legitimate internal option to play third base? My gut says no. Do you see the Yankees going after any free agent in particular to back up at third? Do they go after Chavez again? I'm worried about his durability if he sees increased workloads like he did last year.
Outside of Eduardo Nunez, who the Yankees say will stick to shortstop and only shortstop going forward, Adams is by far the team's best internal hope for a third baseman. At least in the near future since guys like Dante Bichette Jr. and Miguel Andujar are way down in the low minors. It's unlikely Corban Joseph can handle the position at the big league level and not because of his range or instincts or anything like that, he just doesn't have the arm for it. That's not an easy throw to make.
Adams could always hit, that was never really a question, but the injuries have been a problem these last three years. He missed an awful lot of time with the ankle problem and still hasn't played a full, healthy season since 2009. I think there's enough patience and bat control there for him to be a .280/.340 guy with doubles power in the show, maybe 10-15 dingers at his peak. Obviously that's someone you'd rather have at second than at the hot corner, where teams typically expect more offensively. I think the Yankees will break him in as a utility man down the line, but for next year the plan probably involves bringing Chavez (or a similar player) back if he's open to it.