Only three questions this week, but they're good ones. Remember to use the Submit A Tip box in the sidebar to send us anything at any time. I might do a few mailbag posts next week since things will be slow during the holiday and I know I'll have the itch to write but not the itch to think real hard, so submit accordingly.

Jimmy asks: So the Yankees traded A.J. Burnett and he had a good season for the Pirates. Can we get some analysis in terms of did his command and velocity improve? Or was it the transition to a weaker division and league combined with the effects of PNC Park and their defense? Why was he so good? Since they're still paying so much of his contract, should the Yankees have seller's remorse?
Burnett, 35, pitched to a 3.51 ERA (3.52 FIP) in 202.1 innings and 31 starts for the Pirates last season. His strikeout rate (8.02 K/9 and 21.2 K%) was almost identical to his career norms, though his walk (2.76 BB/9 and 7.3 BB%) and ground ball (56.9%) rates were his best in six and seven years, respectively. His homer rate (0.80 HR/9 and 12.7% HR/FB) also dropped quite a bit, but that was expected. He didn't enjoy any BABIP luck (.294 after .294-.319 from 2008-2010) but surely got some help from PNC Park, which is much more pitcher friendly than Yankee Stadium.
For the most part Burnett did not change his pitch selection much. He scrapped the cutter he toyed with in 2011 and otherwise threw a few more sinkers at the expense of changeups, but nothing drastic. His fastball averaged 92.2 mph, continuing a slow and steady decline that is very normal for a pitcher in his mid-30s. Burnett did throw more strikes through, a lot more in fact. His 61.1% first pitch strike rate was his best in eight years and about five percentage points better than what he did in New York. More than half (51.1% to be exact) of his pitches were in the strike zone as well, his highest rate in the PitchFX era and nearly seven percentage points better than 2011. That could be an NL thing (weaker lineups), a mechanics thing, or a million other things. Who knows?
It's probably worth noting that Burnett threw to Rod Barajas this season, who was his catcher during his strong 2008 campaign with the Blue Jays. Maybe the two just work together well, but if nothing else it probably helped the transition a bit. It was pretty obvious after 2011 that Burnett had to go and the Yankees would have to each a big chunk of his contract to make it happen, which sucks. I don't think the Yankees have (or should have) seller's remorse though. He had just had two of the worst seasons by a starter in team history in back-to-back years and was showing no signs of turning things around. Burnett worked hard, he tweaked his delivery every other start it seemed, but nothing was working. At some point a change as to be made, especially if you're trying to contend.
Mark asks: It seems that the Mariners are looking for some outfield help and are most likely missing out on Nick Swisher, as they did Josh Hamilton. Do you think they would be interested in Curtis Granderson and possibly send something back of quality in return? Say a right-handed bat like Jesus Montero? What else would the Yanks need to add to get a return of that quality?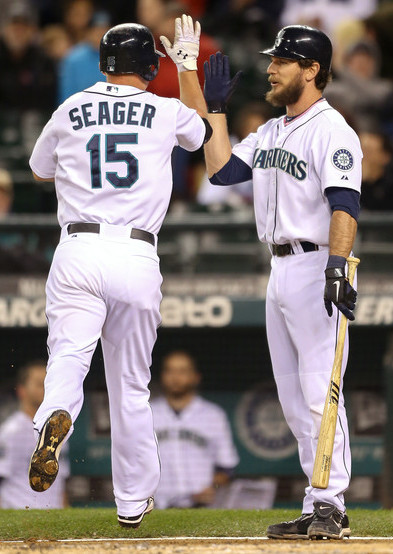 The Mariners added offense in Kendrys Morales earlier this week and are still looking for outfield help, but they have very little of value to offer the Yankees for Granderson. They aren't getting Taijuan Walker or any of Seattle's other big pitching prospects, and I doubt the M's have soured so much on Montero that they'd trade him for one year of Granderson, or even one year of Granderson plus a prospect. Justin Smoak is awful and Franklin Gutierrez hits the undesirable trifecta (awful, injury prone, expensive), so forget them.
The Yankees could ask for infielder Kyle Seager or nominal catcher John Jaso, but I would expect a no to both. Right-handed hitting outfielder Casper Wells could probably be had and he'd make a ton of sense for New York, but he alone is not nearly enough of a return. As I've been saying for weeks, it's very hard to envision a realistic trade scenario in which the Yankees move Granderson and actually improve the team. The Mariners could use the Grandyman, but they don't have much to make it worthwhile.
Mike asks: Just wondering if you think the Yankees should have any interest in Kelly Shoppach. He has the AL East pedigree and would provide some desperately needed RH pop. Too expensive?
Shoppach, 32, has spent most of the last three seasons with the Rays and Red Sox, so he's certainly familiar with the division. His overall offensive performance is pretty bad (even for a catcher) during those three years (.202/.294/.374, 85 wRC+), but that doesn't tell the whole story. As a right-handed batter, Shoppach pounds lefties (.246/.336/.437, 115 wRC+) and gets completely dominated by righties (.156/.248/.301, 52 wRC+). It's worth mentioning that since 2010, only one batter (Mark Reynolds) has made less contact on pitches in the strike zone than Shoppach (73.4%). His career 33.4% strikeout rate is ghastly for a player without huge power.
The various catcher defense rankings (2010, 2011, 2012) rate Shoppach as anywhere from average to above-average behind the plate, which surprised me. He's also thrown out 31.5% of attempted base-stealers over the last three seasons, which is much better than the league average. For some reason I thought he was a butcher back there. The Yankees already have three right-handed hitting catchers in Frankie Cervelli, Chris Stewart, and Austin Romine, but that shouldn't stop them from pursuing Shoppach at a reasonable (one-year, $3M?) price just so they could get some offense from the catcher position, even if it's just against lefties.