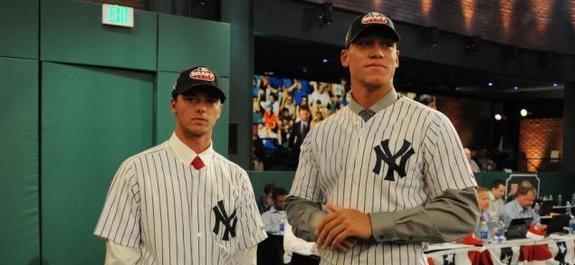 One day after posting his top 100 prospects list and two days after posting his organizational rankings, Keith Law released his top ten prospects lists for each of the 15 AL clubs today (East, Central, West, subs. req'd). The NL will be released tomorrow, if you care. Here are the Yankees' top 11, according to KLaw:
C Gary Sanchez (68th on the top 100)
OF Tyler Austin (85th)
OF Mason Williams (87th)
C J.R. Murphy
OF Slade Heathcott
OF Aaron Judge
LHP Ian Clarkin
3B Eric Jagielo
RHP Luis Severino
1B Greg Bird
RHP Jose Ramirez (Law said he is #11 in the write-up)
Judge is mentioned as a breakout candidate (video link) who could jump not just into the top 100 next year, but into the top 25 with a strong season.
In his write-up, Law says Murphy is "going to be an every-day catcher for somebody" while Bird's "patience/power game could make him a second-division regular down the road." Severino might not stick as a starter long-term but his "three-pitch mix might be three pluses out of the pen, and it's a grade-65 or 70 fastball [on the 20-80 scale] even in the rotation." Law also quotes a scout who said Heathcott is "legitimately a crazy person," which is kinda funny. The kid always seems to have his dial set to 11.
"The Yankees have to be excited about Venezuelan catcher Luis Torrens, whom they signed for $1.3 million in July 2012," added Law, picking Torrens as the organization's sleeper prospect. "A new convert to catching, Torrens took to it extremely well, with plus hands and plus defense overall, with a good swing and feel at the plate, only lacking power but likely hitting for average with good OBP when he develops."
Sanchez is the clear top prospect in the organization right now. I'm not sure anyone will disagree with that. After him though, there really isn't much separation between the guys Law has ranked from two through about eight. You can rank those players in almost any order and it would be tough the argue. Either way, the Yankees need better results from their minor league system and that starts with rebound seasons from guys like Austin and Williams. Both will be eligible for the Rule 5 Draft next winter, so hopefully that 40-man roster spot serves as a nice carrot this summer.