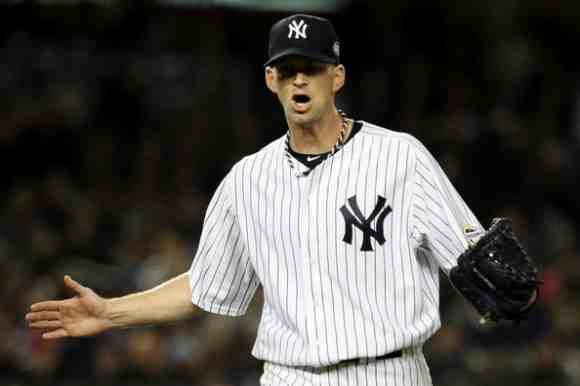 Michael Pineda heads into spring training with a grand opportunity. After nearly two years of rehab following shoulder surgery, he again competes for a rotation spot. Perhaps no other player in camp means so much to the future of the organization.
If Pineda wins the spot, showing some semblance of the stuff that powered his 2011 rookie season, the Yankees will be better off not only in 2014, but maybe through 2017. Because they optioned Pineda to AAA last year, he remains under team control for four more full seasons.
When was the last time the Yankees had three pitchers age-27 or younger in the rotation?* Along with Pineda, Ivan Nova and Masahiro Tanaka help round out one of the youngest Opening Day rotations in recent memory. Barring trade or injury, all three could be in that Opening Day rotation through 2016, and two of them are set through 2017.
Well, Chien-Ming Wang was 28 in 2008 when the Yankees broke camp with a rotation including him, Phil Hughes, and Ian Kennedy. Darrell Rasner (27), and Joba Chamberlain did pitch at some point in the rotation that year. Also, in 2009 CC Sabathia was 28, while both Chamberlain and Hughes took turns in the rotation. It has only been a rarity in the most recent years.
There's just one hitch in the scenario.
You can't count on Michael Pineda at this point.
Every Yankees fan in the world should be rooting for him to succeed, for him to pitch his way onto the team and redeem himself after a two-year absence. But you know what they say about wishing in one hand. The Yankees need a decent contingency plan in case Pineda is not up to the task from the get go.
David Phelps and Adam Warren will also compete for the fifth starter spot, but they both might be better served in bullpen roles. Not only would they shore up a current area of weakness, but they'd perhaps be more valuables themselves as relievers than as starters. Both have pitched well out of the bullpen in the recent past.
This is why we undertake the unexciting task of examining long shot starters. Given the need in the bullpen, in addition to the need for a fifth starter, the Yankees can't be content just with the pitchers they have now. They need a couple more guys to add a little depth — and fill out the AAA rotation.
Finally we get to the title character, A.J. Burnett. Yesterday we learned that he will not retire, and that he will not necessarily re-sign with the Pirates. He's looking to test the market. Since he'd almost certainly sign a one-year contract, he could fit perfectly into the No. 5 spot.
Before anyone gets anxious, let's acknowledge that this will never happen.
Unless Burnett feels he has something to prove, it's almost impossible to see him entertaining an offer from NY (even if they were interested). He's heard the boos. He had to sit around as the Yankees desperately shopped him around before the 2012 season. He apparently didn't like that the Yankees always tried to tinker with his delivery. He'd almost certainly be better served elsewhere.
This story really isn't about Burnett anyway. It's about depth. Having three or four guys (counting Vidal Nuno) competing for the fifth starter spot sounds nice. They're all relatively young guys, which makes it sound even nicer. But this team has needs in many spots right now. Once the season starts, they'll have more needs. How long will it be before someone in the rotation misses a start or two? The sixth starter will be called on soon enough.
That doesn't even cover the bullpen, which is basically David Robertson and Shawn Kelley right now. If Warren and Phelps are swingmen, who takes their places when they move to the rotation? What happens if one of them gets hurt? What if they get shelled early in the season?
The answer doesn't have to be Burnett. He just happens to make for the best headline. Given the unlikelihood of a reunion, it probably won't be him. But it could be Ubaldo Jimenez, who might take a three-year, $39 million contract. That's risk-heavy, probably risk-heavier than Burnett on a one-year deal. More likely it will be someone a bit cheaper, as outlined in the minor league pitcher post.
The Yankees did the heavy lifting when they added Tanaka to their top four starters. Now it's time to add a little depth. It's not the most exciting part of the off-season. It might be even frustrating, since it sometimes involves thinking about a reunion with A.J. Burnett. But if the Yankees want to return to the playoffs in 2014, it's a necessary and ultimately important phase of the off-season.