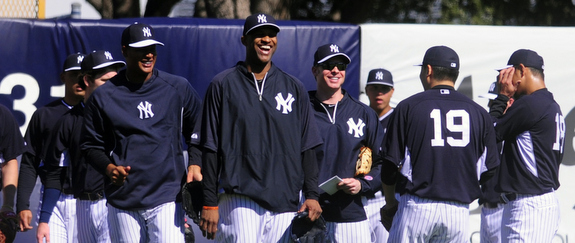 Here are some updates are various injured Yankees, courtesy of Chad Jennings, Dan Barbarisi, Bryan Hoch, Brendan Kuty, as well as the team itself.
Masahiro Tanaka (elbow) still has some pain after receiving his platelet-rich plasma injection. "He's improved, but he still feels it on a daily basis. It's not good that he's still feeling it at this stage. (We'll just) go day by day, week by week and adjust accordingly," said Brian Cashman.
CC Sabathia (knee) had his clean-up surgery as scheduled yesterday and everything went "as planned," the Yankees announced. "I don't know if we'll see him. Obviously he's not allowed to travel for a few days, so we'll probably see him when we get back from the road trip," said Joe Girardi.
Michael Pineda (shoulder) was scheduled to throw two innings and 30 pitches in a simulated game today, but it was rained out. He threw two innings inside and will stretch it out to 45-50 pitches in the coming days. If all goes well, Cashman said Pineda would return to the rotation "sometime in August."
The decision whether to place Mark Teixeira (lat) on the disabled list will be made tomorrow. "It's just seeing how he feels after three or four days, and then we'll decide if we think it's going to be in the near future that he would play, or if we're going to need the 15 days. If it's going to be 12, 13, 14 days, it probably make sense to get a player," said Girardi.
Kelly Johnson (groin) has a Grade I strain and is not expected to miss more than the minimum 15 days.