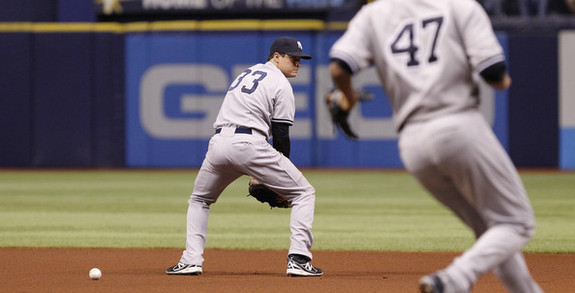 On paper, signing Kelly Johnson to a one-year contract worth $3M last offseason made perfect sense for the Yankees. They had questions at both second and third bases, plus he's a dead pull left-handed hitter who figured to take advantage of Yankee Stadium's short right field porch. When Robinson Cano signed with the Mariners a week later and Alex Rodriguez was eventually suspended for the entire 2014 season, Johnson went from shrewd signing to essential piece.
Johnson, who turned 32 in Spring Training, hit an unsexy yet effective .235/.305/.410 (101 wRC+) with 16 homers and seven steals in 118 games for the Rays last year. He also saw time at the three non-shortstop infield positions as well as left field. That kind of production and versatility would be at an absolutely bargain at $3M. Given his 2012-13 spray chart …

Source: FanGraphs
… there was every reason to believe Johnson would hit a few cheap homers in the Bronx and see his offensive numbers tick up a bit. His struggles against left-handers were a concern but there were ways to minimize his exposure to southpaws. Add in the fact that he was very familiar with the AL East after spending part of 2011 and all of 2012 with the Blue Jays before joining the Rays 2013, and Johnson was a damn near perfect fit. The Yankees were wise to jump on him so relatively early in free agency.
Of course, as so many people are eager to point out, baseball is not played on paper or spreadsheets and things don't always go according to plan. It would be really boring if they did. Despite his versatility and left-handed pull power, Johnson did not work out as planned for the Yankees. It took all of three games for him to lose the starting third base job — that had more to do with Yangervis Solarte's early-season performance than Johnson's — and by midseason he had been relegated to full-time bench duty.
The first two weeks of the season actually went quite well for Johnson. He was able to stay in the lineup despite Solarte's dominance because Mark Teixeira's injury created an opening at first base, and he went 10-for-35 (.286) with two doubles, a triple, and three home runs in the team's first 12 games of the season. The three homers came in a five-game span against the Orioles and Red Sox. Johnson played as expected (better, really) for the first two weeks of the season. It was wonderful.
And then it all went south. Johnson went 3-for-26 (.115) in the team's next 12 games and it took a set of back-to-back 2-for-4 games at the end of May to get his season batting line to .217/.286/.409 (93 wRC+) on June 1st. That's not all that far off from his 2013 production, but he cooled off big time following the hot start and the move into Yankee Stadium hadn't help his production as hoped. By the time June rolled around, Johnson was playing sparingly at first and third bases with the occasional start at DH.
A strong two weeks in mid-July — 8-for-27 (.296) with a homer, four walks and zero strikeouts from July 6th through the 21st — wasn't enough to save Johnson's job with the Yankees, so, a few hours before the July 31st trade deadline, he was traded to the rival Red Sox for close friend Stephen Drew. Johnson finished his time in pinstripes with a .219/.304/.373 (91 wRC+) batting line and six homers in 77 games. That includes a .224/.300/.402 (94 wRC+) line with five homers at home and a .213/.308/.340 (86 wRC+) line with one homer on the road.
Johnson spent most of his time with the Yankees at first and third bases, though he see spot duty in both outfield corners and at second base. His defense on the infield corners was pretty terrible and that probably has a lot to do with inexperience. Coming into the season, Johnson had playing only 18 career innings at first base and 118 career innings at third base. All of them came with the Rays last season. The inexperience doesn't absolve him of blame, he misplayed some balls any big leaguer should make, but it's not something we can ignore either.
I do wonder if Johnson would have had more success with the Yankees if they had kept him at his natural second base position. That's where he has spent most of his career and is presumably the most comfortable. Maybe keeping him there would have helped his offense somehow. These guys are only human. Learning a new-ish position is demanding and his game could have suffered elsewhere. This stuff happens all the time all around the league. Oh well. I'm just thinking out loud.
Johnson playing sparingly for the Red Sox (-12 wRC+ in ten games) before being shipped to the Orioles (111 wRC+ in 19 games) in a late-August waiver trade. Baltimore was looking for some extra third base depth following Manny Machado's season-ending knee surgery. He did end up making their postseason roster but only got two at-bats in October. Johnson made a ton of sense for the Yankees coming into the season thanks to his versatility and left-handed pop, but it didn't work out for several reasons and the team moved on at the trade deadline. That's baseball.