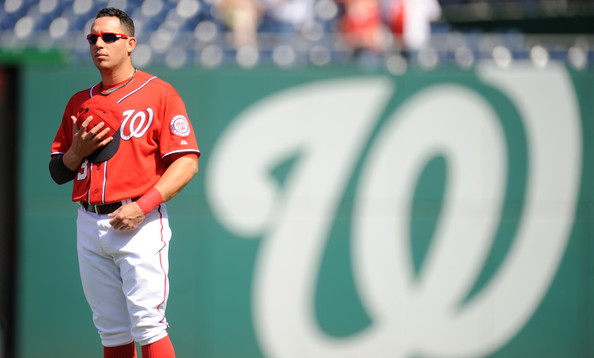 According to Enrique Rojas (translated article), free agent infielder Asdrubal Cabrera may be open to taking a one-year contract and testing the market again next offseason if he can't get the deal he wants this winter. "If Asdrubal can not get a contract for at least four years, then he probably would sign only for one season to reset his market. Surely many other teams will be interested if that happens," said a source to Rojas.
Rojas says the Yankees were among the teams with interest in Cabrera — a few weeks ago we heard they didn't have interest in him, but things change — though this report is more than a week old now, dating back to before the team re-signed Chase Headley. They have since traded away Martin Prado though, so the Yankees still have an opening on the infield, just now at second base instead of third.
With Headley back and Prado gone, Asdrubal on a one-year contract to play second base sure sounds like a swell idea to me. I wouldn't like giving him three or four years, but one? I'd do that in a heartbeat. Cabrera could play second, provide some shortstop depth in case Didi Gregorius doesn't work out, and perhaps become a trade chip if Rob Refsnyder forces the issue. Best case scenario, Asdrubal mashes and the Yankees get either a quality prospect at the deadline or a draft pick next offseason. Worst case, they release him and give the job to Refsnyder.
Cabrera, who turned 29 last month, split this past season between the Indians and Nationals — he played 823.2 innings at short and 432 innings at second, his first action at a non-shortstop position since 2009 — and hit .241/.307/.387 (97 wRC+) with 14 homers and ten steals. He had two very good years from 2011-12 (116 wRC+) but has been a tick below average at the plate in the two years since (96 wRC+).
Of course, whether Cabrera's market fails to develop remains to be seen. He's the best infielder left on the market and my guess is he would take a lower annual salary on a two or three-year deal before taking a one-year deal. That's what I'd do, anyway. Cabrera hasn't been above-average either at the plate or in the field for two years now, but as a one-year flier in a small ballpark? All day errday, baby. There's no such thing as too many middle infielders.