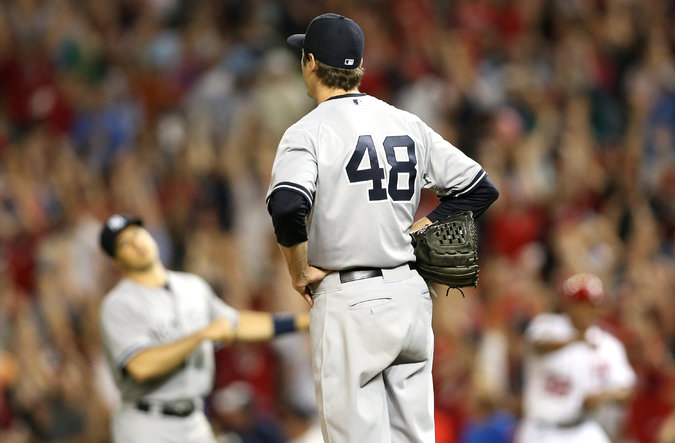 Andrew Miller tossed a clean, 1-2-3 inning and got the win in Monday night's walk-off victory over the Twins — probably his best effort since coming off the disabled list — yet his performance over the past month has been anything but perfect. Sure, one solid outing is encouraging, but looking at the whole body of his post-DL work reveals a few troublesome trends for the lefty.
When Miller went on the disabled list June 11 with a forearm injury, he was in the midst of an incredible season as the Yankees' closer, invoking comparisons to Mariano Rivera at his peak. Unhittable, dominant, video game-like … All those words described Miller, and they weren't used as hyperboles.
He was 17-for-17 in save chances and had allowed just three runs and eight hits in 26 1/3 innings. Miller didn't give up his first run until the 40th game of the season on May 19 and it was another two weeks before he gave up multiple hits in an outing. He struck out more than 40 percent of the batters he faced in those first two months, and made countless hitters look silly chasing a nasty slider in the dirt or swinging through a 96-mph fastball up in the zone.
After a month on the shelf, Miller returned to action July 8 against the A's but hardly looked like the nearly untouchable reliever we saw before the injury. He gave up a single and a home run to the second and third batters he faced in the ninth inning, before finally getting Ben Zobrist to ground out with the tying run on second base to seal the 5-4 win.
It soon became clear that first shaky outing was not just a result of him being rusty after an extended stint on the DL as his struggles continued the rest of the month and into August. In 16 games since coming back, he's allowed eight runs and 14 hits in 15 2/3 innings.

When asked about his recent struggles, Miller acknowledged he was scuffling but offered little explanation for the dip in his performance.
"I am certainly having some tough innings lately," Miller told the New York Post. "All of it is not explainable … It's going to happen. If you expect otherwise you are naïve."
Miller is correct, it's nearly impossible for any player not to experience a few bumps in the road over the course of a 162-game season. But the stark contrast in his performance before and after going on the disabled list is hard to ignore, regardless of the small sample size. Let's take a deeper dive into the numbers to see if we can figure out what might be the cause of Miller's sharp decline.
******************
The good news is that his pitches look pretty similar since coming off the DL compared to his first two months. His fastball is rising a tiny bit less now but the velocity is virtually unchanged, he's still getting good depth with his slider, and his release points on both pitches are nearly the same as before the injury.
Another positive sign is that despite giving up more runs and hits since coming off the DL, batters aren't crushing his pitches and he's actually doing a better job of inducing weak contact recently. His hard-hit rate has decreased (from 33 percent to 27 percent) and his soft-hit rate has increased (from 17 percent to 30 percent) in the past month, while the exit velocity on those batted balls has also fallen slightly (from 86 mph to 84 mph).
Although the lower hard-contact rate is promising, it hides a more troubling trend of Miller allowing a lot more contact overall since his injury. Batters have been much more aggressive in swinging at pitches both inside and outside the strike zone, and at the same time, have also been more successful in putting those pitches into play.

He's still getting good results with his slider — .158 batting average allowed and 48.5 percent whiff rate — but his four-seam fastball has been much less effective and pretty awful by his standards.

What used to be a really uncomfortable at-bat for most hitters — trying to get wood on Miller's unhittable fastball-slider combo — has become a much easier matchup now. He's been able to consistently bury his slider below the knees, but he's leaving more fastballs in the heart of the zone during the past month (see the big red blob in the middle, that's not good).

Perhaps lacking confidence in the pitch, he's relying on the heater less and less in recent outings, and that trend was never more evident than against the Blue Jays last weekend.
He threw just eight fastballs — two for strikes — and the one hit he allowed came off a four-seamer located dead-center in the middle of the plate. Of the 20 sliders he threw, he got five whiffs and both his strikeouts, without yielding a single ball in play off the pitch.
That epic 12-pitch strikeout of Troy Tulowitzki to end the game last Friday night showed that Miller still possesses one of the nastiest sliders in the game, and hasn't lost any of his competitiveness on the mound or his ability to execute in clutch situations.
One month of appearances — fewer than 16 innings pitched — is admittedly a small sample size to make any definitive judgments on his future performance, and there is every reason to believe that Miller can turn it around and pitch better down the stretch (see Monday's solid outing). But if he can't locate his fastball and is unable to lower his bloated contact rate, he's going to find himself in trouble more often than not. And we're probably going to see more white-knuckle saves (along with some meltdowns) and fewer of those dominant pre-injury outings over the final two months of the season.