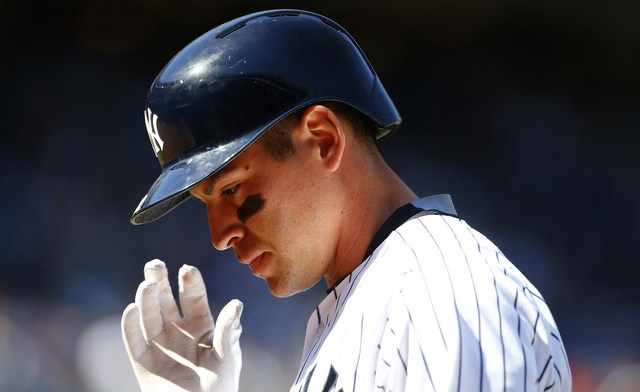 Jacoby Ellsbury is a problem. Following last night's 1-for-3 game, he is hitting .263/.321/.383 (95 wRC+) with 4.8 WAR in two years and 13 games as a Yankee. He's now 32 years old, his defense is kinda sorta slipping, and he is still under contract for another four years and 149 games. Ellsbury is talented and he could certainly turn things around, but yeah. Outlook not so good.
Trading Ellsbury is far-fetched. He's owed roughly $110M through 2020, and very few teams can and will be open to taking on that much money. Did you see how long it took good outfielders like Justin Upton and Yoenis Cespedes to sign this past offseason? Ellsbury's value is down well below those two. And oh by the way he has a full no-trade clause, so he can shoot down any deal. Not great, Bob.
Unless the Yankees eat a ton of money, which just isn't happening, any Ellsbury trade would have to be a bad contract-for-bad contract trade. Those trades are surprisingly rare — straight salary dumps are much more common — but they do happen from time to time. At Ellsbury's pay grade though? Forget it. It's never happened at that salary. Moving Ellsbury in a bad contract-for-bad contract deal would be unprecedented. Not impossible, just unprecedented.
The number of teams with a similar bad contracts to trade are limited — there are lots of bad contracts out there, but few have over $100M remaining — and even fewer need a player like Ellsbury. Finding a match is tough. Here are four possible fits — I guess it's five, but there's no sense in listing the Red Sox and some ridiculous Pablo Sandoval scenario — for a bad contract-for-bad contract trade that sends Ellsbury elsewhere. The teams are listed alphabetically.
The Team: Los Angeles Angels
The Player: Albert Pujols
The Remaining Money: $165M through 2021
Does It Make Sense For The Angels? Oh yes. The Halos would shed more than $50M in future salary obligation and get a more dynamic two-way player. They could stick C.J. Cron at first base full-time, put Ellsbury in the leadoff spot and in either center or left field (Mike Trout has played a ton of left field), and then find a cheap DH. Angels GM Billy Eppler may have some lingering affinity for Ellsbury dating back to his time as Brian Cashman's right hand man.
Does It Make Sense For the Yankees? Nope. Even if the two teams finagle the money so the Yankees don't take on any additional cash, New York would be acquiring the older and much more one-dimensional player. The last thing they need is another lumbering DH type on the wrong side of 35. Sure, they could stick Pujols at first base and let Mark Teixeira leave next offseason, then put Pujols at DH and Greg Bird at first when Alex Rodriguez retires the offseason after that, but yuck. This one doesn't work for the Yankees at all. That Pujols contract is the worst contract in baseball.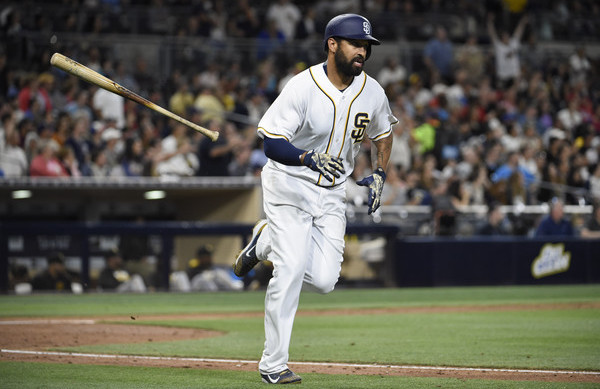 The Team: San Diego Padres
The Players: Matt Kemp and James Shields
The Remaining Money: $117.75M through 2018 plus another $20.25M in 2019
Does It Make Sense For The Padres? It might! They're currently rebuilding and looking to both shed money and add prospects. Ellsbury for the Kemp/Shields duo wouldn't net them any prospects, but it would wipe almost $30M off the books, reduce their annual payroll through 2018, and also land them an upgrade in the outfield. Kemp has a degenerative condition in his hips and is a year or two away from being a first baseman or DH, and DHs do not exist in the NL. Ellsbury gives them the kind of speedy contact hitter who would ostensibly thrive in spacious Petco Park.
Does It Make Sense For the Yankees? Again: it might! Shields' contract complicates things because he can opt-out after the season. If Shields opts out, the the Padres would actually end up taking on money in this trade because he would be walking away from $44M. I suppose the two sides could work out a conditional trade — if Shields opts out, the Yankees send a prospect or two over, or kick in more money — but when things start getting that complicated, bet against it happening.
If nothing else, Shields would give the Yankees an innings guy even though he's dangerously close to a Sabathia-esque decline. Kemp would fit in decently. They could put him in left this year to replace Ellsbury, then put him and Aaron Judge in the corners next season since Carlos Beltran will be gone, and then put him at DH once A-Rod retires. Kemp would also add another righty bat. Would the Yankees take on money to move Ellsbury and take two declining players in return though? Seems unlikely.
Kemp alone would not work — the Padres owe him only $73M through 2019, so significantly less than the Yankees owe Ellsbury — so Kemp plus Shields it is. The Yankees would be taking on more money in the short-term, screwing up their plan to get under the luxury tax threshold, but the contracts would be off the books a year sooner. That's not something that should be glossed over. They'd get out of the bad deal(s) sooner.
The Team: Seattle Mariners
The Player: Robinson Cano
The Remaining Money: $192M through 2023
Does It Make Sense For The Mariners? Yes if the only goal is shedding approximately $80M and three years worth of contract. No if the goal is improving the roster. Cano is a better player than Ellsbury, there's no doubt about that, and the difference in the contract commitments is massive. Seattle doesn't have a ready made second base replacement and they don't really need another outfielder, so Ellsbury doesn't fit their roster, at least not in the super short-term. Their motivation for a Cano-for-Ellsbury deal would be dumping all that money.
Does It Make Sense For the Yankees? No for a few reasons. One, that's way too much money to take on. The Yankees had a chance to re-sign Cano and balked at that price. I personally would rather have Cano for ten years and $240M than Ellsbury for seven years and $153M, but that's just me. Obviously the Yankees feel differently, otherwise Robbie would still be wearing pinstripes.
Two, the Yankees now have Starlin Castro at second base, so they don't really need Cano. An Ellsbury plus Castro for Cano deal would be fun in an lolwtf way — it would also even out the money slightly — but c'mon. The Yankees aren't going to add Castro to the trade and still take on $40M or so just to get rid of Ellsbury. Not happening.
In a vacuum where positions and things like that don't matter, I'd trade Ellsbury for Cano in an instant. This ain't no vacuum though. That stuff matters and neither player fits the roster of their would-be new team. Ellsbury for Cano seems like the kind of trade none of us would even consider had Cano not been a Yankee once upon a time.
The Team: Texas Rangers
The Player: Shin-Soo Choo
The Remaining Money: $102M through 2020
Does It Make Sense For The Rangers? Finally, a trade that seems remotely plausible. Ellsbury and Choo both signed seven-year contracts two offseasons go, and while Ellsbury received an additional $23M in guaranteed money, Choo's deal was back-loaded, so the two are owed similar dollars from 2016-20. Bridging the gap between the $102M left on Choo's deal and the $110M left on Ellsbury's doesn't seem like it would be a huge issue, right?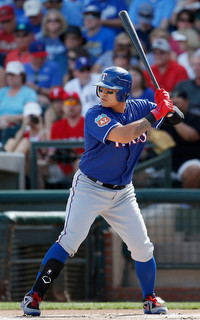 Rangers GM Jon Daniels has reportedly coveted Ellsbury for years, so I'm sure there's still some level of interest there. The problem? The Rangers have a good young center fielder and leadoff hitter in Delino DeShields Jr., who is making close to the league minimum. Texas also has a top flight center field prospect in Lewis Brinson at Triple-A. They have options at that position, so it's not a pressing need.
Either way, the Rangers will have a declining veteran outfielder making $20M+ a year through 2020 on their roster. The question is whether they prefer Choo or Ellsbury, who are very different players. Ellsbury is the two-way threat and Choo is the bat first guy. They both have their pluses and minuses. This would almost be like a change of scenery trade.
Does It Make Sense For the Yankees? I think so, even if the money is evened out. The Yankees need Choo's offense — he's hit .259/.360/.419 (114 wRC+) with the Rangers, including .276/.375/.463 (127 wRC+) in 2015 — more than they need Ellsbury's two-way skill set. Choo slots in perfectly in left field in the short-term, then at DH in the long-term once A-Rod is gone. As with the Rangers, the Yankees are going to have a declining veteran outfielder making $20M+ a year on their roster no matter what. Would they prefer that player to be Choo or Ellsbury?
* * *
It goes without saying those four bad contract-for-bad contract trades above are all pretty unrealistic and very unlikely to happen. This just goes to show how tough it would be to move Ellsbury without eating a significant chunk of money. It's not impossible, crazier things have happened, but his trade value is very low for the time being. And of course there's the whole no trade clause thing.
My sense is the Yankees really like Ellsbury as a player and wouldn't look to move him in a bad contract-for-bad contract deal. Their best course of action is to remain patient and hope he shakes off his slow start, and gets back to being the dynamic leadoff hitter he was prior to his knee injury last year. Ellsbury's contract is really bad, and while trading him seems like a good idea, it's very possible the best bang for all that buck will come from Ellsbury, not a declining player on another team's roster.