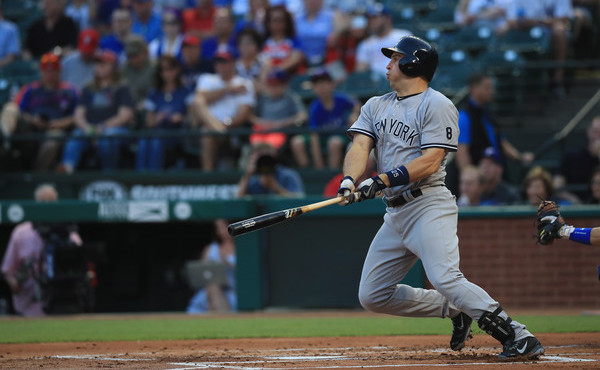 For the majority of the season the Yankees have really struggled to score runs, and you can't single out one guy as the culprit. It takes a total team effort to rank 24th out of the 30 clubs in runs per game (3.57) more than a month into the season. Starlin Castro has been the team's only consistently productive hitter, I'd say.
A year ago the Yankees had one of highest scoring offenses in baseball overall, and one of the biggest reasons was regular cleanup hitter Mark Teixeira. He hit .255/.357/.548 (143 wRC+) with 31 home runs in 111 games before going down with a small fracture in his shin. Teixeira turned back the clock and was one of the game's best power hitters.
That has not been the case this season. Far from it. Through 30 team games Teixeira is hitting .202/.325/.298 (82 wRC+) with only four extra base hits. (A double and three homers.) It has been 23 games and 94 plate appearances since his last home run. That is quite bad. Teixeira is not a complementary player. He's a cornerstone piece of the offense and he isn't helping much right now.
"It's only natural that you want to help carry the team, but I've always been someone that's done that," said Teixeira to Dan Martin yesterday. "As a middle-of-the-order hitter, it's kind of what you're there for, to drive in runs. You can carry a team for weeks or months at a time. This is nothing new for me to deal with."
It's actually pretty easy to pinpoint why Teixeira has not hit for much power this season: he isn't hitting the ball in the air. His 50.7% ground ball rate is easily the highest of his career. (Previous high: 42.8% in 2008.) That's only the super short version though. Teixeira is a switch-hitter and that complicates things. Plus we want to know why he isn't hitting the ball in the air, right?
Here are Teixeira's ball in play splits dating back to the start of the 2014 season. I'd normally go back three full years, but wrist surgery limited Teixeira to only 15 games in 2013.

Everything looks okay from the right side of the plate this season. Teixeira's batted ball profile is generally in line with last year's, which is what we want to see. He was pretty awesome last year. It goes without saying this is all coming from a small sample, but so far, so good as a right-handed hitter.
The left side is where Teixeira is having big problems. He's still pulling the ball a ton, but he's not making as much hard contact and he's not hitting the ball in the air. More weak contact on the ground as a left-handed batter means more balls that get eaten up by the shift. It's actually kinda surprising Teixeira's batting average isn't lower, to be honest.
Before we move forward it should be noted Teixeira's plate discipline has been fine. More than fine, really. He has the 23rd lowest swing rate on pitches out of the zone in baseball (22.7%), and his overall contact rate (80.3%) is right in line with his career norm. Teixeira's not expanding his zone and hacking at bad pitches. That's not causing all those extra ground balls as a lefty hitter.
Teixeira said he was working to correct a timing issue near the very end of Spring Training, and it's possible that timing issue is still, well, an issue. He does the most damage as a left-handed hitter when he can extend his arms and punish a pitch on the outer half. Here's the pitch location of every ball Teixeira hit 100+ mph last season from the left side of the plate, per Baseball Savant: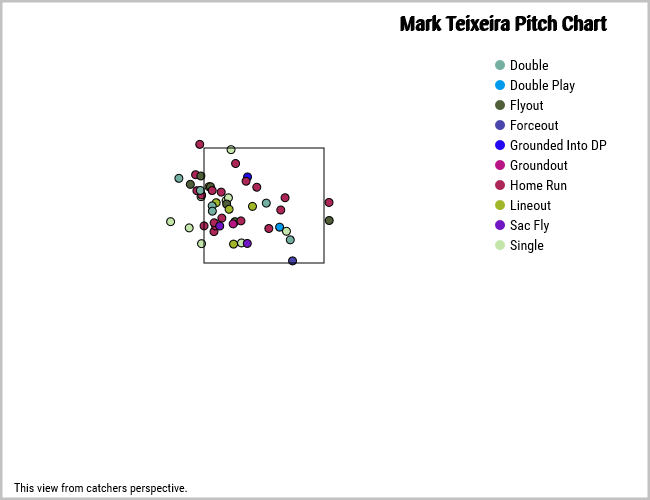 That is some plate coverage, huh? The guy is a big time power hitter playing his home games in Yankee Stadium, so as pitcher you'd think the best place to go is away, but nope. That is Teixeira's wheelhouse. It takes a long swing to get to those outside pitches, so if his timing is off even a tiny little bit, it can be the difference between loud contact and something off the end of the bat.
Of course, it's possible Teixeira's timing is off because he's 36 and his bat is slowing. It's not necessarily a mechanical issue. That said, even old players still hit home runs, and I feel like Teixeira going 94 plate appearances (!) without a dinger is indicative of a mechanical problem more than a "he's old" problem. What about injury? What if he's not using his lower half the way he normally does following the shin fracture? Teixeira is not hitting for power because he's not hitting the ball in the air from the left side of the plate. Why is he not lifting the ball? That's the mystery.
"There's no reason I should be struggling like this," added Teixeira. "It's been a tough few weeks. I've just got to get the ball in the air. I've been hitting too many ground balls and soft line drives … My whole career has been about back-spinning the ball, hitting the ball in the air and home runs. I'm just not doing that right now."
The Yankees obviously still want to climb back into the postseason race this summer, and they'll need Teixeira to get back to mashing baseballs to do that. And even if they continue to lose, they want him to be productive so they at least have the option of exploring trading him. Who knows whether Teixeira will waive his no-trade clause. But if he doesn't start hitting, it won't matter. No one will want him.
The silver lining here is that unlike some of the team's other veterans, specifically Alex Rodriguez and Carlos Beltran, Teixeira can still contribute with his glove when he's not hitting. He's still a great defensive first baseman. That's not enough though. Teixeira is still getting on base thanks to his walks, so he's not totally useless at the plate, but the Yankees need him to start hitting the ball out of the park, and he needs to get the ball airborne for that to happen.