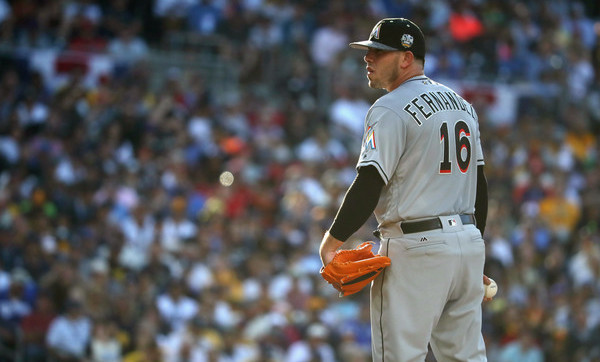 Horrible news to pass along: Marlins ace Jose Fernandez and two others were killed in a boating accident earlier this morning. The team has confirmed the news. He was only 24 and Jose recently announced he was soon going to be a father. The Marlins have canceled Sunday's game.
"On behalf of Hal Steinbrenner and the New York Yankees, we offer our deepest condolences to Jose Fernandez's family and loved ones, and to the entire Miami Marlins organization he so joyfully and proudly represented," said the Yankees in a statement.
Fernandez was more than just a great baseball player. He was very active in the community and an icon in the Cuban community in Miami. Fernandez defected at age 15 in 2008 — he was jailed three times for prior defection attempts — and while defecting he jumped into the Gulf of Mexico to save his mother, who'd fallen overboard.
Stuff like that makes baseball inconsequential. Fernandez was a great person who used his fame to help others. No, he had no ties to the Yankees other than trade rumors, but this is a devastating loss for the baseball world and fans in Miami. How incredibly sad. Our condolences go out to his friends and family.