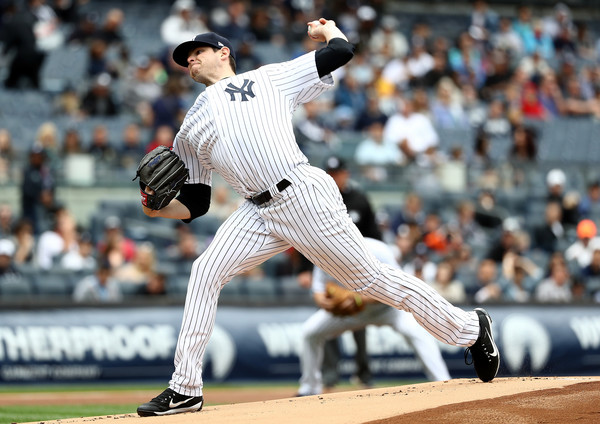 The Yankees season has largely been a story of adjustments. Or, perhaps, the greatest questions regarding the roster have revolved around adjustments: how would the league adjust to Gary Sanchez? Could Aaron Judge adjust to the majors? Could Luis Severino re-adjust to being a starting pitcher? How would Dellin Betances adjust to his career as an astronaut? And so on. For the most part, these questions have yielded positive answers, small sample sizes be damned (and dissipating at a rapid pace, to boot).
Heading into Tuesday night, we wondered how Jordan Montgomery would adjust to facing the Royals for the second time in six days. It was the first time that a major league lineup would see Montgomery twice, and it had an added layer of seeing how he would fare follow the worst start of his young career (5 IP, 4 H, 5 R, 3 BB, 4 K). The Royals are a bad offensive team – the worst in baseball on the season – but they have been heating up, and Montgomery is still a rookie. It may well have been the biggest test this side of his debut this season.
By now you know that Montgomery responded with a gem of a performance, pitching to the following line: 6.2 IP, 2 H, 1 R, 0 BB, 6 K. The lone blemish on that line was a solo shot by Lorenzo Cain in the 7th inning, the result of a 93 MPH that caught too much of the plate. It was nevertheless his best start to-date, and he outpitched Royals ace Danny Duffy. All of this raises a question, though – what changed in the last week?
The short answer is pitch selection and pitch location. Let's look into Montgomery's offerings on May 18:

Montgomery threw 83 pitches the first time he faced the Royals, and just over half of those (42) were some variety of fastball. He picked up just seven whiffs on the day, largely due to the fact that he threw just 11 sliders. As per PITCHf/x, his slider is worth 2.55 runs per 100 thrown and has a 22.1% swinging strike rate, which makes it his best pitch by a fairly comfortable margin. With that in mind, take a look at Tuesday night's start:

This time around, 41 of his 98 pitches were fastballs, and he threw more than twice as many sliders (which led to twice as many swings and misses). Montgomery threw fifteen more pitches this time around, and essentially all of them were sliders. It was a completely different mix of pitches, and it helped to keep the Royals off-balance; and the results were excellent.
It wasn't just a matter of throwing more sliders, though. Montgomery was also far more successful in keeping the ball around the edges, as well as in the bottom-third of the strike-zone.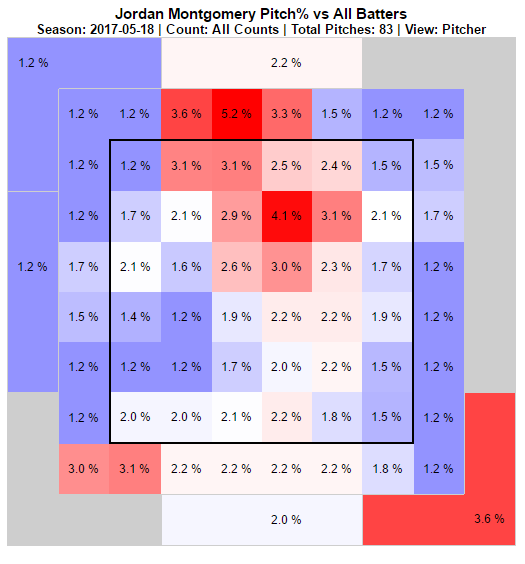 In the first outing, Montgomery was, to oversimplify, throwing the ball down the middle or outside of the zone. And, given that most the pitches he threw were fastballs or change-ups, it's no surprise that he was hit, and hit hard.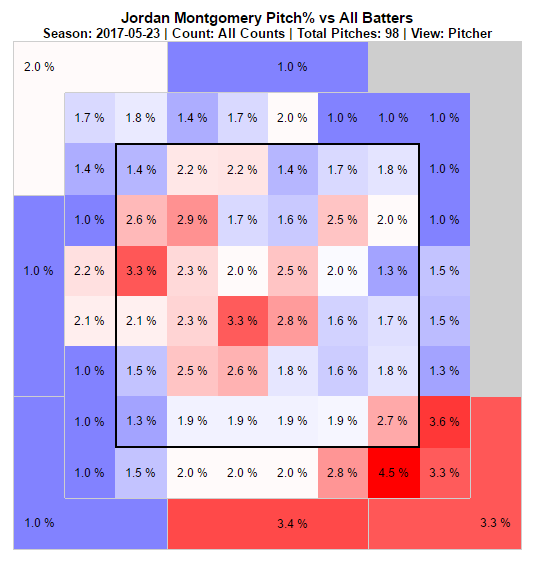 Montgomery threw a few too many pitches near the heart of the plate both times around, but he was clearly living on the edges far more often on Tuesday night. He was also pounding right-handed hitters down-and-in (and lefties down-and-away), and it worked quite well. The majority of his pitches move, and he has shown the ability to locate most of them well-enough, so the latter plot is exactly what you'd expect to see when Montgomery is on his game.
The usual "it's only one game" caveat applies here, yet it is encouraging to see Montgomery make such a significant adjustment from one game to the next. He went with what has worked best for him this season, and held the Royals to 1 run in 6.2 IP. On most nights, that would be a winning effort – but I digress. One of the most often cited pluses on Montgomery's scouting report was his pitchability, and that was on full display for at least one night.