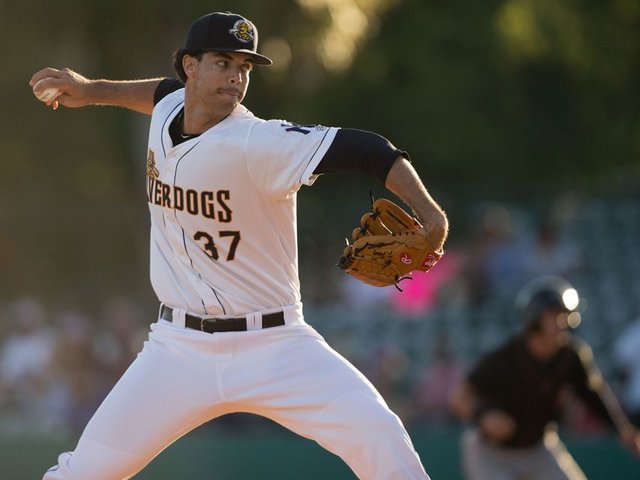 Freicer Perez | RHP
Background
Freicer Perez was signed by the Yankees for the bargain basement price of $10,000 back in 2014. A native of Santiago de los Caballeros, Dominican Republic, the second-largest city in the country, Perez was a relative unknown in that year's international free agent class, and was little more than a footnote in the Yankees spending spree that summer. He was also the veritable 'old man' of the group, as he was a few months beyond his 18th birthday when he signed. By the time the summer was over the Yankees had spent around $17 MM in bonuses, and another $12-plus MM in taxes.
And Perez might just be the best of the bunch.
Pro Career
Perez was 19 by the time he made his professional debut in 2015, checking in at right around the league-average age for pitchers in the rookie-level Dominican Summer League. He spent the entirety of the season there, tossing 69.2 IP of 3.23 ERA ball. Perez posted strong peripherals, as well, with a 22.7% strikeout rate, 5.7% walk rate, and 48.0% ground ball rate.
Despite his strong effort, Perez remained entirely off of the radar at this point. That's not terribly surprising, giving his low profile in a massive IFA class and his lack of jaw-dropping numbers, but relative anonymity is always something that I find interesting. Perez didn't even appear in a Baseball America article until September of 2016. But I digress.
The Yankees continued the slow and steady approach with Perez, as he spent all of 2016 at short-season Staten Island. He was far less successful against the better competition, posting a 4.47 ERA in 52.1 IP. It wasn't just his run prevention numbers that slipped, either – he struck out fewer batters (20.6%), walked way more (10.5%), and essentially stopped garnering grounders (32.7%). It was a speed bump statistically, but he nevertheless started popping up on prospects lists – and the two may well be related. You see, Perez went from throwing in the low-90s in 2015 to bumping triple-digits in 2016, so his struggles may be attributed to attempting to harness his newfound stuff.
And that's just what he did in 2017, posting a 2.84 ERA in 123.2 IP at Low-A Charleston. He brought his strikeout rate back up to 22.7%, trimmed nearly two percentage points off of his walk rate (8.7%), and rediscovered the joys of keeping the ball on the ground (43.4% grounders). And, despite the perils of selective endpoints, it's worth noting that he scuffled out of the gate (5.79 ERA in April), and then dominated the rest of the way (2.46 ERA, 24.1% K%, and 8.0% BB% in his final 109.2 IP). That's enough to put him onto some prospect radars outside of the Yankees fandom, too.
Scouting Report
Perez is the exact sort of pitcher that the Yankees have sought out in recent years, checking in at 6'8″ and around 200 pounds, with the ability to throw the baseball incredibly hard. His fastball sits in the the mid-90s, routinely flirting with the 100 MPH threshold, and it has a nice bit of sink to it. The simple fact that he has that much velocity with that much movement gives him an edge over similarly hard-throwing prospects.
The whole profile revolves around his fastball, as it is his go-to pitch in every situation. However, Perez does throw three other pitches – a mid to high-80s change-up, a mid-80s slider, and a low-80s curveball. His change-up is his second-best pitch, with great separation from his fastball and a good ability to repeat his arm speed. It doesn't have much movement, though, and when he's off his game it plays as a soft fastball. Perez's slider and curveball are very much works in progress at this point, and he doesn't use either pitch all that often; whether that's a product of a lack of confidence in the two or the simple fact that he doesn't need them to get minor league hitters out is an integral question in determining his ceiling.
Mechanically, there's some good and some bad for Perez. There's some natural deception in his delivery, his arm speed is consistent, and the total package is fairly clean, with nothing that screams disaster-in-waiting. At the same time, though, he does not repeat his delivery well, as he has a tendency to raise or lower his arm slot, which can completely mitigate the deception in his delivery. He hides the ball for a long time, but the arm slot can telegraph when a breaking ball is coming. And that may be the reason why the command of all but his fastball is subpar at best.
Perez is often compared to fellow Yankees farmhand Domingo Acevedo as a result of all of this, and it's not too hard to see why. To his credit, though, Perez is more athletic than Acevedo, and a bit more polished on a comparative level.
2018 Outlook
Perez should open the season at High-A Tampa, and I suspect that he'll spend at least half of the season there (if not longer), regardless of how well he performs. Barring disaster, I suspect he'll finish the season at Double-A Trenton.
My Take
It's difficult not to love the fastball, with its easy velocity and natural movement. And I'm a believer in his change-up when his mechanics are right. If he's going to be a starter at the highest level, however, he will need to refine at least one of his breaking balls. Everything that I have seen and read suggests his curve is the less bad of the two, and I wouldn't be surprised if he ended up scrapping his slider for that; or, in a broader sense, giving up one to focus on the other. Combining his fastball with a couple of average secondary offerings would be enough to make him a mid-rotation starter. Absent that, he could be a dominant reliever with a 100 MPH fastball and a show-me pitch or two. I'll be following him closely this season, as I'm fascinated to find out what happens next.