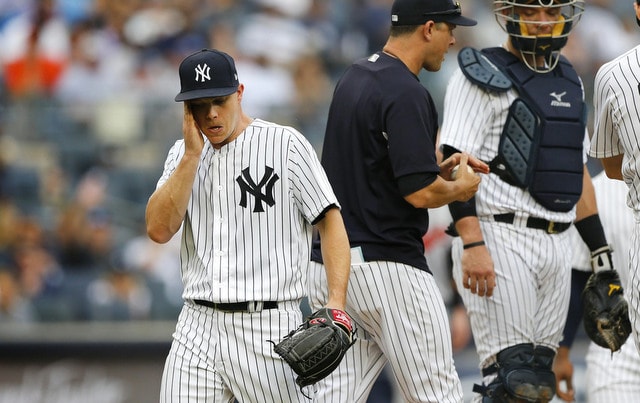 After a weekend of rumors and an offseason of waiting, the Yankees finally traded Sonny Gray earlier this week. We all knew it was coming at some point. We just didn't know when. Gray went to the Reds in a three-team trade with the Mariners. The Yankees walked away with a lower minors prospect and a draft pick, which, honestly, is more than I thought they'd get. The draft pool money is a big deal.
The trade closes the book on Gray's stint as a Yankee and we now know for certain it was a bust. There's no chance at redemption now. I liked Gray and was glad when the Yankees added him for the 2017 stretch run, but the trade was a failure. The Yankees acquired Sonny expecting at least a mid-rotation innings guy and hoping for a bona fide No. 2 starter behind Luis Severino. They got a fifth starter. Sometimes worse.
At this point I'm not really interested in exploring why Gray performed the way he did with the Yankees. I've written enough about that the last 12 months or so. I don't think it's as simple as "he couldn't handle New York" or "he was a bad match for Yankee Stadium." I reckon it was a combination of several things, not one specific thing. Whatever it was, the Gray pickup proved to be a failure.
After last season, a season in which Gray had a 4.90 ERA (4.17 FIP) and lost his rotation spot to Lance Lynn and was not even a consideration for the postseason roster, the Yankees had two choices:
Keep him and try to salvage him in 2019.
Cut their losses and trade him.
Personally, I was willing to give No. 1 a try. I've been a Sonny Gray fan for a long time now and I wanted it to work with the Yankees, so I was open to bringing him into the new season as a swingman/sixth starter. You know a starter is going to get hurt at some point. That's baseball. Gray has more upside than pretty much anyone the Yankees could realistically bring in as a sixth starter.
I was willing to give Gray another chance in 2019. What I think doesn't matter though. The only thing that matters here is how the Yankees feel about Gray and their assessment of his performance going forward, and Brian Cashman made it clear the Yankees do not expect Sonny to improve next year, or at least improve enough to keep his $7.5M salary on the books. I thought this quote was pretty damning. From Joel Sherman (emphasis mine):
"We are going to move him if we get the right deal because I don't think it is going to work out in The Bronx," Cashman told me Monday at the GM Meetings. "I don't feel like we can go through the same exercise and expect different results."
The Yankees tried pretty much everything with Gray last season. They gave him his personal catcher. They tightened up his mechanics. They altered his pitch selection and had him emphasize his sinker and curveball. They changed his role. When Cashman or Aaron Boone or Larry Rothschild were asked about Gray, their response often started with an exhale and a sigh. They were frustrated. Exasperated. Maybe even angry.
Given the way Cashman and the Yankees had been talking about him, it's clear they did not trust Gray on the mound. How well would Sonny have to perform for you to feel confident when he's on the mound? How long would he have to perform at that level to earn your trust? I imagine the answer is very good and very long. Longer than the Yankees were willing to commit and maybe longer than possible give his impending free agency.
Once the Yankees determined "(we) don't feel like we can go through the same exercise and expect different results" as Cashman said, that was it. They'd reached the point of no return. Gray had become a sunk cost. The Yankees gave up three pretty good prospects to get Sonny* and there was nothing they could do to change that. They could continue to force the issue and try to salvage him, or cut their losses and move on. They moved on.
* Could you imagine how much worse this all would've looked had Dustin Fowler, James Kaprielian, or Jorge Mateo done anything of note for the Athletics? They still could, sure. Right now, that trade is a dud all around. Everyone involved has seen their stock drop.
Everyone deserves some share of the blame here. The Yankees, the coaches and analysts that couldn't get him on track, and Sonny himself. There was no progress last year. It was one step forward, one step back all season. Every sign of improvement vanished with the next start. Eventually it gets to the point where it's untenable, and it had become untenable with Gray. At that point, the best thing for both parties is a clean break. Everyone gets a fresh start now.
The Yankees decided to make Gray some other team's problem. They spent a year (more than that, really) trying to get him right and nothing worked. If he had multiple years of control remaining rather than one, I think the Yankees would've kept him. But, with just the one year of control remaining, there wasn't enough long-term upside to keep working at it. The Yankees had grown obviously frustrated with Gray and if they didn't believe he could help them this year, a trade was the only choice. It was time to move on, not hope for something that everything on the field told you isn't going to happen.