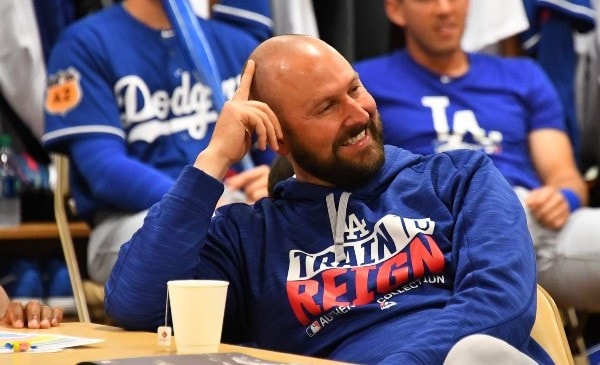 At long last, the Yankees announced their new coaching staff earlier today. There were no surprises. Names leaked out throughout the offseason — Aaron Boone also confirmed a bunch of coaching hires at the Winter Meetings — but now they are official. Officially official.
Boone's coaching staff includes three holdovers from the Joe Girardi years. Larry Rothschild is back as pitching coach and Mike Harkey is back as bullpen coach, and Marcus Thames has been promoted from assistant hitting coach to hitting coach. Rothschild has been with the Yankees since 2011 and Harkey is in his second stint with the team (2008-13, 2016-present).
Thames has been coaching with the Yankees since he retired as a player in 2013. He was hitting coach for High-A Tampa in 2013, Double-A Trenton in 2014, and Triple-A Scranton in 2015 before joining the big league staff as assistant hitting coach in 2016. We're all familiar with Rothschild, Thames, and Harkey, right? Right. Here's what you need to know about the new guys.
Bench Coach: Josh Bard
Background: Bard, who turns 40 at the end of Spring Training, was Boone's teammate with the 2005 Indians. He played ten years in the big leagues as a journeyman catcher from 2002-11. Bard played in Triple-A with the Dodgers in 2012, and after the season he joined the club as a special assistant. He was in the front office from 2013-15 before joining the field staff as bullpen coach in 2016.
Boone says (video link): "I think he's a superstar in our business. I just hope we can bring him in and keep him for a while. He's going to impact people. He has a great relationship with the front office, he really has a grasp of the analytics. I think he's going to make my job a lot easier by being able to translate certain things, whittle things down for me. Along with being really smart — and only 39 years old, he'll be 40 I believe in Spring Training — he's got a presence. There's a confidence about him. And I think he'll be able to walk out in that room, connect with a lot of different people, and give them the information."
Why Bard? Bard's existing relationship with Boone probably helped him get the job, though I don't think this is a case of hiring the manager's buddy. Not at all. I'm guessing Bard's front office experience with the Dodgers, a big market team heavy into analytics like the Yankees, was very appealing to Boone and Brian Cashman. Communication is a big part of the job, and obviously the team feels good about Bard's ability to take information, boil it down, and disseminate it.
First Base Coach/Outfield Instructor: Reggie Willits
Background: Willits made one of the best catches I've ever seen in person. He scaled the side wall in left field at the old Yankee Stadium to rob a foul ball. Full sprint — Willits was fast as hell — leap at the wall, reach over for the catch. It was amazing. Anyway, Willits played his entire big league career with the Angels (2006-11), and after his playing career ended, he coached high school ball for two years back home in Oklahoma before joining the Yankees as a minor league outfield and baserunning coordinator in 2015. He held that role until being added to Boone's staff.
Boone says: Can't find anything. Boone confirmed Willits would be the first base coach at the Winter Meetings, so he talked about him, but it seems no one bothered to publish any quotes. Womp womp.
Why Willits? The 36-year-old Willits — he's ten months younger than CC Sabathia! — has been mentioned as a potential coaching candidate for a few years now, so he's impressed the right people in the organization during his time as a minor league coordinator. Former farm system head Gary Denbo was a big fan. Keep in mind Willits worked with a lot of Yankees players in the minors (Aaron Judge, most notably), so he's a familiar face to some.
Third Base Coach: Phil Nevin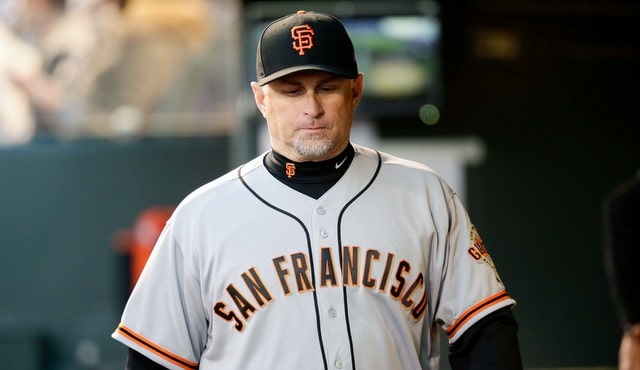 Background: If nothing else, Nevin had the best big league career of anyone on the coaching staff, including Boone. He played 12 years in the show (1995-2006) and retired as a career .270/.343/.472 hitter with 208 homers. Once his playing career ended, Nevin spent some time broadcasting before getting into coaching. He managed an independent league team in 2009, the Tigers' Double-A affiliate in 2010, the Tigers' Triple-A affiliate from 2011-13, and the Diamondbacks' Triple-A affiliate from 2014-16. Nevin served as the Giants third base coach last year. He's interviewed for at least one big league managerial job over the years (Astros in 2014).
Boone says (video link): "Phil is more of an old school guy. A guy that's actually gained a lot of experience after having an excellent career. He's coached third base a lot, (he has experience) as a manager in Triple-A and Double-A, also last year with the San Francisco Giants. (Bard and Nevin) are two guys that bring two different things to the table, but I think it's important to have different kinds of people on your staff."
Why Nevin? Nevin and Boone grew up together and know each other well — "Aaron and I go back a little bit. I kind of grew up in the Boone house," said Nevin during an MLB Network appearance a few weeks ago — which undoubtedly played a role in the hire. That said, Nevin has a ton of minor league managerial experience, so he's worked with a lot of young players over the years, and the Yankees have a increasingly young roster. Also, having third base coaching experience helps, even if it is only one year's worth.
Assistant Hitting Coach: P.J. Pilittere
Background: Pilittere has taken a long road to the big leagues. The Yankees drafted him in the 13rd round in 2004 and he played in the system from 2004-11. After retiring as a player, Pilittere remained with the Yankees as a hitting coach. He spent 2012 in the rookie Gulf Coast League, 2013 with Low-A Charleston, 2014 with High-A Tampa, 2015-16 with Double-A Trenton, and 2017 with Triple-A Scranton.
Boone says: Nothing yet.
Why Pilittere? Pilittere has worked with many young Yankees, including Judge, Gary Sanchez, Gleyber Torres, Miguel Andujar, Clint Frazier, and Tyler Wade, and they all love him. He's an all-around great dude and is extremely popular within the organization. To me, this seems very much like a young coach doing a great job and rising up the ranks.
Quality Control Coach/Infield Instructor: Carlos Mendoza
Background: The 43-year-old Mendoza had two big league cups of coffee with the 1997 Mets and 2000 Rockies, and he also played in Mexico, Italy, and independent leagues before joining the Yankees as a minor league instructor in 2009. He's held a variety of roles over the years, including managing the rookie Gulf Coast League squad and Low-A Charleston. Most recently, Mendoza was the team's minor league infield coordinator. Mendoza will be in uniform and in the dugout during games.
Boone says (via Erik Boland): "A rising star in our industry."
Why Mendoza? Like Willits, Mendoza has been mentioned as a big league coaching candidate for a few years now. He has experience working with the club's young infielders, most notably Torres and Andujar, but also Wade, Thairo Estrada, and Greg Bird. Also, Mendoza is the only Spanish speaker on the coaching staff, so he'll help communicate and relay information to guys like Sanchez, Torres, Andujar, and Aroldis Chapman in their first language.
* * *
In other field staff news, both Jason Brown and Radley Haddad will return as bullpen catchers and Brett Weber returns as the video replay guru. Their official titles: catching coach (Brown), coaching assistant/bullpen catcher (Haddad), and coaching assistant/instant replay coordinator (Weber). All holdovers from last season.