With four-fifths of the Opening Day rotation on the disabled list and not due back anytime soon, the Yankees are facing a pitching crisis. It's not as bad as it could be thanks to the Brandon McCarthy pickup and the emergence of Shane Greene, but the team is pretty desperate for some quality arms. It's tough to expect Masahiro Tanaka and/or Michael Pineda to return in the second half given the nature of their injuries.
The trade deadline is next Thursday and at this point it's tough to see the Phillies not selling. GM Ruben Amaro Jr. recently told Jim Salisbury nothing more than "we're going to try to do what we can to improve our club," which makes sense. It's not often a team will come out and announce they're in sell mode. It pushes fans away. The Phillies do have baseball's sixth worst record at 43-56 though, and the rumors of a fire sale are louder than ever. If and when they do pull the plug, they have several players who would interest the Yankees. Here are the pitchers, later today we'll cover the position players.

LHP Cliff Lee
Lee, 35, returned to the mound last night after spending two months on the disabled list with a flexor pronator strain. That's a muscle in your forearm, though forearm issues are usually symptoms of an elbow problem. Either way, Lee returned last night and was terrible, allowing six runs on a career high-tying 12 hits in 5.2 innings. I watched the game and he just looked rusty. PitchFX confirms his velocity was fine and he threw all of his pitches, but his location was terrible. He looked like a guy who threw only 10.2 rehab innings after missing two months.
Anyway, prior to last night, Lee had a 3.18 ERA (2.70 FIP) in ten starts and 68 innings, numbers that are right in line with his stellar 2008-2013 performance (2.89 ERA and 2.85 FIP). His strikeout rate (8.07 K/9 and 21.1 K%) was down a touch from recent years but still very good while his walk rate (1.19 BB/9 and 3.1 BB%) was outstanding as usual and his ground ball rate (49.1%) was a career high. Cliff Lee was pitching exactly like Cliff Lee before the injury. Here is his pitch breakdown:
| | Four-Seam | Sinker | Cutter | Changeup | Curveball | Slider |
| --- | --- | --- | --- | --- | --- | --- |
| Avg. Velocity | 91.0 | 90.9 | 87.3 | 84.2 | 74.9 | 81.0 |
| % Thrown | 2.6% | 54.9% | 14.8% | 19.9% | 5.8% | 2.0% |
| Whiff+ | 155 | 86 | 59 | 130 | 73 | 251 |
| GB+ | 53 | 92 | 116 | 127 | 160 | 57 |
Even during these last seven years, when he was one of the three or four best pitchers in baseball, Lee never had blow you away stuff. It's good stuff but not great stuff that plays up (a lot) because he locates everything so well. Lee is essentially a sinker/cutter/changeup pitcher who will mix in a few four-seamers, curveballs, and sliders per start, with the changeup being the only pitch that is above-average at getting both swings and misses and grounders. (Whiff+ and GB+ are like ERA+, but for swing-and-miss and ground ball rates for the individual pitches.)
Lee's contract is pricey but it's not an albatross given how well he was pitching before getting hurt — he is owed roughly $10M through the end of this season plus another $25M last year. His $27.5M option for 2016 comes with a $12.5M buyout and vests if he throws 200 innings next year or 400 innings combined from 2014-15. The injury will hurt his chances of meeting the latter. Lee has thrown at least 210 innings every year since 2008, so he's been very durable in recent years. He's guaranteed $47.5M or so through the end of next year and at most $62.5M through 2016. I don't see that as a deal-breaker for a pitcher of this caliber.
The Yankees are included in Lee's 20-team no-trade list according to Jon Morosi, but that doesn't appear to be much of an obstacle. In a perfect world New York would just absorb Lee's contract and give up little in the way of prospects. The Phillies are a financial powerhouse though and shedding salary is not a priority at the deadline. In fact, Ken Rosenthal says they're willing to eat money to get the best possible prospect package in return. Jim Bowden (subs. req'd) suggested Aaron Judge and Luis Severino for Lee, which is ludicrous, but he isn't going to come cheap either. Giving up two very good but not truly elite prospects for a legitimate difference maker like Lee seems pretty reasonable in a vacuum, actually.
Of course, the health of Lee's forearm/elbow is a critical and any team that trades for him will have to have to feel confident in the medicals. Lee is scheduled to start again Saturday, his last scheduled start before the deadline (he is scheduled to start again on the 31st). Teams are only going to get two looks at him before the deadline and the first look last night stunk. Saturday's outing could be enough to convince a pitching needy club to pull the trigger, or Lee's post-injury audition could stretch a little longer and make him an August waiver trade candidate. The Yankees are enamored with him and they are desperate for pitching. The stars are aligned.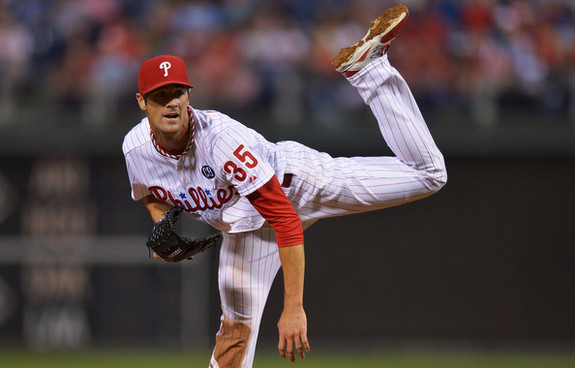 LHP Cole Hamels
Want an elite left-hander who is younger than Lee and doesn't have the same immediate injury concerns? The Phillies can also offer up the 30-year-old Hamels, who is once again pitching brilliantly (2.83 ERA and 3.14 FIP in 17 starts and 114.1 innings) after opening the season on the disabled list with shoulder tendinitis. It clearly has not had any lingering effect — his strikeout rate (9.05 K/9 and 24.7 K%) is excellent and both his walk (2.99 BB/9 and 8.2 BB%) and ground ball (48.5%) rates are strong. His fastball velocity is also identical to last year and 2010-13 in general.
Let's dive in to his pitch breakdown:
| | Four-Seam | Sinker | Cutter | Changeup | Curveball |
| --- | --- | --- | --- | --- | --- |
| Avg. Velocity | 92.6 | 92.5 | 89.1 | 84.5 | 78.5 |
| % Thrown | 36.7% | 15.5% | 15.6% | 21.9% | 9.9% |
| Whiff+ | 108 | 93 | 107 | 190 | 132 |
| GB+ | 103 | 121 | 114 | 112 | 114 |
The changeup has always been Hamels' bread and butter. It's an elite offspeed pitch he can and will throw in any count to batters on both sides of the plate. He picked up the cutter during the 2010 season and it has helped him go from very good to excellent. Hamels throws five different pitches at least 10% of the time each (give or take) and has a go-to out pitch in his changeup. That kind of repertoire makes him one of the best (and most underappreciated?) pitchers in the game.
The Phillies signed Hamels to a massive six-year extension worth $144M two years ago, and at this point he is still owed approximately $99M through the 2018 season. That's broken down into $9M for the rest of this year plus $22.5M annually over the next four years. The deal also includes a $20M team option/$24M vesting option for 2019. The option vests based on innings and shoulder-related time on the disabled list. Hamels wouldn't be a short-term commitment like Lee, you'd be getting this guy from age 30-34 and possibly his age 35 season as well.
Both Jon Heyman and Nick Cafardo hear the Phillies are not inclined to move Hamels unless they're blown away. They see him as someone who can anchor the rotation going forward and be part of the next winning team in Philadelphia. In fact, Cafardo says they'd need three top prospects and a team to absorb his full contract to move him. That seems unlikely to happen. (For what it's worth, Buster Olney says the Phillies are telling teams Hamels is not available at all.) Like Lee, Hamels is an elite left-hander who has been a workhorse, has experience in a big market, and shown he can dominate in the postseason. Either guy would fit wonderfully in the Yankees' rotation.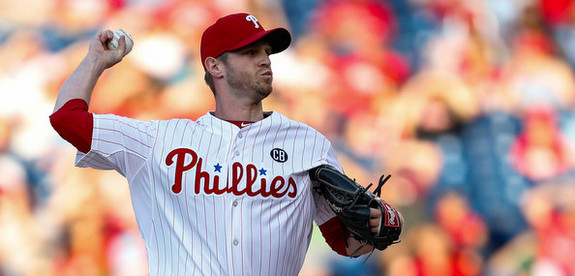 RHP Kyle Kendrick and RHP Roberto Hernandez
Regardless of whether you think the Yankees should be buying or selling — this is a very binary thing, of course, nothing in the middle is allowed — I think we can all agree they need to add another starter to eat up some innings at the very least. Hanging Chase Whitley out to dry in the second half is a recipe for disaster. Another McCarthy-esque pickup feels like the absolutely minimum for New York before the deadline.
The 29-year-old Kendrick has thrown at least 150 innings three times in the last four years and is at 20 starts and 125.2 innings this season. The problem? He's been terrible, with a 4.87 ERA (4.57 FIP) this year and 5.38 ERA (4.51 FIP) over the last calendar year. Hernandez, 33, has also thrown 150+ innings in three of the last four years and is poised to do so again this year (17 starts, three relief appearances, 100.1 innings). He has a 4.22 ERA (4.78 FIP) this season and a 4.41 ERA (4.78 FIP) over the last calendar year. Both guys would likely come cheap and chew up some innings, but that's it. They won't have an impact.
RHP Jonathan Papelbon and various relievers
Papelbon, who is now 33, recently told Matt Gelb he would welcome a trade to a contender, assuming someone is willing to take on the $18M he is owed through next season (plus a $13M vesting option for 2016). He has been excellent in 2014 (1.17 ERA and 2.36 FIP) even though his strikeout rate (7.75 K/9 and 22.5 K%) has fallen for the third straight year. The Yankees could use another reliever, every team could, but this seems like overkill. If they're willing to invest that kind of money in a reliever, I'd so much rather see them give it to the younger and better David Robertson.
The rest of Philadelphia's bullpen includes 28-year-old lefty Antonio Bastardo, who has a 3.38 ERA (3.19 FIP) in 42.2 innings this year. He has been effective against right-handed hitters over the years and is not just a specialist. Veteran righty Mike Adams is once again on the disabled list with a shoulder problem and is likely done for the year. He's a non-option. Others like lefty Jake Diekman (4.43 ERA and 3.01 FIP) and righty Justin De Fratus (3.07 ERA and 3.86 FIP) are fresh off the generic middle reliever farm. There's a reason the Phillies have been looking for quality bullpen help for about two years now. There's not much to see here.
* * *
The Yankees are said to have no interest in a reunion with A.J. Burnett — the Orioles are reportedly trying to acquire him, by the way (imagine having Burnett and Ubaldo Jimenez in the same rotation, yikes) — which isn't surprising. I doubt we'll see any reunions with failed Yankees starters for a little while after the Javy Vazquez fiasco. They've shown they'll let things like that scare them away from repeats for a little while.
Lee and Hamels are obviously the big pitching names with the Phillies and I get the sense both are more available now than ever before. Lee seems more easily attainable, not that it won't sting to get him. You have to give something to get an impact pitcher like that, assuming his arm is sound following the injury. Kendrick, Hernandez, and the miscellaneous bullpen arms are not needle-movers, just warm bodies to give innings in the second half. The Yankees could use use some of those types of pitchers too.