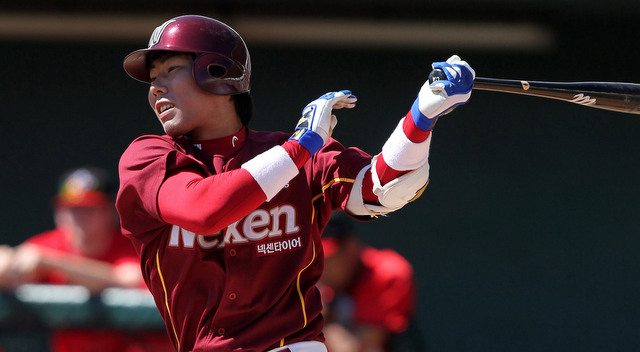 The Yankees did not place a bid for Korean shortstop Jung-Ho Kang prior to Friday afternoon's deadline, reports Bryan Hoch. That's not too surprising. They were never really connected to him these last few weeks. The Nexen Heroes are expected to accept the high bid, which came in at approximately $5M, according to a Yonhap News report passed along by our own Sung-Min Kim.
Kang, 27, is said to be seeking a multi-year contract in the $5M to $6M range. It's unclear which team placed the high bid, but, according to multiple reports, it was not the Mets, Padres, Dodgers, Orioles, Blue Jays, Braves, Giants, Athletics, Twins, Cardinals, or Rays. Or the Yankees, of course. A formal announcement of the high bid is expected sometime Monday.
After re-signing Chase Headley on Monday, it appeared New York's infield was set, but then they surprisingly traded Martin Prado to the Marlins on Friday. Kang could have been a second base option after Prado was sent packing. Following Friday's trade, Brian Cashman said he anticipates Jose Pirela and Rob Refsnyder will compete for the second base job in Spring Training.
Sunny told you everything you need to know about Kang in this post. He hit .356/.459/.739 with 40 homers in 117 games for Nexen this season, though there are questions about his defense and how his power will play in the big leagues. The track record of Asian infielders in MLB is pretty bad as well. The Yankees clearly had some questions if they didn't place a bid.