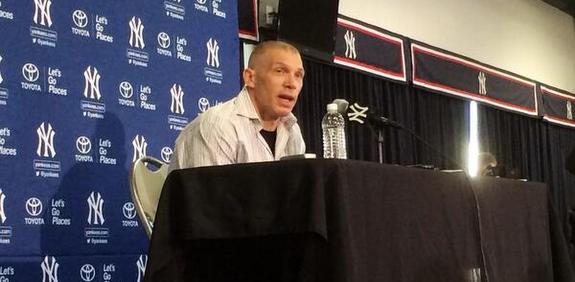 Pitchers and catchers reported to Tampa today, and a few hours later Joe Girardi showed up to camp. His flight from New York was delayed because of all the snow. My goodness there is so much snow. Anyway, here is a not at all complete recap of Girardi's annual start-of-Spring Training press conference, culled together from the Twitter accounts of reporters in attendance.
On Derek Jeter
Girardi had "no inkling" Jeter was planning to retire after the season until the announcement was made. "We are going to miss him," he said. "You want a guy like that to play forever."
Jeter's playing time both in the field and at DH against left-handers is going to be based on how he feels on a daily basis. They won't put a firm plan in place at this point.
As for batting Jeter second, Girardi said "we'll have to see," but indicated he would like to split up the left-handed hitters. I wonder if that means Brett Gardner will bat leadoff and Jacoby Ellsbury will bat third. Or maybe Ellsbury at leadoff with Brian McCann batting third. We'll see.
On the new players
"It is the biggest transition I've been through … I think its important I get to know these guys," said the skipper.
Girardi believes Masahiro Tanaka loves the spotlight and will handle the move to MLB well.
Kelly Johnson is the backup first baseman for the time being. They have not discussed playing McCann at first.
On the fifth starter competition
Girardi plans to tell David Phelps, Adam Warren, Michael Pineda, and everyone else to make sure they take it easy early in camp and gradually build themselves up. They don't want anyone getting hurt by doing too much too soon.
"Anything is possible," said Girardi when asked if they would be willing to use Pineda out of the bullpen. "When we traded for him, we expected him to be in our rotation," he added. "We envision him as a starter."