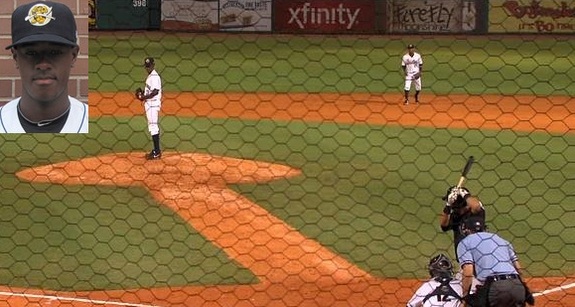 Luis Severino | RHP
Background
Severino hails from Sabana Del Mar, a small fishing town along the north shore of the Dominican Republic. He was a little older than the typical Latin American prospect when he signed with the Yankees in December 2011, two months before his 18th birthday. Severino received a relatively modest $225k bonus.
Pro Career
The Yankees assigned Severino to the Dominican Summer League to start his pro career in 2012. He threw 64.1 innings across 14 starts that season, posting a 1.68 ERA (3.14 FIP) with 45 strikeouts (6.30 K/9 and 18.3 K%) and 17 walks (2.38 BB/9 and 6.9 BB%).
Severino came stateside last year and was very impressive, making six appearances with the team's Rookie Level Gulf Coast League affiliate (1.37 ERA and 1.68 FIP) before being bumped up and making four starts with Low-A Charleston (4.08 ERA and 2.24 FIP). All told, Severino posted a 2.45 ERA (1.92 FIP) with 53 strikeouts (10.84 K/9 and 29.6 K%) and only ten walks (2.05 BB/9 and 5.6 BB%) in 44 innings in 2013. After the season, Baseball America ranked him as the 17th best prospect in the GCL.
Scouting Report
Severino is a short-ish right-hander — he's listed at only 6-foot-0 and 195 lbs. — with really big stuff. He unleashes 92-94 mph fastballs on the regular and will hump it up to 97-98 on his best days, though he is prone to getting radar gun happy and overthrowing. That is something that can improve with experience, at least in theory. Severino is really athletic and his arm action is loose, so the ball jumps out of his hand.
A mid-80s slider was Severino's top secondary pitch when he signed, but he developed a low-to-mid-80s fading changeup after turning pro and it has since become his top offspeed offering. The slider is inconsistent but still shows promise. Severino throws strikes with his fastball and he generally locates his two offspeed pitches down in the zone, where they're supposed to go. There is occasionally some arm recoil — not a huge red flag but not ideal either — in his otherwise smooth delivery. Like most teenage pitchers, Severino still needs to learn the finer points of his craft, like holding runners and fielding his position.
Video
That video is from Spring Training last year and is the only video of Severino I can find. Again, there just isn't many photos or video of the kid out there.
2014 Outlook
After his successful four-start cameo at the end of last season, Severino figures to return to Low-A Charleston to open 2014. He'll turn 20 late next month and I expect him to remain with the River Dogs all year, even if he completely tears the South Atlantic League apart.
My Take
Severino is one of those cheaper, lower profile Latin American prospects the Yankees have a knack for digging up. I actually like him more than bigger name international signings like Rafael DePaula and Omar Luis because he throws strikes with his fastball, has already figured out a changeup, and has three pitches overall. Severino is just a kid with barely a hundred pro innings to his credit though. He has a lot of work and development ahead of him, but the raw tools are exciting and suggest he will be able to remain a starter long-term.