After nursing from the mailbag teat during the holidays, it's time to get back to the once-a-week Friday morning mailbag setup. I've got four questions for you this week and entirely too many words worth of answers. Please use the Submit A Tip box in the sidebar to send us anything throughout the week.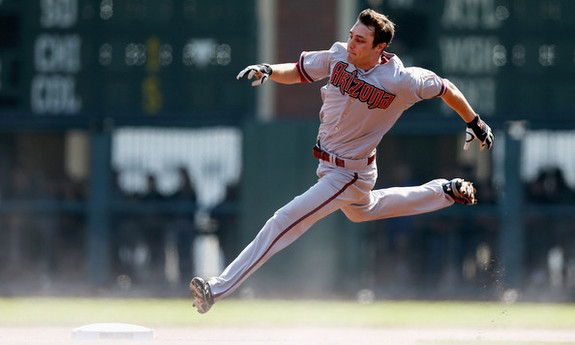 Davis asks: Now that the Diamondbacks have signed Cody Ross, is there a chance that they will trade someone like A.J. Pollock? He bats right, has showed solid doubles power and seems to be pretty good on defense. He might make some sense for the Yankees, even if only as depth in case of an injury.
The D'Backs have a ton of outfielders. We all know about Justin Upton, Jason Kubel, Gerardo Parra, and Ross, but they also have Adam Eaton (117 wRC+ during his September call-up) and Pollock. The 25-year-old Pollock hit .247/.315/.395 (83 wRC+) in 93 plate appearances with Arizona last season, his big league debut. Prior to that he hit .318/.369/.411 (105 wRC+) in 471 plate appearances in the hitter friendly Triple-A Pacific Coast League. Baseball America ranked him as the team's sixth best prospect before the season, and here's a snippet of what they had to say in their subscriber-only scouting report…
First and foremost, he's a blue-collar player with great makeup and excellent instincts in all phases of the game. He's a line-drive, gap-to-gap hitter who squares balls up consistently and produces lots of doubles. He could develop 15-homer power once he gets stronger. He makes contact so easily that it hampers his ability to draw walks. Though he has just average speed, Pollock is the system's best baserunner … He's solid defensively at all three outfield positions, making good reads in center field and displaying an average arm … Though some scouts see him as a fourth outfielder because he isn't loaded with plus tools, the Diamondbacks envision him becoming a solid regular.
Because he was added to the 40-man roster just last year and didn't accumulate a full season's worth of service time, Pollock has two minor league options remaining and all six years of team control. He didn't have much of a platoon split in the minors over the last two seasons and his big league performance tells us nothing, but either way it's still too early to pigeon-hole him into the right-handed half of a platoon.
Pollock is a (much) better prospect than Melky Mesa and Zoilo Almonte, and he also provides more roster flexibility than Chris Dickerson, so yeah the Yankees should definitely be interested. I like his chances of sticking as a regular by 2014 much more than I do Mesa's or Zoilo's, that's for sure. Prospect-for-prospect trades don't happen very often because teams are like parents, they all love their own kids more than everyone else's. I'm not sure what the D'Backs need at the big league level at this point or if they're even willing to move Pollock despite their glut of outfielders, but he would certainly be a fit for New York.
Mark asks: Doesn't Adam Kennedy make some sense to fill an Eric Chavez-type role? He also has the benefit of playing played 2B (a lot) and the outfield (a little).
Kennedy, 36, is opening a baseball academy in Anaheim but is not officially retiring and remains open to playing according to Alden Gonzalez. He hit .262/.345/.357 (97 wRC+) in 201 plate appearances for the Dodgers last season while missing more than a month with a groin strain and playing primarily first, second, and third bases. It was his best offensive season since 2009 and second best since 2005, thanks mostly to a career-high walk rate (11.4% in 2012 and 6.6% career) that I really can't explain. His plate discipline rates didn't change and he only had eight total plate appearances as the number eight hitter (ahead of the pitcher), so who knows.
As a left-handed batter, Kennedy hit righties pretty well last season (107 wRC+) but not over the last three seasons (85 wRC+). He does put the ball in play (14.4 K% and 86.1% contact rate) and offer some versatility (mostly the non-shortstop infield spots), which counts for something. It's not much, but it's something. If Kennedy is willing to leave Southern California and take a minor league contract, sure, bring him to camp a la Chavez in 2011. I can't imagine guaranteeing him anything though, this isn't some former star with upside.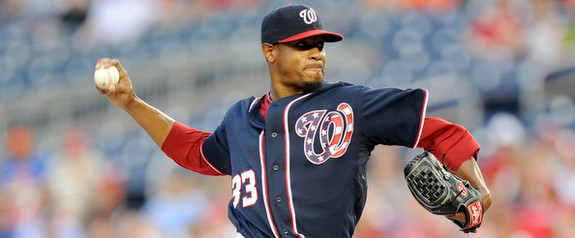 Damix asks: Given the uncertainty of next year's market for Phil Hughes, do you think signing Edwin Jackson to the same contract he received would have been a smarter plan for the 2014 budget?
The Cubs officially signed Jackson, who is a little less than three years older that Hughes, to a four-year deal worth $52M earlier this week. That's $13M annually and the going rate for a slightly better than league average starter. Jackson has been consistently solid over the last four seasons even though his ERA has fluctuated wildly, plus he's a workhorse who will provide 30+ starts and 180+ innings no questions asked. I think he would have gotten more money had a) his velocity not dropped more than a mile-an-hour last season, and b) he not had a brutal September (6.54 ERA).
Hughes, on the other hand, has been anything but consistent and a workhorse. He's managed two league average seasons in the last three years and has a chance to make it three in four years before hitting the open market next winter. Hughes has a longer injury history but has done it in the AL East, in the tiny ballpark, and in the postseason (outside of the nightmare that was the 2010 ALCS), and that kind of stuff pays in free agency. If he repeats his 2012 season in 2013, I bet he winds up with a deal closer to Anibal Sanchez's than Jackson's given his age.
Anyway, back to the actual question. I'm not a huge believer in Jackson but that is definitely a fair price in my book. I think he's been overrated because his stuff says he should be an ace, but the last half-decade of performance shows he's coming up short. He's a classic "we can fix him" guy, especially at that age. The Yankees are going to need to plug a few rotation spots next winter and Jackson would be a nice guy to have around, but I'm not losing sleep over it.
Jeff asks: Are the Yankees setting themselves up well for the future with the MLB draft? They have four picks in the first 65. Looking ahead to 2014 the Yankees will likely have at least 2-6 picks depending on what happens with Robinson Cano, Curtis Granderson, Hughes, Hiroki Kuroda and Kevin Youkilis. Those draftees won't impact the team for 4-6 years, but is this a good way for the Yankees to focus on the farm?
As soon as Rafael Soriano signs somewhere, the Yankees will own three of the first 35 picks in this year's draft and four of the first 65-ish picks (obligatory Draft Order page plug). That would change if they re-sign Soriano or sign one of the other compensation free agents (Michael Bourn, Adam LaRoche, Kyle Lohse), but I don't see any of that happening. The Yankees have had three of the first 100 picks just once twice in the last nine years (2008 and 2012), nevermind four of the top 65(-ish).
Based on last year's slot values (which are expected to increase this year), those top three picks will all be worth seven figures and that's huge as far as the draft pool and spending restrictions go. The Yankees have to start doing a better job with their high draft picks, it's imperative given the new system and the team's desires to curtail payroll. It's too early to know much about the strength about this year's draft class, but that's irrelevant really. There is always talent available and they're going to have some major bucks to spend in the first round. I think it's fair to say this coming draft will be the team's most important since 2006, when they were in desperate need of farm system help (and knocked it out of park with that draft haul).
As for the 2014 draft, I wouldn't count on those extra picks yet. The Yankees would surely make Cano a qualifying offer, but Granderson, Kuroda, and especially Youkilis are far from guarantees. Given the impending payroll slashing, I don't think the team would risk that much money in qualifying offers even if the players are worth it. Remember, the offers won't be $13.3M again next year. They'll go up since they're based on the average of top 125 salaries. We'll worry about that draft a year from now.