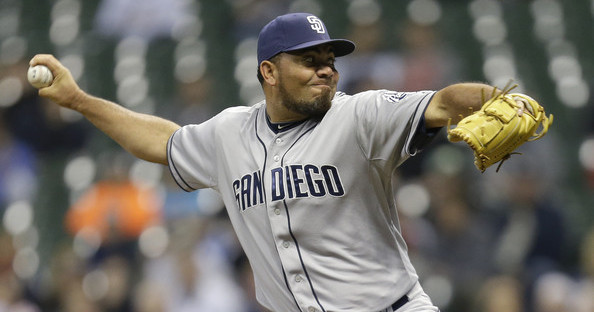 No team had a busier offseason than the Padres, who, under new GM A.J. Preller, made a handful of blockbuster trades and one big free agent signing. It didn't work. The club comes into today with a 47-52 record and sub-5.0% postseason odds according to FanGraphs. I'm sure Preller was instructed by ownership to turn things around quick, and he tried valiantly, but it didn't work.
So now the Padres are sellers and reportedly listening on everyone, including the guys they just picked up this winter. Looking at their roster, there is no untouchable. No Sonny Gray or Chris Sale type, the token "one great player we can build around going forward." Preller & Co. are said to be listening on everyone and hoping to shed payroll and replenish a farm system that was gutted just a few months ago. Let's see if any of San Diego's players fit with the Yankees.
RHP Joaquin Benoit
The Yankees have had a bunch of interest in Benoit in recent years, including targeting him at last summer's trade deadline as well as during the 2013 Winter Meetings, when he was a free agent. Benoit just turned 38 over the weekend and he has a 2.27 ERA (4.01 FIP) in 43.2 innings this year. His ground ball rate (47.2%) is way up but his strikeout (23.2%), walk (9.5%), and homer (1.03 HR/9) numbers have all taken turns for the worse.
Benoit's stuff is fine, he still sits in the mid-90s with a swing-and-miss changeup, though his location has been off this year and the results have merely been very good, not great. He's owed roughly $3.1M the rest of the season with an $8M option for next year ($1.5M buyout), so he's affordable and can be considered a rental. Heck, if Benoit pitches well, his team could either pick up the option and keep him or pick it up and trade him. Minimal risk.
What Would It Take?: Steve Cishek was just traded for a Double-A reliever, though Cishek was having a really rough season. It could take an organizational top ten prospect to get Benoit like it did to get Francisco Rodriguez a few years ago, especially given his reputation as a late-inning guy who can close or set up. I don't think it'll be a pure salary dump trade even with the scary strikeout, walk, and homer trends.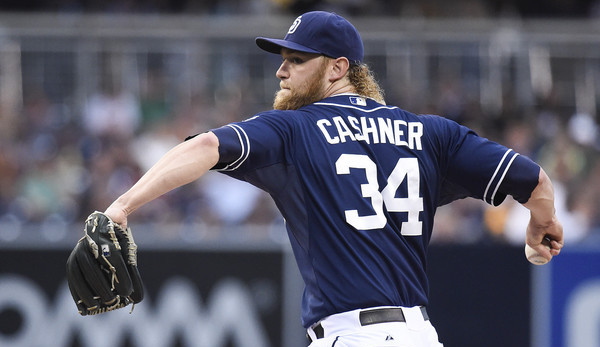 RHPs Andrew Cashner, Ian Kennedy & Tyson Ross
The Padres have four starting pitchers with real trade value, including these three guys. Kennedy will be a free agent after the season, Cashner will be a free agent after next season, and Ross will be a free agent after 2017. They have different styles too — Kennedy's a kitchen sink/command guy, Cashner is a hard-throwing Nathan Eovaldi type, and Ross is a fastball/slider Michael Pineda type. There's a little something for everyone in this group. Here are their stats so far this season:
| | IP | ERA | FIP | K% | BB% | GB% | HR/9 | RHP wOBA | LHB wOBA |
| --- | --- | --- | --- | --- | --- | --- | --- | --- | --- |
| Cashner | 116.2 | 3.93 | 3.77 | 20.6% | 7.1% | 47.7% | 1.00 | .278 | .380 |
| Kennedy | 96.1 | 4.58 | 5.25 | 21.7% | 6.8% | 38.4% | 2.06 | .384 | .358 |
| Ross | 122.2 | 3.45 | 2.75 | 25.2% | 10.9% | 63.3% | 0.22 | .273 | .328 |
Kennedy is clearly having the worst season of the three — to be fair, he missed the start of the season with a hamstring issue and has a 2.83 ERA (4.41 FIP) in his last ten starts — which means he would also come the cheapest. Cashner is having a strong year despite getting crushed by lefties, though he also has a scary injury history. He's thrown more than 125 innings in a season just once (175 innings in 2013), and that's between MLB and the minors.
Ross is clearly the most desirable of the three between his results and two remaining years of team control. He also turned 28 a few weeks ago and is the youngest of the three. The concerns with Ross are theoretical more than anything. (Well, aside from his MLB leading 57 walks.) He throws a frickin' ton of sliders, 46.2% this year after 41.2% last year, and his delivery is not exactly pretty. Check it out:
Not textbook! Between the ugly delivery and all those sliders, many expect Ross to break down at some point. It doesn't help that he had Tommy John surgery in college, shoulder strains in 2008 and 2009, and elbow strains in 2010 and 2014. Every pitcher is an injury risk, some moreso than others, and Ross seems like a guy who might carry more risk than most. That doesn't necessarily mean he's not worth acquiring, he is quite good, it's just something to keep in mind.
What Would It Take?: We're dealing with three different pitchers here. Kennedy is a low-end rental — a guy like Mike Leake has more trade value given his year-to-year consistency. Low-end rental starters usually go for two low-end prospects. The Dodgers traded two rookie ball guys for Roberto Hernandez last year, for example.
Cashner has the extra year of team control but also a) the scary injury history (lots of shoulder and elbow problems), and b) high-end stuff that screams ace should he ever puts it together. At this point it seems like Cashner won't ever be an ace though, just an effective pitcher who leaves you wanting more. Think Edwin Jackson. Jackson was traded from the Diamondbacks to the White Sox in 2010 (one year before free agency, like Cashner) for two organizational top ten prospects (Daniel Hudson and David Holmberg). That seems like a decent reference point for Cashner.
Ross has two and a half years of team control remaining and he's very good, a No. 2 type starter. Not many guys like that get traded these days. Ubaldo Jimenez went from the Rockies to the Indians two and a half years prior to free agency and that seems like a decent comp — Ross now and Jimenez then both have good stuff, walk a bunch of batters, and flirt with ace-hood. The Tribe gave up their No. 2 prospect (Alex White), No. 4 prospect (Drew Pomeranz), No. 9 prospect (Joe Gardner), and a non-top 30 prospect (Matt McBride) for Ubaldo. Not all No. 2 and 4 and whatever prospects are made equal, but you get the point. Ross won't come cheap.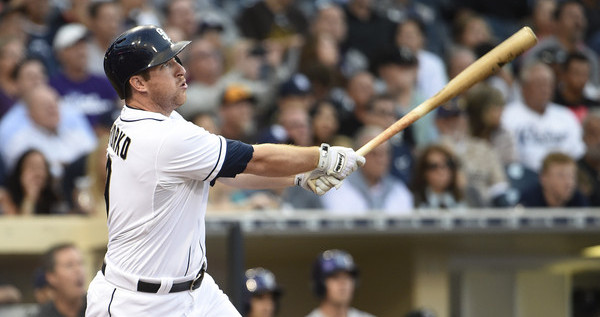 2B Jedd Gyorko
Two years ago Gyorko put up a solid .249/.301/.444 (111 wRC+) batting line with 23 homers, earning him a sixth place finish in a stacked NL Rookie of the Year class. The Padres believed in into the right-handed pop and signed Gyorko to a six-year, $35M extension after the season. He has hit .212/.276/.333 (76 wRC+) with 15 homers since then, and San Diego shipped him to Triple-A a few weeks ago. (He's since been called back up.) Gyorko's been one of the worst hitters in baseball the last two years.
It is no surprise then that Ken Rosenthal recently reported the Padres are shopping the 26-year-old Gyorko hard. There is still roughly $33M left on his contract through 2019 with a $1M buyout of his $13M option for 2020, and they want out of that contract. Gyorko does offer some versatility, having played a bunch of second and third base in his career, but his batted ball profile shows his line drive and grounder rates are moving the wrong direction:

The contract means this is not a simple change of scenery deal. You can't bring in Gyorko, trying him out for a year or two, then non-tender him if it doesn't work out. You're locked for another four seasons after this one. There's no such thing as "taking a flier" on a dude owed more than $33M over the next four years. That's a long-term commitment and you have to be sure the player is salvageable. I'm not sure Gyorko is.
What Would It Take?: Gosh, I'm not sure. Cameron Maybin, another guy the Padres locked up after one good year, was traded this offseason with two years and $16M left on his deal (half-a-Gyorko!), but he was nothing more than a throw-in to even out salary in a larger trade. I have to think Gyorko is a salary dump at this point. Take on the money and give up a fringe prospect or two in return. And remember, the luxury tax means his $33M contract is effectively $49.5M (!) to the Yankees.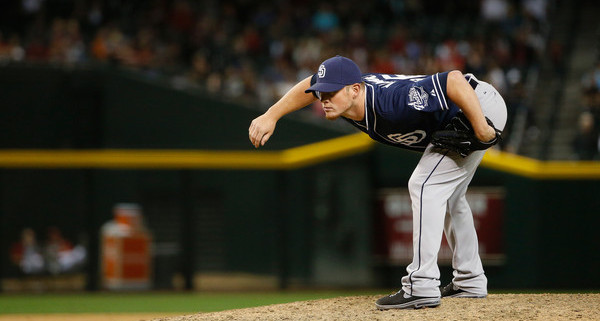 RHP Craig Kimbrel
The Padres acquired Kimbrel literally hours before the first game of the 2015 season and now they're looking to move him to restock the farm system and shed salary. He's owed roughly $27.5M through 2017 with a $13M club option ($1M buyout) for 2018, which is more than a reasonable for a reliever of his caliber when you consider what Andrew Miller and David Robertson fetched this past offseason.
Kimbrel, 27, has a 2.75 ERA (2.48 FIP) in 39.1 innings this year, which is both excellent and not as good as his work from 2011-14 (1.51 ERA and 1.52 FIP in 268.1 innings). His walk (9.5%) and grounder (47.1%) rates are right in line with the last few years while his strikeout (34.8%) and homer (0.69 HR/9) have taken a step back (42.0 K% and 0.40 HR/9 from 2011-14). But again, his strikeout and homer numbers are still awesome, he's just not the guy he was the last few years.
"You don't see the easy gas you used to see. He used to just overmatch hitters, and it's not quite that easy for him," said a scout to Buster Olney (subs. req'd) recently. Kimbrel's fastball velocity is actually a career-high (97.3 mph), but hitters have been able to do more damage this year (.269 wOBA) than last year (.209 wOBA) or the year before (.222 wOBA). He's starting from an extremely high baseline, remember. There's no shame in going from the best reliever in the world to merely being a top five bullpener.
What Would It Take?: Not many elite relievers get traded these days, and Kimbrel's trade in April doesn't help us much because the Braves attached him to Melvin Upton Jr.'s disaster contract. Even with his relatively slight decline this year, Kimbrel is still a dominant closer signed to a below-market deal, so anything short of a top prospect or three won't get it done. The Braves got a top 50 prospect — Matt Wisler, who was ranked right next to Luis Severino in Baseball America's top 100 list before the season — for Kimbrel in April even with Upton attached. Taking on the salary and giving up a fringe prospect or two in return isn't happening. Kimbrel's good.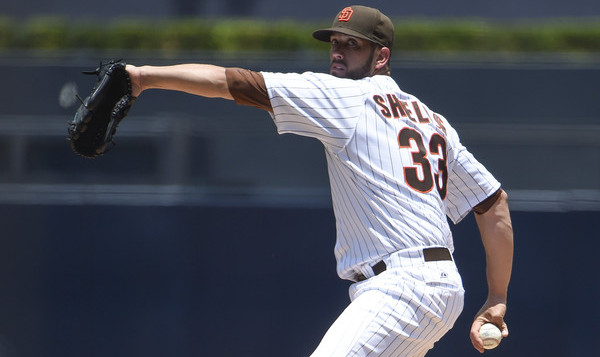 RHP James Shields
Shields is the fourth of the four starters I mentioned earlier, though unlike Cashner, Kennedy, and Ross, his value is hurt by his back-loaded contract. He's making only $10M this season with $21M annual salaries from 2016-18, plus a $2M buyout of his $16M option for 2019. Not ideal for a 33-year-old who averaged 223 innings per year from 2007-14!
The move to a big ballpark in the NL has not helped Shields, who has a 3.77 ERA (4.12 FIP) in 126.2 innings this year. He's actually striking batters out at a career high rate (26.9%) and getting the same ol' number of ground balls (45.2%), but his walk rate (8.8%) is a career-high and his homer rate (1.42 HR/9) is through the roof. Shields has always been homer prone, but not this homer prone.
Going under the hood a bit, Shields has lost a mile-an-hour off his fastball this year, and it now averages 91.4 mph. That's not horrible, he's never been a big velocity guy anyway, but it is a red flag given his age and workload. Also, lefties have absolutely annihilated him, putting up a .285/.367/.537 (.389 wOBA) batting line. This is a guy who has historically had a reverse split because of his all-world changeup. Now batters of the opposite hand are crushing him.
It's not all bad though. Shields is certainly familiar with the AL East — the ballparks, the hitters, all that — and he's been through postseason races, so the transition should theoretically be a little easier. Shields seems like the type who could age gracefully since he's always located well and never been a blow you away type. Other than that though, a subpar year at his age with that much money left on his contract is sorta scary.
What What Would It Take?: Jon Heyman says the Padres are "pushing hard" to trade Shields, again because they want to clear payroll and pile up prospects. Shields is a special case without similar trades we can reference — a former high-end starter (former as in just last year) with three years left on his contract at huge dollars. Who was the last guy like that get traded? We're out of luck here. I'm sure San Diego wants to dump the contract, but I don't think they're going to just give Shields away either.
* * *
The Padres are also listening to offers for Justin Upton, and as much as a big bat like that would help the Yankees, they don't have a spot for another outfielder, not unless someone gets hurt between now and the trade deadline. San Diego has other spare parts like Yangervis Solarte and Clint Barmes — don't laugh, Barmes is hitting .311/.382/.492 (144 wRC+) against lefties and would be an upgrade over Brendan Ryan — who could make sense for New York, but they wouldn't be difference-makers. Just depth. Guys like Ross and Cashner and Kimbrel could really impact a postseason race.