Later tonight the Red Sox and Dodgers will open the 2018 World Series at Fenway Park. The Red Sox are looking to win their fourth championship in the last 15 years. The Dodgers are trying to win their first World Series title in 30 years, since the iconic Kirk Gibson home run series. We're all Dodgers fans this series, right? Right.
Anyway, this is the time of year when we start to see "this is what [team] should learn from the World Series teams" articles. I've done it myself. Multiple times. This is not one of those articles. What is there to learn from the Red Sox and Dodgers? Draft and develop well, be good at as many facets of the game as possible, and hope it all works out? Yeah. We knew that already.
The Yankees don't need to learn anything from the Red Sox and Dodgers. Rather, there are a couple of things the Yankees already know that the Red Sox and Dodgers reinforce. Here, in no particular order, are three big picture ideas the Sawx and Dodgers reaffirm, just in case you or the Yanks have forgotten.
It's okay to outspend everyone (by a lot)
Kinda weird I have to point this out when talking about the Yankees, but here we are. Between payroll and luxury tax, the Yankees paid $240M for their roster last season. This year that number was all the way down to $193M or so. The Yankees went to Game Seven of the ALCS last year and cut nearly $50M off their payroll. Good grief.
Let's check in on 2018 Opening Day payrolls, shall we?
Red Sox: $228.4M
Giants: $205.6M
Dodgers: $199.6M
Would you look at that? Two of the top three teams in payroll are in the World Series. The third team stunk, but you know what? That third team won three World Series titles in a five-year span recently and spent like crazy to try to extend the championship window. They tried like hell to keep winning. There's no extra credit for winning with a cheapest roster. Spend spend spend.
The Yankees set out to reset their luxury tax rate this year and they did exactly that. Will they increase payroll next year and exceed the luxury tax threshold? Brian Cashman didn't make it seem like a given. "I don't want to speak for (Hal Steinbrenner), but my general feeling from him and for us has been not wanting to line the pockets of others to let them utilize that excess against us," said the GM.
Luxury tax money goes to non-luxury tax paying teams. At least part of it does. It sucks having to pay bills, we all know that firsthand, so I totally get why the Yankees don't want to continue footing a luxury tax bill. By doing that though, the Yankees are throwing away their market advantages. Playing in New York and having this organization's history means sky high revenues. The Yankees have willingly leveled the playing field.
The Red Sox spent like crazy this year — I don't want to hear any "they're buying a championship!" nonsense, it's hard for a Yankees fan to be more hypocritical than that — and the result was 108 wins and a trip to the postseason. The Dodgers, like the Yankees, worked to get under the luxury tax threshold this year. They went from 104 wins last year to 92 wins this year. They leveled the playing field and had to battle all season.
If there's a lesson here, the lesson is that when a team has a very talented young core capable of doing something special, they absolutely should throw money at whatever roster holes exist in an effort to get over the hump. Could you get saddled with a bad contract along the way? Absolutely. You also might wind up in the World Series. Success can be fleeting and championship windows can closer sooner than you expect. Spend when you can.
Home runs are cool, long live home runs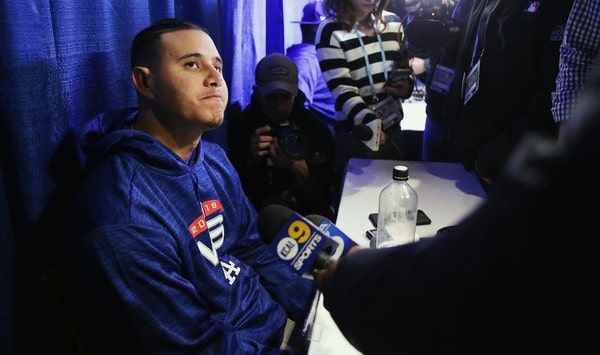 The Red Sox clinched the AL pennant with a 4-1 win over the Astros in ALCS Game Five. The Dodgers clinched the NL pennant with a 5-1 win over the Brewers in NLDS Game Seven. All eleven runs in the two deciding games were scored on home runs. Every single one. Three solo homers (Christian Yelich, J.D. Martinez, Marwin Gonzalez), one two-run homer (Cody Bellinger), and two three-run homers (Rafael Devers, Yasiel Puig) equal eleven runs.
From 2016-18, there were 1.19 home runs per game during the regular season and 1.15 home runs per game in the postseason. The difference is one homer every 25 games. A negligible difference. Also:
2018 regular season: 40.3% runs on homers
2018 postseason: 40.2% runs on homers
As Joe Sheehan notes, the team with more home runs has won 17 of 21 games this postseason. Point is, home run production does not decrease in October. That's a lazy and tired narrative that anyone watching this postseason should see is false. Hitting a home run is literally the best thing a hitter can do and that is true any time of year.
Fortunately, Cashman and the Yankees don't seem eager to overhaul their record setting home run offense this winter. They're not going to be pressured into shaking things up after a quick ALDS exit, or after last year's offensive issues in Houston during the ALCS. "I'm good with our offense. I think we lost because we were ineffective, and that had to do with what was done to us," said Cashman at his end-of-season press conference.
Are the Yankees too right-handed? Yeah, I think so, especially now that Didi Gregorius is going to miss an undetermined length of time next season. Another lefty bat and another high on-base guy in left field should be offseason priorities. Generally speaking though, a home run heavy offense is a (very) good thing. The Yankees shouldn't overreact to the ALDS (and last year's ALCS) and overhaul things. The ball still flies in October.
Don't pass up elite talent
I didn't love the idea of trading for Gerrit Cole last year. Not at the reported asking price. The Yankees wanted to build a deal around Clint Frazier and secondary prospects. The Pirates wanted Frazier and Miguel Andujar, and no. Just no. The Yankees stood their ground and Cole went to the Astros for a package that looked underwhelming at the time and looks even more underwhelming now.
What I didn't appreciate enough at the time is how hard it is to acquire elite talent. And Cole, even with the step backwards he took in 2016 and 2017, is an elite talent. He was 27 years old at the time and he's a former first overall pick with premium velocity, a swing-and-miss slider, and pretty good control. How often do players like that become available? How often do they actually change teams? Not often at all. These guys are hard to get.
Look at the two World Series teams. When the Dodgers needed a shortstop to replace the injured Corey Seager, they went out and got Manny Machado. When the Red Sox needed another starter a few years ago, they traded for Chris Sale. When they needed a power bat last winter, they signed J.D. Martinez. There were no corners cut. There approach was "we're a great team and we're getting the best players available to address our needs."
This isn't to say I think the Yankees should've caved and given up Frazier and Andujar for Cole. Andujar is my dude. Can't really blame the Yankees because the Pirates said no and wound up making a bad trade. My point is elite talent is difficult to acquire and whenever it becomes available, the Yankees should get involved in the bidding. They did last offseason with Giancarlo Stanton! This offseason Machado and Bryce Harper are available for nothing but cash, and yeah.
This sorta circles back to the first point. The Yankees stuck to a self-imposed payroll limit this year, and if they do it again next year and miss out on a prime-aged superstar like Machado or Harper, it's going to look terrible. Squint your eyes and you can find baseball reasons to pass on Machado (two knee surgeries) and Harper (various injuries), and if the Yankees put on the full course press and they sign elsewhere anyway, so be it. But they have to try. Role players are important, but you win with stars.