Neil Walker, the Clutch Home Run Corker
For at least one day, the Yankees staved off an embarrassing AL East championship watch party in the Bronx as they rallied for a 3-2 victory in Tuesday's series opener. The Yankees won despite just three hits, the second time this season they've pulled off that feat at Yankee Stadium (the other game was September 1 vs Detroit). The last time they won multiple home games with no more than three hits was 1998.
Before we get to the late-game dramatics, let's recognize the gutty performance of J.A. Happ, who pitched out of several jams while holding the Red Sox to one unearned across six innings. Happ has a 0.54 ERA in three starts against the Red Sox this season; that's the lowest ERA by any AL pitcher against any opponent this season (min. 3 starts and 10 IP).
J.A. Happ 3 starts vs Red Sox This Season:
16.2 IP
1 ER (7 R)
0.54 ERA
22 K
4 BB

— Katie Sharp (@ktsharp) September 19, 2018
Down 1-0 in the seventh with two men on base, Neil Walker snatched the hero's cape as he drilled a 3-2 pitch from Ryan Braiser into the second deck in right field, flipping the score for a 3-1 advantage. It was his third go-ahead homer in the seventh inning or later, the most by any Yankee this season. It was the team's 18th go-ahead home run in the seventh inning or later, the second-most in a season in franchise history, trailing only the 2009 club (21).
That blast was also Walker's 10th of the season as he became the 11th Yankee to reach double digits in 2018. That ties the major-league record, done by four other teams: 2017 Astros, 2016 Twins, 2015 Astros and 2004 Tigers.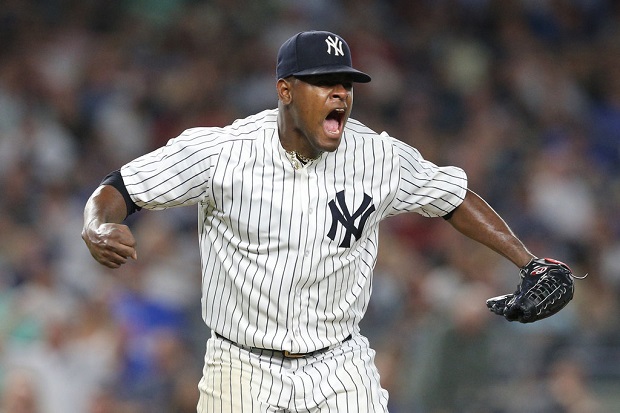 Luuuuuke and the Return of Severino
The Yankees kept Boston's celebratory champagne corked for a second night in a row, routing their rival 10-1 on Tuesday. Also, significant is the fact that it kept the Red Sox at 103 wins with 10 games remaining, so that they won't be able to match the 1998 Yankees 114-win season.
The Bombers beat up on their favorite punching bag, David Price, clobbering three home runs off him while scoring six runs (four earned) in five-plus innings. In four starts against the Yankees this season, Price has a 10.34 ERA over 15 2/3 innings. That would be the highest ERA by a Red Sox pitcher against the Yankees in a single season (min. 4 starts). Oh, and did I mention that Price really really doesn't like pitching in the Bronx …
David Price in 6 starts at Yankee Stadium with Red Sox:

30.1 IP
9.79 ERA
13 HR
52 Hits

— Katie Sharp (@ktsharp) September 20, 2018
Luis Severino took another step forward in his slow climb back to #AceSevy as he overcame a lack of fastball command to mostly shut down the Red Sox lineup, allowing one run across seven strong innings. In contrast to Price, Sevy really really likes pitching against the Red Sox in the Bronx recently:
Luis Severino Last 4 Starts at Home vs Red Sox:

25.2 IP
3 ER
1.05 ERA
32 K
4 BB
0 HR
100 batters faced

— Katie Sharp (@ktsharp) September 20, 2018
Miguel Andujar jump-started the dinger parade early with a homer in the second inning to put the Yankees up 1-0. It came on a 1-2 pitch from Price, his 12th homer when behind in the count, which leads all major-league players this season. The solo blast was also his 25th of the season, giving the Yankees a MLB-best four players with at least 25 homers this season.
Even more impressive is Andujar's nearly unprecedented combo of two-baggers and longballs this season.
He is one of five AL rookies, aged 23 or younger, to hit at least 25 homers and 40 doubles. The other four: Nomar Garciaparra (1997), Ted Williams (1939), Joe DiMaggio (1936) and Hal Trosky (1934).
And he is the only rookie third baseman (at least 50% of games played at the position) in MLB history to reach those totals in a season.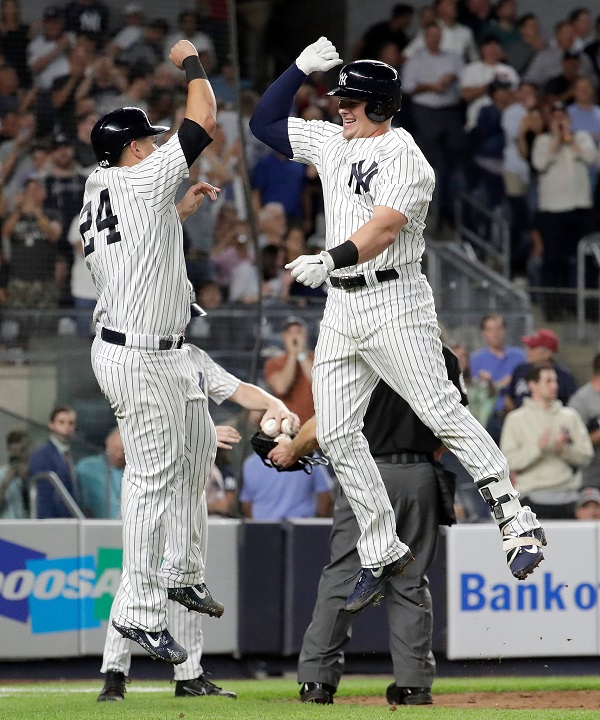 Luke Voit stole the headlines, though, with a monster 4-for-4, 3-RBI night that included two homers off Price. In 70 games with the Cardinals, Voit never hit more than one homer in a game and never had more than two hits in any game. In 29 games with the Yankees, he already has two multi-homer performances and three games with at least three hits. And to celebrate the huge performance by the chest-hair-pimping first basemen, we'll give him our Obscure Yankeemetric of the Series. Here is the list of Yankees with at least four hits, four runs scored and three RBI in a game against the Red Sox
Luke Voit (Sept. 19, 2018)
Graig Nettles (Sept. 29, 1976)
Hank Bauer (May 10, 1952)
Lou Gehrig (Sept. 23, 1933)
Babe Ruth (Sept. 28, 1923)
All good things come to an end
It finally happened. Needing a sweep to prevent a cruel division-clinching party by their blood rival at The Stadium, the Yankees snatched defeat from the jaws of victory as they allowed the Red Sox to rally late for a 11-6 victory. This is the Red Sox 10th AL East title in the Divisional Era (since 1969) and the first time they've clinched it with a win against the Yankees.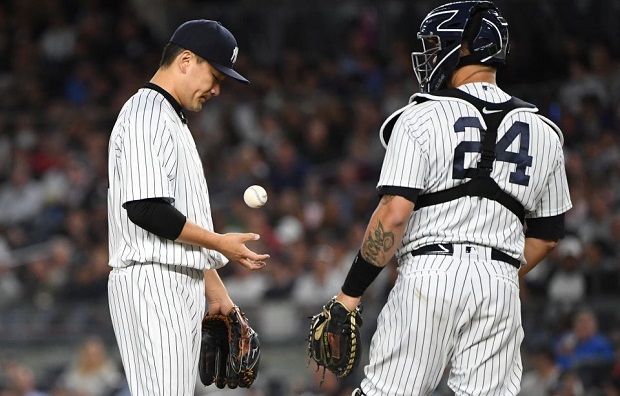 Masahiro Tanaka, coming off back-to-back scoreless outings, was hit hard by the Red Sox lineup early and often, giving up four runs in the first three innings and got the hook with no outs in the fifth. This continued a string of poor performances against the Red Sox this season: in four starts, he has a 7.58 ERA with 29 hits and six home runs allowed over 19 innings pitched.
With one swing of the bat in the second inning, Luke Voit set two home run records when he bashed a 93-mph pitch deep over the center-field wall. It was his 10th homer in pinstripes and he became the 12th Yankee this season with double-digit dingers, the most such players for any team in MLB history. The two-run blast was also the Bombers' 246th home run in 2018, setting a new single-season franchise record.
Giancarlo Stanton broke out of his slump with a grand slam in the fourth inning that turned a 4-2 deficit into a 6-4 lead. Yes, the lead would disappear quickly, but he still deserves a shout-out, so here's a #FunFact stat to chew on:
Fun Fact alert!

Yankees to hit go-ahead/tying grand slam vs Red Sox at Yankee Stadium with the team trailing by multiple runs*:

Giancarlo Stanton (9/20/18)
Mark Teixeira (9/28/16)
Joe DiMaggio (5/10/46)
Babe Ruth (7/3/29)

*since 1925

— Katie Sharp (@ktsharp) September 21, 2018
As mentioned above, that advantage lasted only a couple innings as Chad Green surrendered a game-tying homer to Jackie Bradley Jr leading off the seventh. Green has allowed nine homers in 71 2/3 innings this season; entering 2018, he had given up four homers in 76 1/3 career innings as a reliever.
Dellin Betances tried to clean up Green's mess in the seventh, but after loading the bases, he coughed up a tie-breaking sac fly to Xander Bogaerts. It was the first sac fly allowed by Betances in more than two years (August 30, 2016 vs Royals).