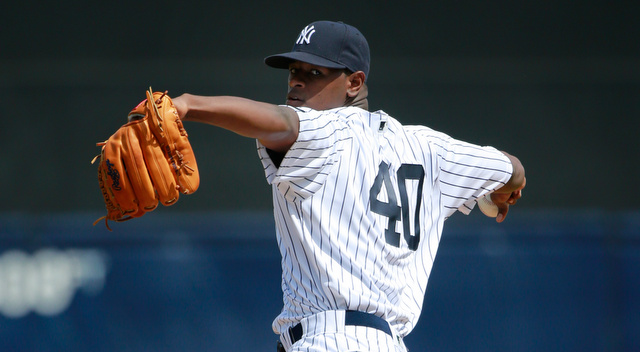 Five weeks from today, Yankees position players are due to report to Tampa for Spring Training. Pitchers and catchers have to report four days prior to that. Spring Training is slowly approaching. Emphasis on slowly. Anyway, here are some nuggets to check out.
Yankees believe Severino is too bulky
Earlier this week, Brian Cashman the Bryan Hoch the Yankees believe Luis Severino may have added too much muscle last winter, so they suggested he work on his flexibility this offseason. I remember seeing videos of Severino last offseason (this one, specifically) and thinking he was noticeably bigger. There is such a thing as too big though. Too much muscle can limit flexibility and affect mechanics.
Now, that said, I don't think Severino's issues last season were solely a product of him adding too much muscle. Concerns about his overall command have lingered since his prospect days. He also lost feel for his changeup, and that can happen to anyone, not just a kid who may have bulked up too much. Hopefully Severino trims down a bit and is better able to streamline his delivery going forward. That should help his command.
Yankees will be among teams to scout Breslow
According to Peter Gammons, the Yankees will be among the teams on hand for veteran reliever Craig Breslow's workout on January 23rd. New York is said to be looking for a lefty reliever, so Breslow fits. The veteran southpaw had a 4.50 ERA (3.93 FIP) in 14 innings with the Marlins last year before being released at midseason. He hooked on with the Rangers and spent a few weeks with their Triple-A affiliate after that.
Interestingly enough, Gammons says Breslow is working out with Rich Hill this offseason, and like Hill, he's dropped his arm slot and is working to increase the spin rate of his breaking ball. That's basically how Hill went from independent league player to ace-caliber starter two years ago. He dropped his arm slot, and, more importantly, he starting spinning the hell out of his breaking ball. Hill is essentially a curveball pitcher with a show-me fastball now. That isn't to say Breslow will have as much success as Hill, but when you're nearing the end of your career and want to hang around, it's worth trying.
Cashman doesn't expect Gardner or Headley trade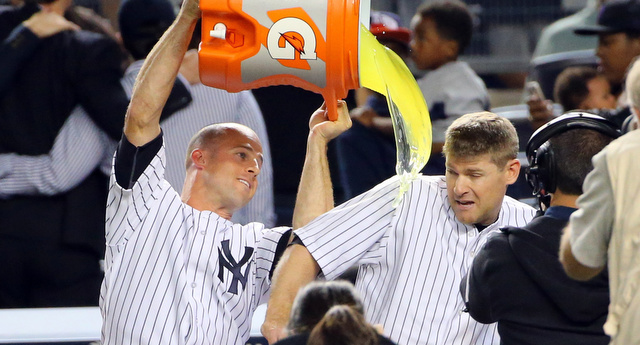 Not surprisingly, Cashman told Hoch and Brendan Kuty he does not expect to trade Brett Gardner or Chase Headley before Opening Day. The Yankees have rejected all the offers they've received so far, I'm guessing because they were of the "eat a bunch a money and take this fringe prospect" variety. "I think the teams that had interested took their best shot," said the GM.
The Yankees can and probably will continue to gauge the market for Gardner and Headley in Spring Training. Another team could lose an outfielder and/or their third baseman to injury, creating a need. Then again, how often does that actually happen? We talk about that possibility every year and yet it rarely happens. Even when teams do suffer those major injuries, then tend to stay in-house rather than make a desperation trade. Eh, we'll see. The Gardner situation is far more pressing than the Headley situation given the Yankees' young outfield depth.