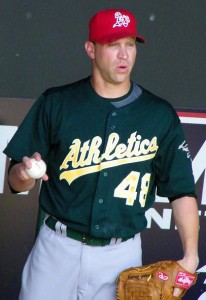 Injuries have really done a number of the Yankees' bullpen of late, taking away both Joba Chamberlain and Rafael Soriano for a while, though there's some hope that Soriano will be able to start throwing this week. Some of the minor league reinforcements like Amaury Sanit (hah), Tim Norton, and Mark Prior are also on the disabled list, so the well is starting to run dry. Even if Soriano comes back relatively soon, the Yankees will still have to go outside the organization for help anyway. They've lost that much depth.
One team that could be a trade match is the Athletics, who are sinking like a stone after losing a dozen of their last 13 games and firing their manager. They have a full five man rotation on the disabled list, as Brett Anderson recently joined Dallas Braden, Brandon McCarthy, Rich Harden, and Tyson Ross on the shelf. Bigger names like Grant Balfour and Brian Fuentes are sure to be mentioned, but perhaps the best fit is slider specialist Michael Wuertz. Let's break it down…
The Pros
Wuertz is death on right-handers thanks to one of the game's best sliders. He's holding same side batters to a .103/.167/.205 batting line this year and .192/.258/.306 with 32.7% strikeouts since the start of 2009.  Batters have missed with 13.4% of their swings against him this season, which is insanely high but actually down from 15.4% last year and 17.9% two years ago.
Although his calling card is his ability to shut down righties, Wuertz is also more than serviceable against lefties. They're hitting .242/.353/.345 off him this year and .212/.291/.389 since the start of 2009. His slider is so good that he uses it against lefties as well, which is not something you usually see.
He has experience in a variety of roles, including middle relief work and setup man duties, plus he even spent some time as Oakland's closer when Andrew Bailey got hurt last year. For what it's worth, he's also pitched in the postseason (with the Cubs back in 2007). I don't put much stock in that, but it doesn't hurt.
Wuertz's contract contains a club option for next year, so it would not necessarily be a rental. He currently projects as a Type-B free agent, so the Yankees could get a draft pick should they let him walk.
The Cons
As great as that slider is, Wuertz uses it 51.5% of the time, a very high rate. Slider usage that extreme usually leads to elbow trouble, with Brad Lidge, Justin Speier, and Manny Corpas being recent and notable examples.
Sure enough, Wuertz has dealt with some injuries over the last two years. He missed all of April with shoulder tendinitis last season, then missed a few weeks with an oblique strain this April. Thumb issues also shelved him for some time last September (no DL trip because of expanded rosters though).
His strikeout rate is trending downward, though it's still more than respectable at 7.91 K/9. It's just not as good as 9.08 batters he struck out per nine innings last year, or the 11.67 he struck out per nine in 2009.
The club option proves for some nice flexibility, but it's not exactly cheap. Wuertz is making $2.8M this season (about $467,000 per month, pro-rated) and the option will pay him $3.25M next year ($250,000 buyout). The Yankees can obviously afford it, but that's pricey by middle reliever standards.
It's tough to come up a player similar to Wuertz that's been traded in recent years just to get an idea of the likely cost, plus we can't forget that Billy Beane always seems to ask for the moon. The Twins gave up a C-level prospect to get Jon Rauch from the Diamondbacks two years ago, but that was part of a waiver trade a month after the deadline. Kyle Farnsworth was traded to the Braves along with Rick Ankiel last year, so that doesn't help us either. Matt Capps had the Proven Closer™ tag last year, so that doesn't work either. Anyway, Wuertz makes some sense for the Yankees just because he's a veteran arm with a standout pitch and experience in high-leverage spots. He's really not all that different from Joba when you think about it.