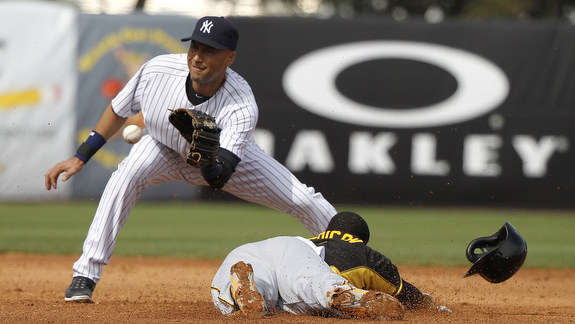 For the second straight day, the Pirates rode a late-inning homer to a Grapefruit League win over the Yankees. Here's the box score for the 8-2 loss. The big story of the day was Derek Jeter, who went 0-for-2 with two ground ball outs and played five innings at shortstop, though slapping a tag on a base-stealer at second was the only defensive player he had to make. He did run down the line well, far better than he did at any time in MLB last season.
Brett Gardner singled and walked while Kelly Johnson clobbered a double off the wall in right-center field. I thought it was gone off the bat. John Ryan Murphy singled as well. David Phelps was the only no-doubt big leaguer to pitch and he allowed a solo homer to top prospect Gregory Polanco in two otherwise scoreless innings. He struck out four, all looking. Robert Coello let things get out of hand late and now owns a 135.00 ERA thanks to five runs in one-third of an inning. Yikes. Here's the rest from Tampa.
The new expanded replay system will be available to the Yankees for their games on March 6th, 8th, 12th, 13th, 17th, 22nd, and 29th. Joe Girardi said he intends to practice as much as possible. [Sweeny Murti]
There was a very light workout before the game. Vidal Nuno and Matt Thornton threw bullpen sessions and just about everyone took batting practice. That's it. [Chad Jennings]
Eduardo Nunez is already back with the team. Turns out he was scratched from yesterday's game because of food poisoning, not the flu. He's slated to play in tomorrow's game. [Erik Boland]
Francisco Rondon will miss a few weeks with a shoulder problem. Jose Ramirez had two MRIs (back and oblique) but results aren't available yet. Still no update on Tyler Austin's wrist. [Jennings]
Brian McCann, Jacoby Ellsbury, and Carlos Beltran are all on the travel roster for tomorrow's game. New guys drew the short straw, I guess. [Mark Feinsand]
Non-Player Injury Update: During the broadcast of today's game, Meredith Marakovits said she had a plate and six screws put in her ankle after an ice skating mishap over the winter. Ouch.
Here is your open thread for the night. This afternoon's game will be replayed on both YES (7pm ET) and MLB Network (9pm ET), if you missed it. All five of the local hockey and basketball teams are playing as well, so lots of sports on the ol' idiot box tonight. Talk about anything and everything right here.