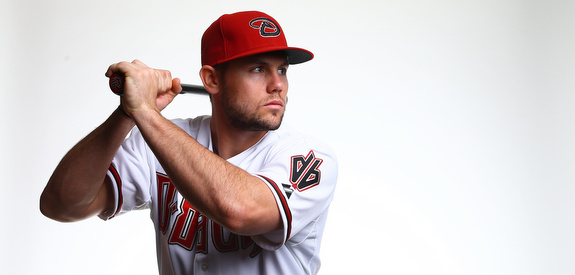 Even after signing Kelly Johnson, Brian Roberts, and a small army of guys on minor league contracts, the Yankees continue to look for infield help before the start of the season. They need both short and long-term help too. With Stephen Drew the only appealing free agent still on the board, trading for an infielder seems like the best way for the club to get the help it needs. One of the few teams with infield depth to spare is the Diamondbacks.
"For us, it would have to be the right deal," said former Yankees special assistant and current D'Backs GM Kevin Towers to Nick Piecoro when asked about trading an infielder. "Our biggest needs in our system are catching. If it's the right, top-notch catching prospect. Someone we could have right behind [Miguel Montero]. More of an upper-level guy. Maybe a top, upper-end starter. We have a lot of bullpen depth, infielders. Maybe an outfielder, but probably more catching and Double-A, Triple-A type starter."
Towers went on to say the team has not had many trade discussions about their infielders recently, likely because Drew remains unsigned. Marc Carig heard the D'Backs were looking for a Travis d'Arnaud type, a premium catching prospect, but I suspect that is posturing more than anything. No harm in asking for the moon. The Yankees have a bunch of young catchers and as luck would have it, they really need a young infielder. The trade fit is obvious. Let's see what Arizona has to offer.
Nick Ahmed
Ahmed, 24 next month, is local product out of UConn who went from the Braves to the D'Backs in last winter's Justin Upton trade. He hasn't hit much during his three years as a pro, including putting up a weak .236/.288/.324 (77 wRC+) batting line with four homers and 26 stolen bases in 538 Double-A plate appearances last season. Ahmed is considered a top notch gloveman though, with Baseball America calling him a "plus defender at shortstop with soft hands, a strong, accurate arm and a quick release" in their 2014 Prospect Handbook. They ranked him as the 18th best prospect in Arizona's system and likened him to John McDonald long-term.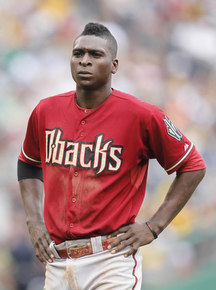 Didi Gregorius
The D'Backs acquired Gregorius from the Reds last offseason as part of the Shin-Soo Choo three-team trade. They insisted the 24-year-old could hit for weeks after the deal, then he went out and put up a .252/.332/.373 (91 wRC+) line with seven homers in 404 plate appearances as the team's everyday shortstop last summer. That's a touch better than Eduardo Nunez production. Acceptable for a good defender but not enough to erase the doubts about his bat.
Gregorius hit his first career homer at Yankee Stadium early last year, but his calling card will always be his glove. Baseball America (subs. req'd) ranked him as Arizona's fifth best prospect before last season and said he has "smooth actions, plus range and a sniper rifle of an arm [that] rates as a 70 on the 20-80 scouting scale, allowing him to make plays from deep in the hole that other shortstops can't." You really have to squint your eyes to see Gregorius as a hitter long-term, but there is no doubt about his glove and he showed that during his rookie season. The kid can pick it.
Chris Owings
Owings, 22, made his brief big league debut late last season after hitting .330/.359/.482 (121 wRC+) with 12 homers and 20 steals in 575 plate appearances in the hitter friendly Triple-A Pacific Coast League. Keith Law (subs. req'd) ranked him as the 72nd prospect in the game last month and had this to say:
His 2013 line was boosted by playing in hitter-friendly Triple-A Reno, but Owings' bat speed is undeniable and his swing is simple and direct. I don't see loft in the swing for home-run power, but he's an above-average runner and I think he'll hit plenty of line-drives to the gaps for 30-40 doubles a year. At shortstop, he has great instincts, quick feet, and a plus arm, everything required to be at least a 60-grade defender there — very much what Didi Gregorius was supposed to be, but with better hit and run tools.

Owings was 17 years old when he signed, so he had 2,000 pro plate appearances before he turned 22 and is more than ready to take over as the everyday shortstop in Arizona now, where he might walk once a week but will contribute in plenty of other ways to keep the job.
Strikeouts have been a concern over the years (23.4% from 2011-12) but Owings cut down on them a bit last year (17.2%), which is a positive sign but hardly definitive proof he has cleared that hurdle. Owings is a right-handed hitter like Ahmed and unlike the lefty swinging Gregorious, and he has the best all-around potential of Arizona's various young shortstops. He has a chance to contribute both at the plate and in the field, something that isn't all that easy to find at the position.
* * *
The D'Backs could also push the veteran Cliff Pennington in trades for a catcher, but he has little value. He's another no-hit, all-glove type like Brendan Ryan and that simply doesn't fetch much when they aren't in their early-20s. I mentioned him as a possible target while looking for Ichiro Suzuki trade matches and that was basically a salary dump situation. Owings is the guy to me; he's the one the Yankees should target because he's a legit two-way shortstop. Another no-hit, all-glove guy doesn't make much sense with Ryan already on board.
I really like John Ryan Murphy — I didn't rank him as the team's second best prospect for nothing, you know — but man a Murphy for Owings swap sure seems to make sense for both clubs. The Yankees signed Brian McCann long-term this winter and they would still have Austin Romine and Gary Sanchez around as catching depth. I mean, if they're not open to trading Murphy for a desperately needed MLB-ready shortstop prospect, then what are they going to do with him?
Obviously there is more to be considered than positional needs. How do the D'Backs value Murphy and New York's other catchers? Prospect-for-prospect trades are rare because teams always love their players more than everyone else's. Also, is there any urgency to make a trade now, or is Arizona content to wait around and play the market a bit? I'm a fan of getting a deal done quickly just so the player can spend a few weeks in camp working with the coaches and learning the organizational ropes before the season starts. That's just me. These two clubs appear to match up very well for a trade, but, as we've learned over the years, that is hardly a guarantee a deal will actually get done.