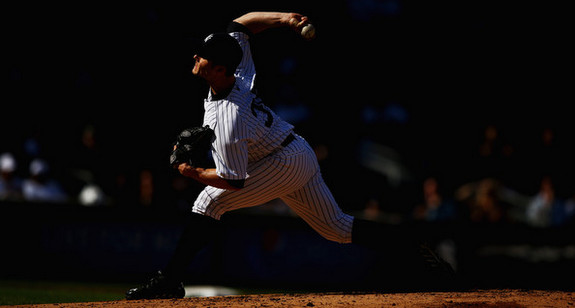 The Yankees officially extended the $15.3M qualifying offer to David Robertson yesterday but declined to make the offer to Hiroki Kuroda. If Robertson signs elsewhere, the Yankees will receive a supplemental first round pick as compensation. Hopefully that pick will be able to pitch high-leverage innings in 2015. Anyway, here are some various free agent updates and rumors, courtesy of George King, Mark Feinsand, Jon Heyman, and Brendan Kuty.
The Yankees "have no plans to pursue" big name free agents Jon Lester, Max Scherzer, James Shields, and Pablo Sandoval this winter. There's been talk the  team would stay away from the top of the free agent market, but this could always be posturing. The Yankees don't have much to gain by saying they'll pursue these guys. It only creates more leverage for the players.
David Robertson said things are "quiet on the front" when asked if he and the Yankees have had any talks about a new contract. At least six teams already have interest in the right-hander, which is not surprising. Big market contenders like the Tigers, Dodgers, and Nationals all need help in the late innings.
The Yankees are focused on re-signing Chase Headley and have already started contract negotiations. That doesn't mean they're close to a deal, of course. Headley has said he's open to returning to New York as long as he isn't a part-time player. The presence of Alex Rodriguez may complicate things.
In addition to Headley, the Yankees also want to re-sign Brandon McCarthy and they plan to "aggressively" engage him in contract talks. There's no word if the two sides are currently discussing a deal. McCarthy is arguably the fourth best free agent starter behind Lester, Scherzer, and Shields, so he'll be a popular target this winter.
David Huff's agent Jim McDowell has spoken to the Yankees about next season and said the "feedback was really positive." Huff is not a free agent; he's arbitration-eligible for the first time and is projected to earn only $700k next year. He's still a non-tender candidate despite the affordable projected salary.