Just a few shopkeeping items before we dive into the questions:
1. If you're giving Yankees/baseball gear as gifts this year, You can also give a gift to RAB at the same time, free of charge. When you buy from the MLB Shop, Fanatics, or Amazon using our links at the RAB Shop we get a little cut. Same price for you, a little cash in our pockets.
Here are some deals at the MLB Shop today:
Those deals last through Sunday.
2. In case you haven't noticed, we're experimenting with a new mailbag submission form. It's in the sidebar. You only have to hit Send once — it might not look like it goes through, but it does. We're working on slightly better functionality on that. You can still email us questions if you prefer, but this form seems to work for more people.
3. Starting Monday morning we're sending out a daily digest email. You can read more about the daily digest here. You can also sign up there, or you can just enter your email address into the field above.
And now, onto the questions.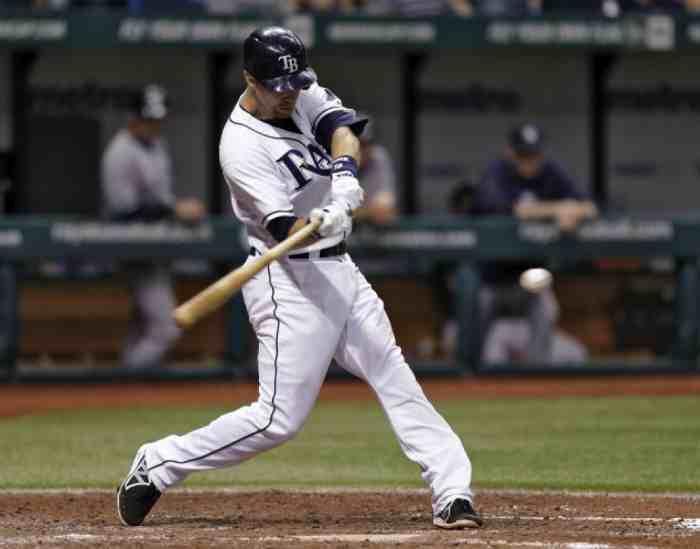 Mark L. asks: Do you see signing two of Lowrie / Drew / Cabrera to mix and match with Prado as a cost-effective alternative to big bucks Headley?
No, I cannot see that. It seems increasingly probable that some team offers Chase Headley a four-year deal. Since the Yankees are willing to give only three, they'll have to find help elsewhere.
Would it cost them less to sign Lowrie or Cabrera? Maybe a little, but maybe not. If Headley signs elsewhere I think they allocate that money to other positions and use Refsnyder or Pirela at second with Prado at third.
JR asks: With the Rays appearing to be in rebuilding mode, What would the cost be to get Zobrist be?
I'm not sure the Rays are in complete rebuild mode. Maybe they're not looking for win-right-now pieces, but they're not doing some three-year project. That said, Ben Zobrist has just one year left on his contract, for a super reasonable $7.5 million (well, $7.75 really, because he gets $.25 million if traded).
It's hard to find a reasonable value here, though. How much is one year of Zobrist worth to you? I'm guessing the Rays want something like Greg Bird and a pitcher, and I don't think I'd go that far. Not where the Yankees stand right now.
If they're on the brink of greatness — if they have three guys with power who you can count on in addition to the table setters, and a great pitching staff — then maybe I consider mortgaging a decent prospect for one year of a player as versatile as Zobrist. But right now? The roster is too weak right now to make a move like that.
Hmmm asks: Would it be in the Yankees best interest, for the overall future of the team, if they do not sign anyone to over a 4 or 5 year contract until they are a legitimate contender to win? I understand that those contracts can help them become a contender, but I feel like if they don't have the young talent that will make them perennial contenders that those contracts will just prove to be a waste.
I don't understand this mentality at all. What does young talent have to do with being perennial contenders? Look at the 1996 Yankees. They had one starting pitcher under 30, and a lineup of mostly imported veterans. That's not to say that the 2015 Yankees have a Jeter or a Bernie, but the idea that young talent creates perennial winners is a bit off.
You can only work with the players available to you, whether that's on the roster or available to you in trade or free agency. Cutting yourself off from that talent because of years in a reasonable range is silly. Avoiding 10-year deals? Sure, that's something you might want to avoid in general. But 4-5 years deals are pretty standard.
nycsportzfan asks: Why did the Yanks not protect Kyle Roller?
Roller did rake last season, mostly in AAA, so it seems as though he's knocking on the door. That said, he turns 27 before the season starts, so it's not as though he's some prime prospect that they just didn't protect.
There's a lot going on with Rule 5 protection. You have to take into account the roster implications. A few years ago Brian Cashman said something about sometimes the best way to protect a player is to not add him to the 40-man roster. Wish I could find the exact quote. His point was that because of roster crunch issues, sometimes you protect guys and later have to make some tough DFA choices.
Say you protect someone on the fringe, but have to DFA him in June for some roster crunch reason. A team might not have taken him in the Rule 5, because they didn't see a way to keep him on the MLB roster all year. But on waivers he doesn't have that restriction. You can stash him in the minors for a few years. So a team that wouldn't have made a Rule 5 pick might jump in with a waiver claim.
The Yanks have plenty of needs this off-season, and they'll need roster spots. They can't afford to have one of those spots taken up by a 27-year-old first baseman. Also, Roller didn't even make this enormous list of Rule 5 possibilities.
Elfi asks: Why would the Yankees sign Headley for 3B when they have a solid and capable player in Prado who could do it? Prado I'm sure can at least match Headley's numbers. This would pave the way for Refsnyder to be the 2B and of course A-Rod at DH
It's all about depth. If you go into the season with Prado at 3B, you're stuck with the rookies as your first option at 2B. If they fail, then what? By creating some depth, they can react to injuries and failures. If Prado gets hurt, Pierla or Refsnyder steps in. If they fail as a depth option, that's one thing. But to rely on them, and have no real backup option, would hurt quite a lot.
Chris R. asks: Doesn't a run at Todd Frazier make a ton of sense? 28 year old that can play 1st & 3rd. Entering his arb years so he will start to cost Cincy some money now.
Cincinnati is in a tough spot right now, with the poor season they had combined with a number of their pitchers hitting free agency after 2015. They're locked into a couple of huge contracts, so they could seem inflexible at this point.
That said, he's one of their only weapons on offense. Unless they go into rebuild mode — and I'm talking trade-Votto rebuild mode — I can't see them entertaining offers for Frazier.
That said, a Jersey-raised kid who went to Rutgers and walks up to "Fly Me to the Moon" Frazier sounds like a Yankee to me.
Lightning Round
Kenny asks: With the Yankees looking for a new shortstop, do you think Ruben Tejada is on their radar?
The Mets also need a shortstop, so that should answer the question right there.
Daniel asks: Assuming no major changes to the current rotation, who would be the opening day starter?
Have to imagine that's CC's job for at least one more season, if he's healthy.
Matt asks: The Rays are reportedly listening on offers for Yunel Escobar, should the Yankees be interested?
He doesn't seem like the Yanks kind of player. The Braves traded him for peanuts because they couldn't stand his attitude. Plus, he's not a very good SS, even if he can hit a little.
Dustin asks: Dave Martinez for 1B coach or hitting coach?
He's as good a candidate as any. I have a feeling that the Yankees are more interested in Rays hitting coach Derek Shelton, though. But maybe they bring in both, given that they have two coaching openings.