The following is a guest post from Adam Moss, who you know as Roadgeek Adam in the comments. He wrote a guest post about umpire Tim McClelland back in February and will now tackle uniform No. 26. Enjoy.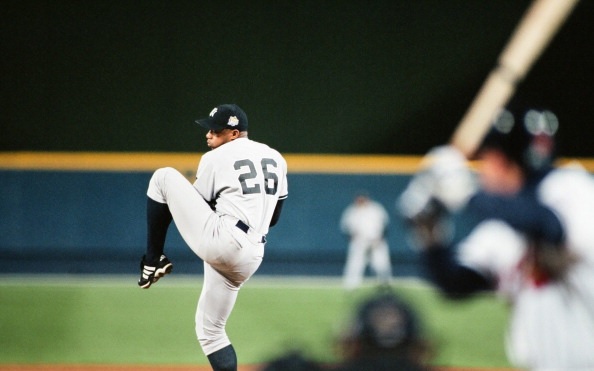 We complain that the Yankees retire too many numbers (21 by the end of the season) or should un-retire numbers. However, you look at statistics, particularly on Baseball-Reference, the Yankees seem to have an inordinate amount of numbers that have an insane list of players. Yet, 26 seems to stick out. Most recently, we associate the Yankees' No. 26 with Eduardo Nunez, who was wearing it from 2011-2013 (he wore 12 in 2010, his first season). The first time the No. 26 was assigned by the Yankees was Cedric Durst, a former outfielder for the St. Louis Blues from 1922-1926. Durst joined the Yankees in 1927, but did not get his number 26 until 1929. He only wore 26 for one year, changing to 27 for the 1930 season. That season he was traded to the Red Sox with $50,000 for Yankee legend, Monument Park and Hall of Fame inductee Red Ruffing.
I am not going to go through the entire list of who wore 26 in this blog post, it would take forever. Since Cedric Durst, 71 other players have worn the No. 26 for the Yankees, currently with Chris Capuano wearing it. However, the No. 26 also seems for the most part to deal with a lot of straggler players. In 2012 for example, we had Darnell McDonald wear No. 26 (and cut his famous dreadlocks) for 3 games before being designated for assignment. Since 2009, the Yankees have assigned the No. 26 to 9 players: Austin Kearns, Kevin Russo, Greg Golson and Nick Johnson all in 2010; Eduardo Nunez in 2011; Ramiro Pena, Darnell McDonald and Eduardo Nunez in 2012; Nunez kept it for all of 2013; Yangervis Solarte took 26 after Nunez was designated for assignment in 2014, and after he was traded away, Capuano took the number.
The Best Batter to wear No. 26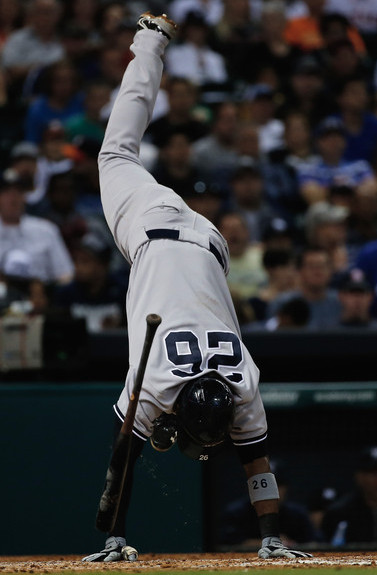 You're going to probably watch your eyes melt when you hear me say this, but Eduardo Nunez has arguably had the best statistics for all batters who have worn No. 26. In 270 games with the Bombers, Nunez had 201 hits, 10 home runs and 75 runs batted in. He hit for a .267 average, .313 on-base percentage and .379 slugging. Of course, when the Yankees promoted Nunez in 2010, they thought he was quite possibly the heir at shortstop for Derek Jeter and the future face of the franchise at shortstop. Baseball-Reference's SABERmetrics have not been so kind to Nunez offensively, as he never produced higher than an 0.4 offensive WAR for the Yankees (he has a 0.5 bWAR for the Twins this season thus far, but he's only played 17 games due to injury.).
However, his defense has never quite been the same as his offensive production. Nunez has played various positions all over the place since his debut in 2010 (3B, SS, the OF, DH and 2B). From 2010-2013, Nunez managed 30 errors at the shortstop position alone (14 in 2011 and 12 in 2013, correlating with his most active seasons with the Yankees (he spent most of 2012 in the minors, only had 4 errors). At third base, he had another 11 errors, and 1 at second base in 2012. When Yangervis Solarte hit his way into the scene during Spring Training in 2014, the Yankees clearly had enough of Nunez and designated him for assignment on April 1. Regardless of our opinions on Nuney, there has clearly been no sign of a better hitter wearing that number.
The Best Pitcher (and overall player) to wear No. 26
No. 26 has produced many pitchers as well, but there was no one better wearing the number than Orlando "El Duque" Hernandez. Hernandez, the Cuban free agent, signed on March 23, 1998 with the New York Yankees, two years after his brother Livan signed with the Marlins. During his first stint in New York, Hernandez started 121 games in the regular season for the Yankees, throwing 8 complete games from 1998-2000, when he was in his prime at ages 32-34. He racked up 791.2 innings in that span, striking out 619 (I am not kidding). He allowed 105 home runs and 707 hits. Despite all that, he only had 18 wild pitches when facing 3,324 batters. He had a 114 ERA+ and a 1.232 WHIP. In all, the first stint the Yankees had with El Duque resulted in a 53-38 record and a 4.04 ERA.
As you probably know, the Yankees traded El Duque to the Chicago White Sox on January 15, 2003 for Eddi Candelario and Antonio Osuna. Hernandez was immediately flipped to the Montreal Expos with Rocky Biddle and Jeff Liefer for Jorge Nunez and future-Yankee Bartolo Colon. El Duque did not pitch in 2003 due to a rotator cuff surgery. As a free agent in 2004, El Duque re-signed with the Yankees for $500,000! His 2004 season was definitely not as electric as his first stint with the Yankees, as he only started 15 games for the Bombers at age 38, pitching only 84.2 innings and a 3.30 ERA (which was his best since 1998 at that point). The next year he signed as a free agent to the White Sox and gained his 4th ring in his career. Interestingly, at the end of that season he was traded to the Diamondbacks with future Yankees Luis Vizcaino and Chris Young (!) for another Yankee, Javier Vazquez.
Hernandez, his eephus pitch and his unusual leg kick were one of the best things to come out of the 1998 season. What Yankee fan doesn't love El Duque? I sure don't. He had a memorable time in New York, throwing his glove to Tino Martinez at first base, making quality starts constantly and just being unusual compared to most pitchers. Unlike Eduardo Nunez, who has a very timid reputation in Yankee lore, El Duque is forever a favorite and overall the best player to wear No. 26 since 1929.
Notable Runner-Ups
There is no question that El Duque was the best overall player with No. 26, and the best pitcher. However, there are 70 other players who deserve comment, but I want to focus on one batter and one pitcher. Starting with the batter, you have to scroll back to the 1932-1938 seasons for the arguable second-best batter who wore the No. 26. This player was a catcher named Joe Glenn. Glenn was a backup catcher to the legendary Bill Dickey, debuting in 1932 when he was 23 years old. He wasn't an offensive powerhouse, but as he got older, he managed to start hitting with some average (.233, .271, .283 and .260 from 1935-38). On October 26, 1938, Glenn was traded with Myril Hoag to the Browns for Oral Hildebrand and Buster Mills.
On the pitchers side is a name older Yankee fans should recognize, John "The Count" Montefusco. Montefusco, a recent addition to Old Timer's Day, was acquired from the Padres by the Yankees in 1983 after a long career with the San Francisco Giants. He only pitched in 18 starts for the Yankees, a majority during the 1984 season. He did, however, managed a 3.55 ERA and a 19-7 record for the most part of that time with a 106 ERA+ in 208 innings. In total, he allowed 209 hits and 19 home runs with a 1.303 WHIP. Yes Montefusco wasn't amazing as El Duque was, but there's no question that Montefusco was one of the better pitchers to wear No. 26. The Yankees were actually Montefusco's last team in the majors.
Finally, you look at the number 26, one of these days, someone is going to get that number and put it to good use. For those curious, after 26, the number 39 is the most-used number. One of the other pitchers who deserve credit for both 26 and 39 is the great Joe Niekro, who played for the Yankees during the same time as Montefusco, strangely enough. While Capuano has held the No. 26, it's not going to be forever, and at some point, another straggler will probably inherit the number.