Got eight questions for you this week, so most of the answers are short. Use the Submit A Tip box in the sidebar to send us questions, comments, links, whatever.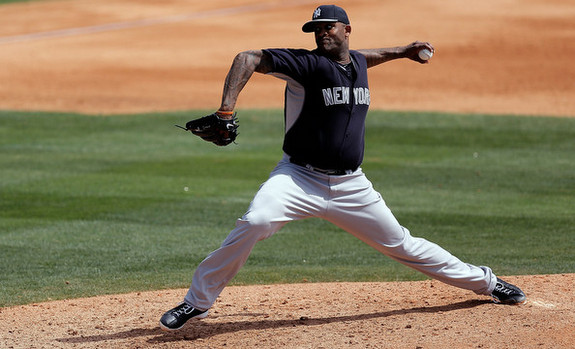 Matt asks: There has been much made, so far this spring and in the past, about CC Sabathia's decrease in velocity, which got me to thinking: What kind of contract do you think he would have received, had he been on the open market this past off-season?
This question came in a few days ago, so I've been mulling it over for a while, and … I have no idea. On one hand, Sabathia's velocity is down and the chances of him being in a permanent decline are rather high. On the other hand, the dude is still a workhorse of the first order and his track record is as good as it gets. Sabathia is also super accountable and good in the community, making him the type of person teams want on their roster.
Given his age and workload and all that, I think Sabathia would have wound up with a shorter term deal for big dollars this winter. Not a four or five-year contract or anything like that. Something more along the lines of how the Giants handled Tim Lincecum. Would two years and $40M with a vesting option for a third year have worked? There are three years (plus a vesting option) and $71M left on Sabathia's contract right now, so 2/40 wouldn't be a huge step down. Just a pretty big one.
Brad asks: Most analysis at this point indicates that Michael Pineda (if healthy) will win the 5th starter job, while David Phelps and Adam Warren are favorites for bullpen spots. Wouldn't it be more prudent to keep one of the latter two candidates stretched out in the AAA rotation?
I think that will be Vidal Nuno's role, the sixth starter in Triple-A. If both Warren and Phelps are in the bullpen, I assume one would be a traditional long reliever (likely Warren), and going from long relief to a starter isn't too tough. Considering the state of the bullpen, I think the Yankees have to focus on taking the best arms north at the end of camp. Nuno will be in Triple-A as the extra starter, giving the team some freedom with Phelps and Warren.
Paul asks: What is the market for Stephen Drew at this point? Am I being a typical unrealistic greedy Yankee fan when I'm hoping/expecting him to join us soon?
There have not been many updates on Drew recently, other than his former Red Sox teammates speculating he wishes he had accepted the qualifying offer. The Yankees could obviously still use him on the infield, but the longer he goes unsigned, the less likely it is I think the Yankees will sign him. Drew would have to change positions — I'm guessed he'd move to third, not second — and that's something he'd need to work on in Spring Training since he's never played anywhere other than short. There is only about two weeks left in camp, so he's running out of time to prepare for the position change. I'd love to see the Yankees sign him, but it's clear it's a long shot at this point.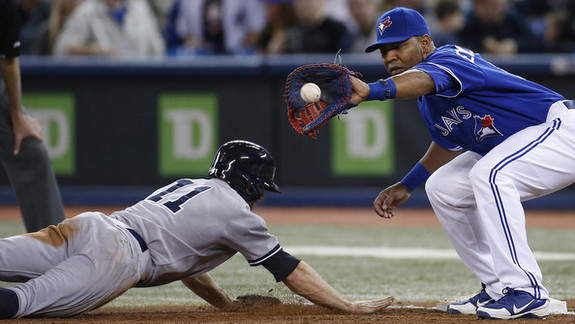 Warren asks: So I was wondering how lead size effects base stealing. I feel like Brett Gardner in particular takes enormous leads compared to people of equal or lesser speed who steal more. I was wondering if there was a way to measure if he was taking such a large lead that it results in too much attention. He almost has to constantly be leaning back towards first. Is there any way to measure if other base stealers like Jacoby Ellsbury have more success by giving up a foot or two of lead to get a better jump?
Lead size definitely affects base-stealing. The bigger the lead, the more likely it is the pitcher will throw over. The more the pitcher throws over, the more the runner has to hurry back to the bag. The more he does that, the more tired he gets. The more tired he gets, the less likely he is to steal or steal successfully. The size of a player's lead definitely plays a role in his base-stealing success.
How can we measure this? Other than going back and watching video of everytime a player was on base and taking a lead, I'm not sure. Hopefully this is something that MLBAM's new player's tracker system will cover because it is definitely a part of the game we don't know a whole lot about. What's the relationship between lead size and likelihood of a pickoff attempt? Is there such a thing as an optimal lead? Probably, I just have no idea what it is.
Eric asks: You can either have a starting pitcher who is guaranteed to strike everyone out once every five days, or a hitter who is guaranteed to hit a home run every time up. Which one would you choose?
I'll take the hitter, no doubt about it. You can bat him as low as third and still guarantee he'd get no fewer than four at-bats in every game, so that's at least four runs right there. I think that, over the course of the 162-game season, you would win more games scoring at least four runs every time out than you would by getting a guaranteed shutout (perfect game, really) every fifth day. Just my opinion. Not sure if there's a way to test this mathematically.
Andrew asks: Do you think MLB will ever make and enforce a rule requiring identical field dimensions across baseball?
I do not think MLB would do it and I sure hope they don't. One of my favorite things about baseball are the unique parks and dimensions. No other sport has that. MLB has minimum standards and things like that, but otherwise the shape and size of the field is up to the individual teams. It's great, I love it.
Tucker asks: How strong of a push do you the think the Yankees will make next winter to sign Chase Headley? It seems inevitable to me.
Headley would be a really good fit as a switch-hitter with power, patience, and good defense at third base, there's no doubt about it. I wonder if the Yankees will be open to signing another huge contract so soon though. Maybe if they somehow get rid of Alex Rodriguez and the money he's owed, but otherwise if they were to sign Headley to something along the lines of six years and $108M (total guess), they'd have seven players making at least $17M in both 2015 and 2016. It works out to $146M for seven players each year. Unless the team increases payroll by quite a bit or their farm system suddenly starts cranking out players, I'm not sure if they would go for that. On paper, yeah Headley makes a ton of sense.
Jon asks: Given the relatively small contract for which he signed, do you think Aledmys Diaz would have been worth taking a flier on? The Yankees certainly have a bigger need for a young middle-infielder than the Cards. Maybe the guy isn't that great but I'll place my faith in the Cards scouting over the Yanks.
It seems pretty obvious Diaz just isn't all that good, or at least teams don't expect him to be all that good given his contract. The scouting reports said he might end up a utility infielder and that's what he wound up with, utility man dollars. Just $2M annually. The Cardinals are obviously very well run by they aren't infallible. The Yankees had him in for a workout and that's more than they've done for any international player in a long time. It's not like they didn't do their homework.