Whenever you have a big win, some big things have to go your way. A homer here, a double there, a strikeout here, a double play there. This all kind of goes without saying.
But there are also the little things that change everything. The borderline strike call. The tiny bit of experience you have against the opposing pitcher. The fielder being shaded a foot this way or that.
In Game 4, the big ones are obvious. The Aaron Judge hits (MVP!), Gary Sanchez's double and really any hit from the seventh inning on. Chad Green and Aroldis Chapman keeping the Astros relatively silent. But I wanted to break down or simply note a few of the small details that changed the complexion of the contest and led to perhaps the Yankees' biggest win since Nov. 4, 2009.
1. Sitting on McCullers' curve: Going into Game Four, Judge had about as good a feel against Lance McCullers as any Yankee hitter. He was 2 for 4 with a double and a walk against the righty in five career plate appearances and walked in one of his first two PAs on Tuesday.
McCullers is obviously a curveball-first pitcher, especially in Game 4, as he should be with that good a curve. But Judge has seen it well and McCullers has actually avoided the curve against Judge this year, often using his fastball and change. He'd only led off with a curve for a strike once, his first AB against Judge back in May.
But Judge is a smart hitter and knew to keep looking for it. It doesn't take an MVP to hit a hanging curve, but it takes a good hitter to be waiting for the right pitch. He got his first pitch curve over the plate and took advantage.
2. The ABs against Chris Devenski: The Yankees have figured out Devenski. Some credit definitely goes to the Yankees' advance scouts, including former reliever Matt Daley, who Suzyn Waldman mentioned on the WFAN postgame as involved in watching the Astros the last month or so.
Maybe the league has figured out Devenski and he just needs to adjust. Or maybe it's just a rough stretch. The changeup master seems to have lost some steam in recent months and his three at-bats against Yankee batters were a perfect example.
The Bombers know to wait for his fastball and spit on his offspeed stuff, which he hasn't been throwing for strikes. Didi Gregorius lined an 0-1 fastball for a triple (more on this in a second), Gary Sanchez got a 2-1 fastball and drove it to right and Greg Bird spat on a nice 2-2 change before drawing a walk. Bird did swing through a 2-1 change, but he made the adjustment.
3. Defensive non-replacement: In case you forgot, the Yankees lost a game to the Astros on May 11 this year because A.J. Hinch went to Jake Marisnick as a defensive replacement in left field and he threw out Jacoby Ellsbury at the plate. Marisnick is a very solid corner outfielder and would have been welcome for the Astros in the later innings.
But he's out for this series after fracturing his thumb in September. That's part of why Cameron Maybin was in left field to miss Greg Bird's double on Monday and Marwin Gonzalez was in left on Tuesday. Gonzalez is a fine hitter and solid fielder, but has below average foot speed. If Hinch has Marisnick, he likely puts him in left starting in the seventh, when he would have had a chance to flag down Didi's triple for an out. Or hold him at second. Either way, an injury to a backup on another team in September could have made a difference tonight.
4. Cutting down Gurriel: Backing up a moment, I just wanted to quickly mention the cut-off on Yuli Gurriel's three-run double. Todd Frazier does a good job of cutting the ball, surely aided by his teammates, and getting Gurriel in a rundown. Finely executed rundown with the putout by Judge coming in from right field. The big man helping in all sorts of ways! The play helped keep the game at 3-0 for the moment and was a nice team effort.
5. Chase Headley and Joe Musgrove's cutter: Musgrove tried a backdoor cutter to Headley to start the eighth-inning at-bat and missed. Headley mentioned postgame that he kept it in his mind that Musgrove may go back to it. Sure enough, he did on 2-2 and Headley lined it into left-center. That's just smart baseball from Headley.
6. Headley's slide: This one, pictured above, was delightful at the start, scary in the middle and exhilarating at the end. How many times have the Yankees made outs on the bases this postseason? Feels like too many. This was less a bad baserunning play and more bad luck with Headley stumbling. He's a smart baserunner and gets lucky that Carlos Correa doesn't hold the ball a split-second longer to wait him out. Phew. This was a small one that was a big one if you know what I mean.
7. The non-called strike: Judge fouled off the first pitch from Ken Giles. Like every pitcher this postseason, Giles then went for an offspeed pitch away. However, he didn't get the call.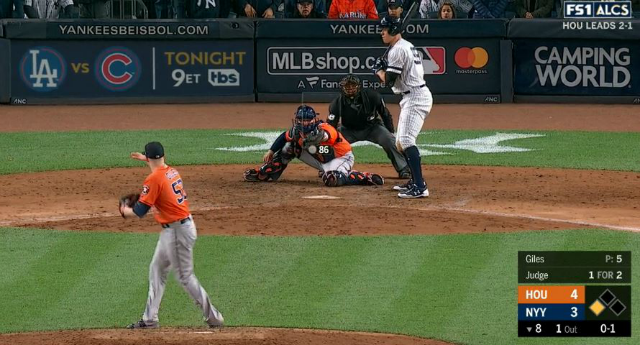 Perhaps he should have. Perhaps this was karma from the baseball gods for all the bad calls Judge has seen at times this postseason. If the count goes 0-2, who knows if Judge can fight his way to tie the game? At 1-1, Judge maintained some control and it led to his big double. Also helps that he's seen Giles a few times now dating back to the regular season and knew what the tough righty threw.
—
There were plenty other examples.  One pitch in his walk on Friday perhaps led to Gary Sanchez's go-ahead double off Giles. Maybe Didi's bunt on Monday changed the Astros' defensive alignment to allow his seeing-eye single in the eighth. It's hard to discern at times.
The Yankees need many more big hits, defensive plays and strikeouts to get through this series and another seven-game set. To accompany those, they'll need some of these small ones to go their way as well.