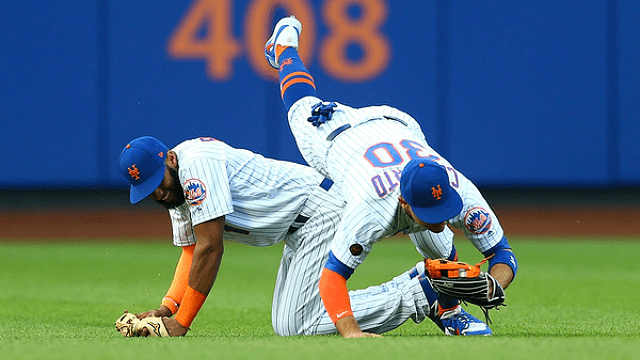 After a much-needed day off, the Yankees return to New York to … continue their road trip with a brief excursion to Queens.
The Last Time They Met
The Pinstripers swept four games from the Mets last August with two games in the Bronx followed by two games in Queens, none of which were decided by more than two runs.
Aaron Judge hit a home run that went to the moon off Robert Gsellman. My eyes say it landed in the upper deck at Citi Field, but logic tells me the ball has just reached Jupiter's moons.
Sonny Gray picked up his first win as a Yankee, beating Jacob deGrom in the Bronx. Aroldis Chapman struggled in that game as he gave up a dinger to rookie Amed Rosario, but the Yankees held on.
Gary Sanchez had three homers in the series, including a three-run shot to give Luis Severino an early lead in the series finale. Judge had a couple of long balls as well while Didi Gregorius had the game-winning double in the third game of the series.
For more information, check out Katie's Yankeemetrics post on that series.
Injury Report
Hard-throwing ace Noah Syndergaard is expected to return in time for Sunday's series finale after straining a ligament in his his throwing hand. Slugging OF Yoenis Cespedes could return in this series but is more likely to go on rehab assignment against Double-A Trenton this weekend. Catcher Devin Mesoraco is day-to-day and should start at some point in this series.
Outside of them, Wilmer Flores, T.J. Rivera, David Wright and A.J. Ramos are out for this series. Rafael Montero, Travis d'Arnaud and Juan Lagares are done until 2019.
Their Story So Far
At 27-32, the Mets have the fourth worst record in the National League and are sitting in fourth place in their division despite an 11-1 start. The team has lost six straight games in which they've scored just seven total runs and looked inept on offense. Over the last two weeks, the team is hitting just .217/.300/.354 (80 wRC+) collectively and it's often looked much worse. Both Alex Cobb and Jon Lester carried no-hitters into the middle innings against them over the last week.
The next few weeks will be critical for this squad, particularly once Cespedes returns. They'll need to make up ground in the playoff race soon or else they'll be faced with an imperative to sell off some big pieces. While they likely wouldn't trade their top players to the Yankees for PR purposes, Syndergaard and deGrom would fit quite well in the Bronx and the Bombers could probably give the Mets an attractive package of prospects.
Lineup We Might See
1. LF Brandon Nimmo (.267/.407/.533)
2. 2B Asdrubal Cabrera (.286/.328/.498)
3. CF Michael Conforto (.228/.351/.380)
4. 3B Todd Frazier (.230/.345/.393)
5. RF Jay Bruce (.224/.297/.339)
6. C Kevin Plawecki (.205/.375/.273)
7. 1B Adrian Gonzalez (.244/.309/.381)
8. Pitcher's spot
9. SS Amed Rosario (.251/.284/.366)
Mickey Callaway likes to have Amed Rosario ninth and put the pitcher's spot in the eight hole. The Mets have three catchers on their roster and Jose Reyes, so their bench isn't optimized all that well.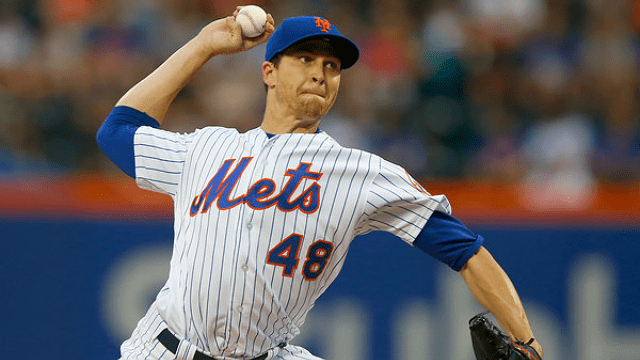 The Starting Pitchers We Will See
Friday (7:10 PM ET): RHP Masahiro Tanaka vs. RHP Jacob deGrom
deGrom has arguably been the best pitcher in the National League this season. Sporting an NL-best 1.49 ERA, he's been dominant yet is only 4-0 in 12 starts with the Mets going 5-7 in his appearances thanks to some awful run support. He's given up one run or fewer in his last three starts while throwing seven innings in each, yet the Mets lost each game.
The 29-year-old righty lives in the mid-to-high-90s with his fastball while going often to his high-80s, low-90s slider that is an adventure to try and hit. He also has a high-80s changeup and an 82-mph curveball. He regular throws over 100 pitches and is pretty efficient doing so. He's fifth in baseball with a 26.6 K-BB rate.
Last Outing (vs. CHC on June 2) – 7.0 IP, 7 H, 1 R, 2 BB, 13 K
Saturday (7:15 PM ET): RHP Domingo German vs. LHP Steven Matz
After an injury-plagued 2017 season, Steven Matz has returned to form this season and looks much like the dependable starter he was in 2015-16. He's held opponents to two runs or fewer in five of his last six starts and is coming off his longest start (seven innings) since July 2017.
He has a 3.42 ERA, though his 5.11 FIP looks like a harbinger of things to come. He walks nearly four per nine and despite sporting a groundball rate above 50 percent, he allows 1.54 homers per nine.
Matz attacks with his 93-mph sinking fastball and goes off speed with both a high-70s curveball and low 80s changeup. He doesn't tend to go very deep into starts and the Yankees' offense can certainly knock him out early with their normal patient approach.
Last Outing (vs. CHC on June 3) – 7.0 IP, 5 H, 2 R, 2 BB, 7 K
Sunday (8:05 PM ET): RHP Luis Severino vs. RHP Noah Syndergaard
Noah Syndergaard is coming off the disabled list just in time to face the Bombers. Therefore, Sunday Night Baseball will be a matchup of the two pitchers with the highest average fastball velocity in baseball. Syndergaard averages 97.4 mph on his fastball and often reaches 100+ on the radar. He's a beast and he has the strikeout numbers to prove it.
Similar to Severino, Syndergaard walks very few batters for a fireballer of his ilk, striking out 28.3 percent of batters and walking just 4.8 percent. Add that to his relatively low home run rate and he's a sabermetrician's dream.
The 25-year-old ace goes more to his wiffleball-esque sinker than his four-seamer and goes to his hard slider and changeup often. He'll also mid in an 83-mph curveball for good measure. He has only gone past the sixth inning twice this season and will be coming off the DL, so his workload will be something to watch on Sunday.
Last Outing (@ MIL on May 25) – 6.0 IP, 6 H, 3 R, 0 BB, 8 K, 1 HR
Update (4:21pm ET): The Mets just announced Syndergaard will not come off the disabled list to start Sunday. It'll be Seth Lugo instead.
The Bullpen
After looking like a strength to begin the season, the Mets' bullpen has been disastrous recently. Just ask deGrom! They were 29th in bullpen WAR in May and have needed one of their more effective relievers, Seth Lugo, in a spot start, making matters worse. With Thursday's day off and seven strong innings from Zack Wheeler on Wednesday, the Mets are well rested in the bullpen.
Jeurys Familia is the closer, though Callaway will occasionally use him in the eighth if that's when an opponent's heart of the order comes up. (Fun fact: He's the last closer to reach 50 saves.) Gsellman and Lugo are used as multi-inning high-leverage relievers while former Yankee Anthony Swarzak will also take some late innings now that he's off the DL.
Paul Sewald is both a long man and occasional high-leverage guy while Jerry Blevins is a solid LOOGY who hasn't been effective this year. Hansel Robles and Tim Peterson are back-of-the-roster guys and shouldn't see high-leverage spots this series.
Yankees Connection
The Toddfather! Todd Frazier is inked into a deal with the Mets for the next 1.5 years after his three months in pinstripes. Swarzak spent four ill-fated months with the Bombers and A.J. Ramos is Giancarlo Stanton's roommate in NYC. Who gets the house this weekend?
Who (Or What) to Watch?
I don't think it's a coincidence that the Mets have their best starters going this weekend. This is the Mets' best shot at the Bombers and how the Yankees handle it could be a decisive blow to their crosstown foes or a chance for the Mets to stay afloat.
Along those lines, how can you not get excited for Severino vs. Syndergaard? They'll be trading 100-mph fastballs like it's nothing.