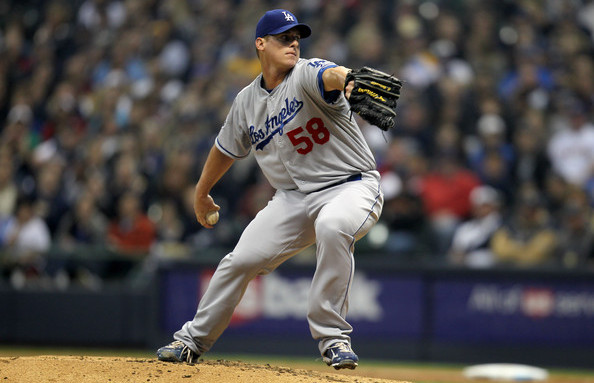 Nick asks: Do you have any interest in Chad Billingsley?
Even if they go out and surprisingly sign Max Scherzer or James Shields, I think the Yankees have a place for a reclamation project arm like Billingsley. Nathan Eovaldi added some innings to the rotation but CC Sabathia (knee) and Masahiro Tanaka (elbow) are still major injury risks, so much so that they might not even make it through Spring Training healthy. Ivan Nova will be back eventually, but perhaps not until June.
The 30-year-old Billingsley made two starts in April 2013 before blowing out his elbow and needing Tommy John surgery. He made two minor league rehab starts this summer before suffering a setback and having surgery to repair his flexor tendon in June. At the time of the surgery, Ken Gurnick reported Billingsley would resume throwing in December and was expected to be ready in time for Spring Training. I haven't been able to find a more recent update other than agent Steve Hilliard telling Jack Magruder his client is in no hurry to sign.
Because he barely pitched these last two years, the Dodgers declined their $14M club option for Billingsley after the season and instead paid him a $3M buyout. At this point the only club said to have interest in him is the Diamondbacks, who are now run by GM Dave Stewart, Billingsley's former agent. (Stewart had to unload his clients once he joined a team.) I could have sworn the Yankees had interest in trading for Billingsley once upon a time, but apparently not. It must have been speculation.
During the 2012 season, his last full season before his elbow gave out, Billingsley pitched to a 3.55 ERA (3.34 FIP) with okay strikeout (7.70 K/9 and 20.2 K%), walk (2.71 BB/9 and 7.1 BB%), and ground ball (45.4%) rates in 149.2 innings. (He missed some time with elbow trouble.) He's been a guy who has consistently underperformed his peripheral stats in recent years — Billingsley had a 3.86 ERA and 3.53 FIP in 725.2 innings from 2009-12. After that many innings, that's just who he is.
As with any major surgery, there's no real way of knowing how Billingsley will perform next season. He's still reasonably young and you'd like to assume he'd return to his pre-Tommy John surgery form, but that's not a guarantee. Plus the flexor tendon injury complicates things. If projections are your thing, Steamer pegs Billingsley for a 4.32 ERA (4.23 FIP) in 125 innings next year. That seems … reasonable? I guess so. It's considerably worse than his career rates (3.65 ERA and 3.67 FIP), which reflects the injury risk.
The reclamation project starter market has already been set this offseason, giving us plenty of comparable deals. Here's the list of contracts relevant to Billingsley:
Kris Medlen, Royals: Two years, $8.5M plus $10M in incentives and a $10M mutual option ($1M) after missing all of 2014 following his second career Tommy John surgery.
Gavin Floyd, Indians: One year, $4M plus $6M in incentives after throwing only 54.1 innings in 2014. He returned from Tommy John surgery then broke his elbow and needed surgery.
Brandon Morrow, Padres: One year, $2.5M plus $2.5M in incentives after throwing only 27.1 innings in 2014 due to a tendon sheath injury in his right index finger.
Josh Johnson, Padres: One year, $1M plus $6.25M in incentives after missing all of 2014 following his second career Tommy John surgery.
Brett Anderson could also be included here (one year, $10M with the Dodgers), but he's significantly younger than all of these guys and the consensus seems to be that he got more money than expected. He's a bit of an outlier. Medlen is also an outlier by virtue of getting two guaranteed years, then again he was the damn near ace-like in 2013 before blowing out his elbow in Spring Training earlier this year.
The Floyd, Morrow, and Johnson contracts seem most applicable to Billingsley, and those contracts average $2.5M guaranteed with about $5M in incentives. That seems more than reasonable to me. The Yankees have some nice depth rotation arms in Bryan Mitchell, Jose DePaula, and maybe Manny Banuelos, but there's always room for a reclamation project guy like Billingsley. Remember though, the team has a full 40-man roster and would need to cut someone to accommodate a new player. (Eury Perez seems most likely to go.)
So, to the answer the question, yes I have interest in Billingsley at our $2.5M+$5M guesstimate. The real question is whether Billingsley has interest in the Yankees. Yankee Stadium isn't the best place in the world for a pitcher to rebuild value, and that could work against them. One NL team is said to have interest in Billingsley (D'Backs) and I'm sure more will pop up in the coming weeks. The Phillies, Braves, Dodgers, Giants, and Rockies could all use another starter, for example. Aside from Colorado, those are better destinations for a reclamation starter than New York.
Doubling down on rotation injury risk might not seem like the best idea for the Yankees, but, at this point, the only safe bets left in free agency are Scherzer and Shields. Bringing in someone like Billingsley — or Paul Maholm or Felipe Paulino or one of many other reclamation project starters — to add some depth is never a bad move, especially since it only costs a little bit of money. I'd be in favor of the Yankees signing him if he's willing to come to New York.