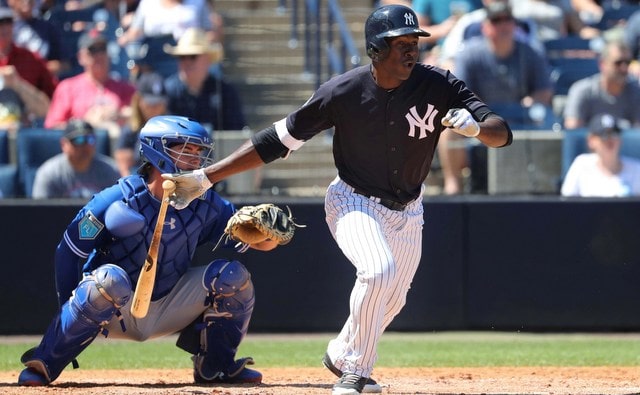 The 2019 Arizona Fall League rosters were announced this afternoon and the Yankees are sending seven players to the desert this year: RHP Domingo Acevedo, IF Thairo Estrada, OF Estevan Florial, RHP Jordan Foley, RHP Hobie Harris, IF Steven Sensley, and RHP Matt Wivinis. One or two players may still be added to the roster, as is the case every year.
Florial, the Yankees' No. 2 prospect, is the headliner here. He missed roughly two months with wrist surgery earlier this season and is hitting .278/.377/.415 (129 wRC+) with six home runs in 80 games this season, mostly with High-A Tampa. Florial hit .286/.383/.414 in 19 AzFL games last year and is returning this year to make up the at-bats he lost due to injury.
Various injuries have limited Estrada to only 18 games this season and I'm glad to see he's healthy and going to the AzFL. Been a tough year for him. Estrada was shot in the hip during a robbery in January, then missed time with groin, back, and wrist problems during the regular season. Last year Estrada hit a strong .342/.381/.430 in 20 AzFL Games.
Acevedo, like Florial, is going to the AzFL to make up for lost time. A blister and a biceps injury have limited him to 69.1 innings this season, most with Double-A Trenton, during which he's pitched to a 2.99 ERA (3.22 FIP with 20.0% strikeouts and 6.1% walks. Acevedo pitched in the AzFL back in 2015. The fact he's going this year suggests he will not be a September call-up. Rarely do guys do both.
Interestingly enough, Sensley is listed on the roster as an infielder, indicating his move to first base was not a short-term thing. He was drafted as an outfielder last year before moving to first base with High-A Tampa this year. Sensley is hitting .246/.330/.445 (121 wRC+) with 16 home runs in 107 games split between Low-A Charleston and High-A Tampa.
Foley, Harris, and Wivinis are are fringe prospect depth relievers. Foley has a 3.18 ERA (4.22 FIP) with 23.0% strikeouts in 62.1 innings this year, all in Trenton. Harris has a 2.53 ERA (4.03 FIP) in 46.1 innings between Tampa and Trenton. Wivinis has a 2.56 ERA (2.86 ERA) and 34.4% strikeouts in 52.2 innings at three levels this season. These guys are roster fillers more than legit prospects getting a longer look.
Yankees prospects will play for the Glendale Desert Dogs in the AzFL this year. They'll be on a team with Dodgers, Indians, Orioles, and White Sox prospects. The 30-game AzFL schedule begins Tuesday, October 9th, and runs through Thursday, November 15th. The Championship Game will be played Saturday, November 17th.