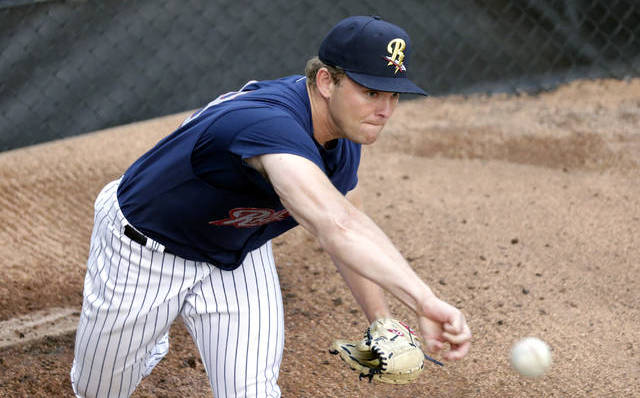 These days, moreso than ever before, teams need more than 25 players to get through the 162-game season and contend for a postseason spot. Lots more than 25 players. Last season 1,351 different players appeared in at least one big league game, an average of 45 players per team. The Yankees used 51 players last year, tied for the eighth most in baseball. The Mariners led the way with 61. The Indians and Rockies somehow used only 41 each.
The remainder of the 40-man roster is essentially a taxi squad. Teams shuttle players in and out not only to help cover for injuries or poor performance, but to get matchups too. Facing a team with a lefty heavy lineup? Might as well bring up an extra lefty reliever for the weekend. Need another platoon bat because you're going to see five right-handed starters the next five days? Call up a lefty with some pop. It happens every single day across the league.
The Yankees have built a very deep farm system and so many of their top prospects are close to the big leagues. My annual top 30 prospects list will be posted tomorrow and I'd say only three of my top ten prospects have no chance to play in the big leagues this season. The Yankees will again use that farm system to supplemental their MLB roster. Injuries happen. Poor performances happen. Sometimes you need to swap guys out, and the Yankees have lots of alternatives waiting.
Clubs use their Triple-A affiliate as an extension of their big league roster nowadays, and because of that, we should take a second to look at the projected Triple-A Scranton roster for the coming season. We're going to see a lot of these players in Spring Training soon and in the Bronx later this year. Let's break down the 2018 RailRiders, starting with the position players. Here are the roster candidates. An asterisk (*) denotes a player on the 40-man roster.
| Catchers | Infielders | Outfielders | Utility |
| --- | --- | --- | --- |
| Kyle Higashioka* | Miguel Andujar* | Jabari Blash* | Tyler Austin* |
| Francisco Diaz | Thairo Estrada* | Jake Cave* | Billy McKinney* |
| Erik Kratz | Gleyber Torres* | Clint Frazier* | Tyler Wade* |
| | Abi Avelino | Mark Payton | Jace Peterson |
| | Danny Espinosa | Shane Robinson | |
| | Billy Fleming |  Zack Zehner | |
| |  Ryan McBroom | | |
| | Nick Solak | | |
Twenty-one players total and we need to whittle that list down to 12 or 13 names. Triple-A teams carry 25-man rosters these days — it wasn't that long ago that Triple-A and Double-A teams had 24-man rosters — and it is not at all uncommon for minor league teams to employ a full-time eight-man bullpen. Especially early in the season when young pitchers are still getting stretched out. Don't want to overload them. Let's pare down our list of 21 names.
Catchers: This is the easiest position. Gary Sanchez and Austin Romine are entrenched at the big league level. Higashioka, who made his MLB debut when Sanchez got hurt last season, and Kratz, a veteran journeyman who returned to the Yankees on a minor league contract, are the obvious Triple-A catching tandem. I mentioned Diaz only because he is third on the Triple-A catching depth chart. If someone gets hurt or called up, Diaz figures to take that spot on the roster. Higashioka and Kratz are the projected Triple-A catchers. Easy peasy.
Infielders: Okay, now it's getting complicated. We still don't know who is going to play second or third base at the big league level. We have an idea based on the available personnel, but we don't know for sure. Who had Jordan Montgomery winning a rotation spot in camp last season? Not many. An infielder could surprise and win a big league spot in Spring Training. Unlikely? Sure. Possible? Absolutely.
I have eight infielders in the table, though it's really eleven because Wade and Peterson are natural infielders, and Austin is a first baseman. Wade, Peterson, and Austin can all play the outfield as well. Those eleven players have to cover at least eight roster spots. That is second base, third base, and utility infielder at the MLB level, plus all four starting infield spots and a utility infielder at the Triple-A level. It's really seven roster spots though, not eight. Ronald Torreyes will be on the MLB roster in some capacity. He's taking one of those three MLB spots. So we need to fill seven total spots.
My guess right now is, if the season started today, Andujar would start at third in the Bronx and Torres would start the season in Triple-A. He's coming back from a major injury and he hasn't played at all since last June. There's also the whole service time thing. Sending him down for roughly three weeks buys another year of control. The Yankees typically do not obsess over service time, but man, how could you pass up that chance? It's three weeks! And he's coming back from a major injury!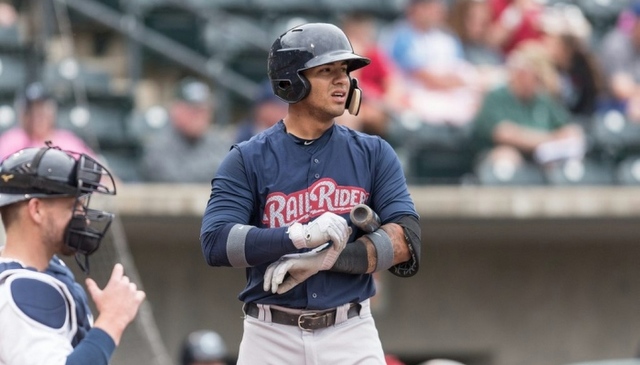 I'm putting Andujar on the MLB roster and Torres on the Triple-A roster with the expectation Gleyber will be in the big leagues a few weeks into the season. My hunch is the Yankees signed Peterson and Espinosa as veteran safety nets. Not because they actually want to carry them on the roster. The Yankees are going young wherever possible and, unless all the kids fall flat in Spring Training, I think Peterson and Espinosa wind up going to Scranton. From what I understand both can opt-out of their contracts at the end of Spring Training if they're not on the MLB roster, but I'd be surprised if that happens in this free agent climate.
Putting Espinosa and Peterson in Triple-A means Wade gets that final MLB infield spot almost by default. Does he start at second or sit on the bench while Torreyes starts? Who knows. Hopefully he starts. But Wade getting that job over Estrada (zero Triple-A games) and Avelino (more of an organizational utility guy at this point) makes sense. Our three big league infield spots are set. Second, third, and the utility spot go to Andujar, Wade, and Torreyes.
There are still two Triple-A roster spots to fill, however. One will go to Thairo. The last spot has to go to a first baseman and as things stand, Austin has a spot on the big league team's bench. Either that or the Yankees are going to carry an eighth reliever, which is absolutely possible. I'm assuming Austin is on the bench though. In that case, I think McKinney gets the nod at first base over McBroom, who didn't wow anyone in Double-A last season. The Triple-A outfield is crowded and McKinney at first, a position he began playing in the Arizona Fall League last year, clears up the logjam. Espinosa, Peterson, and Kratz all have some first base experience and are backup options.
Okay, so based on all that, we have filled the three big league infield spots (Andujar, Torreyes, Wade) and the five Triple-A infield spots (Espinosa, Estrada, McKinney, Peterson, Torres). Solak played only 30 games with Double-A Trenton last season and going back there to start this season should not surprise anyone. He'll get another half-season with the Thunder, and if all goes well, expect Solak to get a midseason bump up to Triple-A. Not on Opening Day though.
Outfielders: The outfield is pretty straightforward. The big league roster is loaded with outfielders and that means Blash, Cave, and Frazier have little chance of winning an MLB job based on merit this spring. They're tentatively scheduled to go to Triple-A and bide their time. McKinney and Peterson can also play the outfield, if necessary. Simple as it gets.
Utility: We have two catchers (Higashioka, Kratz), five infielders (Espinosa, Estrada, McKinney, Peterson, Torres), and three outfielders (Blash, Cave, Frazier). Ten Triple-A position players. We need two more because based on the last few years, the Yankees will go with an eight-man Triple-A bullpen out of the gate. Robinson signed a minor league deal last night and will be in Triple-A, so that's one of the two remaining spots. I think Fleming gets the final spot because he's a true organizational utility infielder type. That's usually the type of player who gets the last bench spot in Triple-A.
Alright, so putting it all together, we're sending Avelino, Diaz, McBroom, Payton, Solak, and Zehner back to Double-A Trenton to begin the season, leaving us this group of 12 Triple-A position players:
Catchers (2): Higashioka, Kratz
Infielders (4): Espinosa, Estrada, Fleming, Torres
Outfielders (4): Blash, Cave, Frazier, Robinson
Utility (2): McKinney, Peterson
The big league openings at second and third bases complicate things. It could easily be Torres and Espinosa in MLB with Wade and Andujar in Triple-A. I wouldn't put it past Torres to blow everyone away in Spring Training and get the second base job despite his injury and service time manipulation. We'll see. Here, for the fun of it, is a possible Triple-A lineup based on my projected roster:
SS Thairo Estrada
2B Gleyber Torres
RF Clint Frazier
1B Billy McKinney
LF Jabari Blash
CF Jake Cave
C Kyle Higashioka
3B Danny Espinosa
DH Jace Peterson
Bench: Kratz, Fleming, Robinson
Don't get too hung up on positional assignments. Players will rotate around like they always do. Torres and Thairo figure to see time at second, third, and short. Frazier will play both corner outfield spots, as will Blash. Peterson will get time in the outfield. That's Triple-A baseball. More importantly, that is a crazy stacked lineup by Triple-A standards. Stacked with good prospects and hitters who will pummel Triple-A pitching. Fun summer ahead for the RailRiders. Let's get to the pitching staff now.
| Starters | Righty Relievers | Lefty Relievers |
| --- | --- | --- |
| Domingo Acevedo* | Gio Gallegos* | Caleb Frare |
| Luis Cessa* | Ben Heller* | Wade LeBlanc |
| Domingo German* | Jonathan Holder* | James Reeves |
| Chance Adams | Cody Carroll | Stephen Tarpley |
| David Hale | Will Carter | |
| Brody Koerner | Cale Coshow | |
| Brady Lail | J.P. Feyereisen | |
| Justus Sheffield | | |
Fortunately, the big league pitching staff is much clearer than the infield. The Yankees have five starters for five rotation spots (Sonny Gray, Jordan Montgomery, CC Sabathia, Luis Severino, Masahiro Tanaka) and six relievers for seven bullpen spots (Aroldis Chapman, Dellin Betances, Chad Green, Tommy Kahnle, David Robertson, Adam Warren). The out-of-options Chasen Shreve presumably has a leg up on the final bullpen spot as the designated low-leverage "only when losing" reliever.
I have 19 pitchers in the table and we have to cut that list down to 13 for the Triple-A roster. Won't be too difficult, especially with the big league pitching staff settled already.
Rotation: Let's start with who I don't expect to be in the Opening Day Triple-A rotation: Acevedo and Sheffield. Acevedo made only 14 Double-A starts last season (plus two Triple-A spot starts) and Sheffield made only 17 Double-A starts. Had he not strained his oblique and missed close to two months, chances are Sheffield would be ticketed for Triple-A Scranton right now. But he got hurt, missed time, and has to make it up.
I expect both Acevedo and Sheffield to return to Double-A Trenton to begin the season before a midseason (or sooner) promotion to Triple-A Scranton. the Triple-A rotation falls into place then. Adams, Cessa, and German all spent time — a lot of time, at that — with the RailRiders last year and will return. Hale is a veteran journeyman with gobs of Triple-A experience. He was signed to be the Triple-A innings guy, so he's in the rotation too. Lail, who will again be in Spring Training as a non-roster player, is the obvious candidate for the fifth rotation spot. Acevedo, Koerner, and Sheffield go back to Trenton for the time being.
Bullpen: There are eight bullpen spots and four will go to Heller, Holder, Gallegos, and LeBlanc. Feyereisen spent much more time in Triple-A than Double-A last year, so he's in too. Coshow has spent parts of three seasons in Double-A now and he got his feet wet in Triple-A late last year, and he'll be in camp as a non-roster player, so I think he's a lock for the RailRiders bullpen. Carroll was last year's big breakout relief prospect, and given the fact he spent most of last season in Double-A and is already 25, I think Triple-A is a good bet for him.
All that leaves Carter, Frare, Reeves, and Tarpley as candidates for the eighth and final Triple-A bullpen spot. None of them have Triple-A experience. Frare has been in the organization the longest (11th round pick in 2012) but Carter has the most Double-A experience (90 innings). I think it comes down to those two. Tarpley has 10.1 career Double-A innings under his belt, all coming last season. Reeves has 14.1 career Double-A innings, all but four of which came last season. A return to Double-A is in the cards for those two.
I don't want to spend too much time on the eighth Triple-A bullpen spot, so I'm going to answer the "Frare or Carter" question quickly. Frare is younger (by six months) and he's left-handed, but Carter has performed better in Double-A, not that either has been a world-beater. Let's go with Frare for the final Triple-A bullpen spot. Why not? This spot will be a revolving door anyway. Here's our projected Triple-A pitching staff:
Rotation (5): Adams, Cessa, German, Hale, Lail
Relievers (8): Carroll, Coshow, Feyereisen, Frare, Gallegos, Heller, Holder, LeBlanc
I wouldn't sweat the Opening Day starter or bullpen roles. On Opening Day, minor league teams tend to start whoever is lined up to pitch that day coming out of camp, and almost zero minor league teams have designated bullpen roles. Seventeen different pitchers recorded a save for the RailRiders last season, led by Ernesto Frieri's seven. Gallegos, Heller, and Holder figure to be the Circle of Trust™ relievers given their Triple-A experience and success.
Now that we've gone through all the trouble of piecing together a projected Triple-A Scranton roster, I have to point out that this will be wrong. Very wrong. Beyond the usual "he didn't make it when I thought he would" type of wrong too. Guys are going to get hurt in Spring Training. Nature of the beast. Hopefully no one important gets hurt, but guys are going to get hurt, and the Yankees will have to adjust, and that adjustment will change the Triple-A roster.
Thanks to the farm system, Triple-A Scranton will have a very exciting roster this season, even with injuries and promotions and demotions and all that constantly changing things. The lineup is stacked and I count no fewer than eight legitimate MLB calibers on the pitching staff. It's been a few years since the Yankees last had to scramble to sign scrap heap players to fill out their Triple-A roster. Now they have quality prospects at pretty much every position, which in turn means they have better depth pieces available to the big league team.